Thirteen Healthy-ish Recipes I Love
(and Thirteen More I'm Trying Soon)

First there was the whole starting
Chantix
and then quitting smoking thing (today is
smoke-free
day 228) that at first didn't include weight gain... until it did include weight gain a little further down the path. Then there was an attempt to do better shortly after the new year, but then there was the
trip
to
Tulsa
where it all went out the window once again because how do you not eat local cuisine like
little hot dogs at Coney I-Lander
when offered on vacation? Not to do so would be rude and offensive to the local hosts.
Now that we are past all that, it's time to re-focus again. I don't believe in eating stuff that just doesn't taste good, so these are a handful (13, actually) of my favorites that are within the realm of healthy (more so than what people tend to hand to me out of a window, anyway). Of course, then I guess I'm theoretically supposed to eat smaller portions of each. Maybe that's why people who eat not good tasting "health food" do better at this whole thing because they don't want any more after a few bites. Whatever, here's what I like (the name of each is a link to the recipe on
Recipezaar
, one of my favorite places, ever, and all pictures are ones I've personally taken and posted on the 'Zaar, as it's called by the cool people - all of these are also in my
I Made It
Cookbook over there with my reviews):
1.
Fusion Avocado!
- Such a simple thing, really, but so very good. Even reduced sodium soy works, if you are into that kind of thing. I know that avocado has fat, the healthier monounsaturated kind, but avocados fit my idea that if it looks like nature made it, it's a very good thing!

2.
Flax Seed Cracker Bread
- Really easy and makes for a nice little snack. Kind of like a cracker, but kind of like a bread, this holds me over between meals. (Not seeing double, this was in a
previous post
, too!)


3.
Super Hummus Salad
- Quick and yummy to go on the side, or equally delicious inside of a whole wheat pita (though it gets a little messy.
4.
Edamame
- I find it almost comical that my favorite bar snack from Japan has gone almost mainstream in America as health food. I mean, it *is* healthy, but these also taste best with beer.
5.
Hearty 3-Grain Porridge
- If oatmeal is good for you and makes for a wonderful breakfast, then this stuff is all that and then some. One bowl of this, and I am content for hours. Now if only I could actually get myself to eat breakfast on a more consistent basis...
6.
Gingery Lentil Soup
- Made this last night, and it was really divine. Served with some kind of healthy-ish bread (or not quite as healthy - we had
corn fritters
...), it's fabulous. I did add more of the ginger, garlic and curry powder, but I also needed another can of broth to get the lentils fully cooked.
7.
One-Pan Chicken Parmigiana
- It's Chicken Parmigiana, so you already know that it's got to be delicious! Baked, not fried, and still just as good. Where it says "tomato sauce," I took it too literally the first time, so the next time with spaghetti sauce, it was even better! (Yes, I've mentioned this recipe in a
previous post
).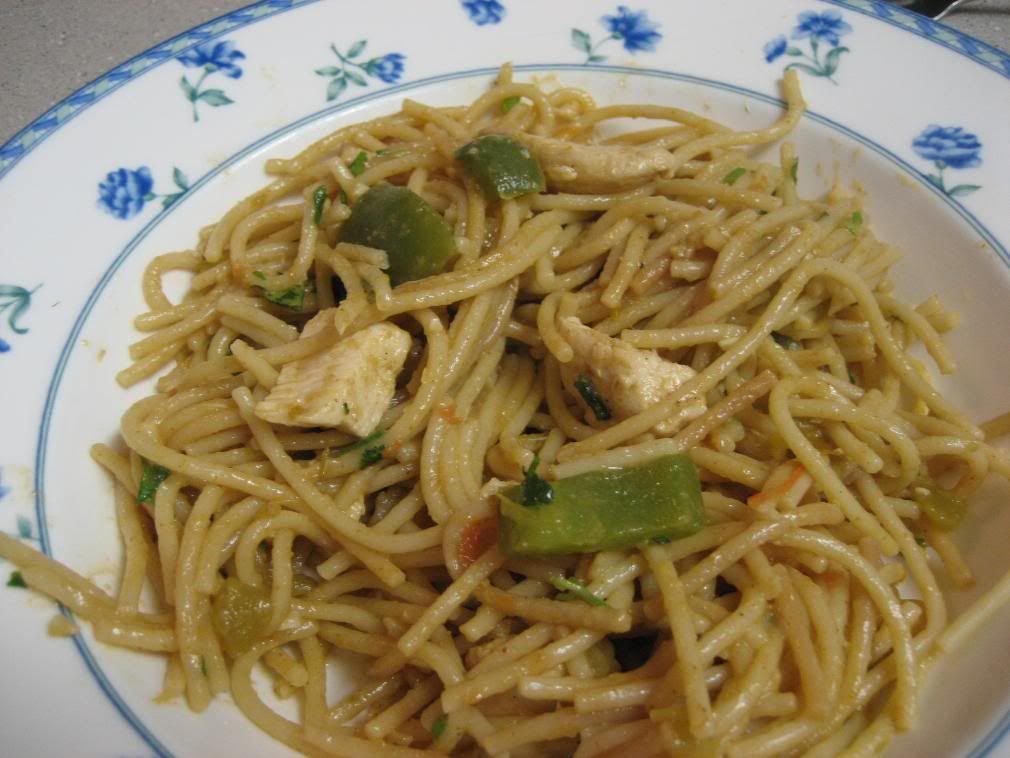 8.
Mexican-Style Pasta With Chicken and Peppers
- Just so yummy and hearty and good! It's also versatile enough that you can do vermicelli or pasta or whole wheat pasta or whatever makes you smile. Tom really loves this one! (Yep, also not new, was in a
previous post
).
9.
Chicken Pepper Skillet (Diabetic Friendly)
- I expected this to taste good, but I also thought I knew just what kind of flavor it would have while tasting good. Turns out that the wonderful flavors were not quite as expected, but even yummier!
10.
Speedy Mexican Chicken
- I found this on the 'Zaar after having seen the same in one of my first and favorite cookbooks,
The Kitchen Survival Guide

by Lora Brody
, and I've rediscovered it as an old new favorite. Using something like 2% milk cheese or a little less of a sharper cheddar for more flavor bang for your less fat buck (a favorite trick I've adopted after reading it somewhere) make it even more guilt free.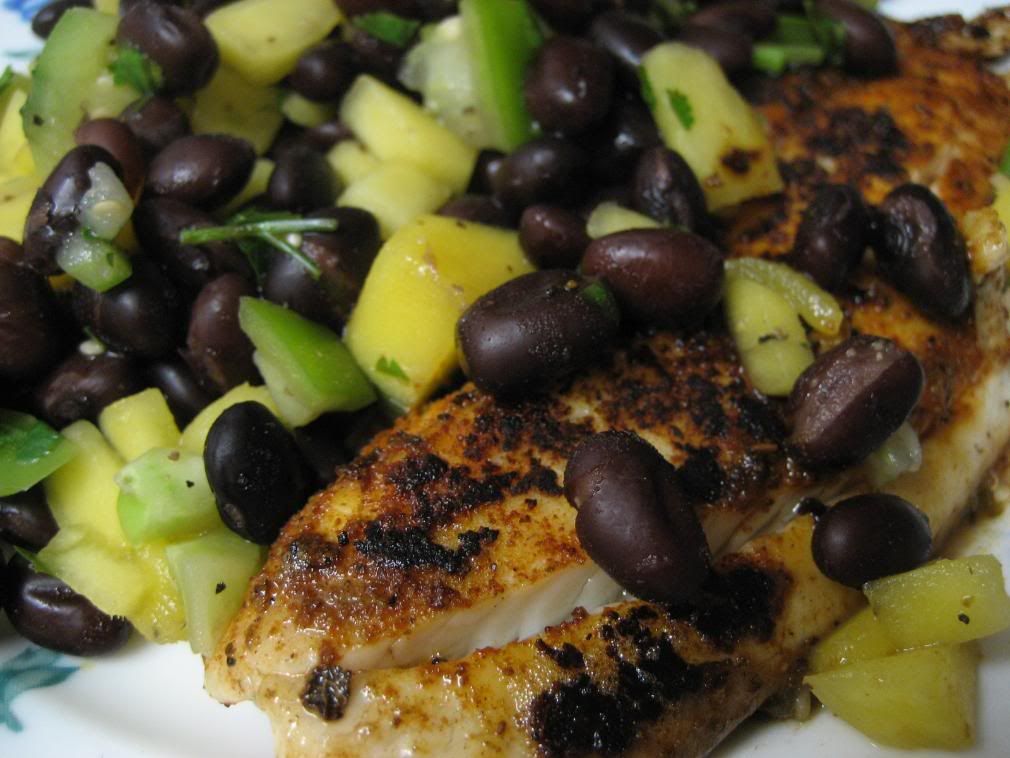 11.
Spiced Tilapia With Mango Black Bean Salsa
- Oh. Dear. God. This is just good in so many ways. The spice rub involved is fabulous and tastes excellent on even grilled chicken. The salsa is fabulous and fresh and tastes good alone or as a little dip for something like the
Flax Seed Cracker Bread
mentioned above. (I have raved about this
twice
previously
, and will likely do so again)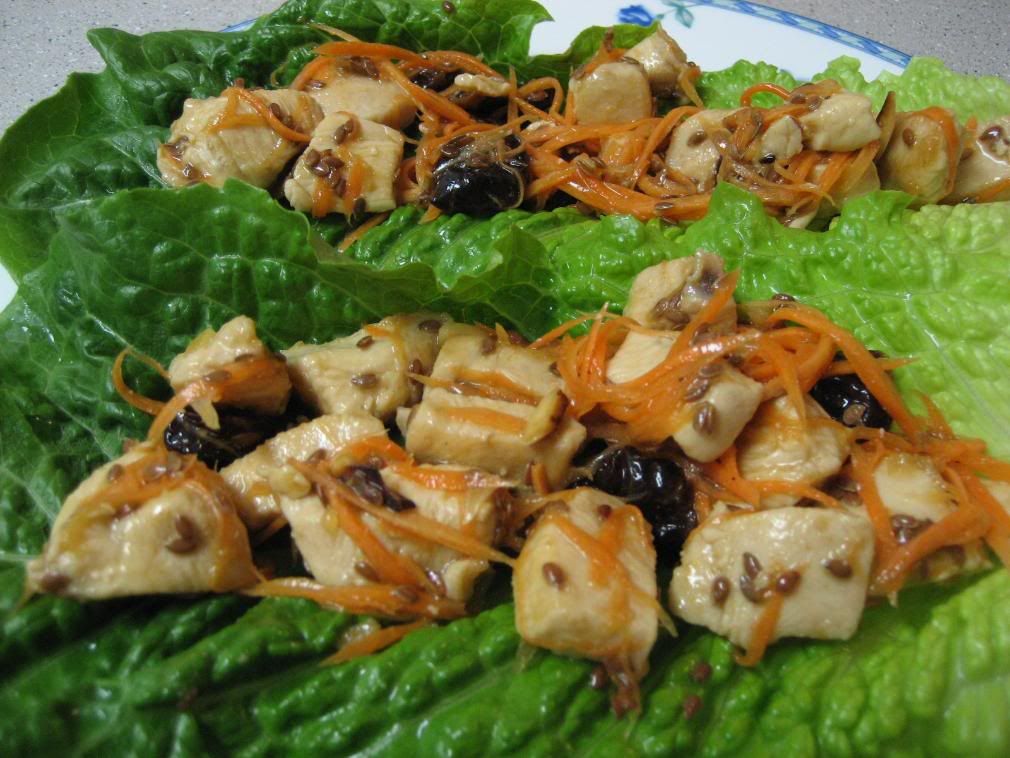 12.
Cherry Chicken Lettuce Wraps
- How can that not taste absolutely wonderful? These were so good and so messy. I added flax seed because we were on a flax seed kick at our house when I made these and took the picture. (Yes, these also have been part of a
previous post
)


13.
Oven-Fried Chicken Chimichangas
- It's like all the yummy badness, minus all the bad things about badness. Easy and versatile enough to make these with another kind of meat, and they even freeze really well. It's true love. If you shop right, you can find fabulous refried beans that are also low in fat and super healthy to go with these.
Since I'm this far in and feeling a little over ambitious this morning, here are 13 more healthy-ish recipes I intend to try soon (in fact, some already scheduled and already have ingredients bought).
13 more healthy-ish recipes I intend to try soon:
The purpose of the meme is to get to know everyone who participates a little bit better every Thursday. Visiting fellow Thirteeners is encouraged! If you participate, leave the link to your Thirteen in others comments. It's easy, and fun! Trackbacks, pings, comment links accepted!
View More Thursday Thirteen Participants