Today is
Smoke-free
Day 203, and I've been absent the past few days still trying to get back to my normal perky and happy self after allowing my joyful spirit to be so ruthlessly sucked out of me
last week
. Usually I know better and do better to prevent it because I understand that I choose how I react to situations, but sometimes it ain't easy, and it's hard not to feel things when you feel things (and not to feel isn't even human or desirable to me anymore, anyway). All that said, very big changes full of hope so big it makes me tearfully happy are afoot this brand new year that I wish I could blog about publicly, but I can't because you never know who is reading, and some cats have to stay in the not public bag (meow) for the next 4-6 months or so. Meanwhile, I will be celebrating my
200 day mark
somehow and at some point because I think milestones are a big deal, and 200 days is a long way from that first day on
Chantix
back in June of last year (it's fun to say that!). As soon as I get my body the rest of the way out of the wallowing and my head out of my, um, some other place, I will celebrate.
Whatever, and moving on, it's Sunday, so I can't miss Weekly Winners!!

Because Lotus is awesome, there is this little thing called Weekly Winners that anyone can join.

Click for larger images (because they do look better full-sized) or take a peek at the entire album at once and/or watch as a slideshow
at this link
.
Since I teased a bit in
this post
, here are the
Dirty Shrimp in Butter-Beer Sauce
and
One-Pan Chicken Parmigiana
(click links to recipes!) that I mentioned that were Oh. So. Good! The chicken is actually a candidate for a healthier dinner option because it's super yummy and really not nearly as terrible as it could be since it is baked instead of fried. Going with whole wheat pasta would score extra healthy points, I suppose. The shrimp
could be
healthy-ish only if you could stand not eating it all right then (instead of as 4 servings that only served 2 at our house) and soaking up the sauce with bread... Restraint becomes an issue. Anyway, the recipe links also give the nutritional info, so have a peek if you are interested in that aspect.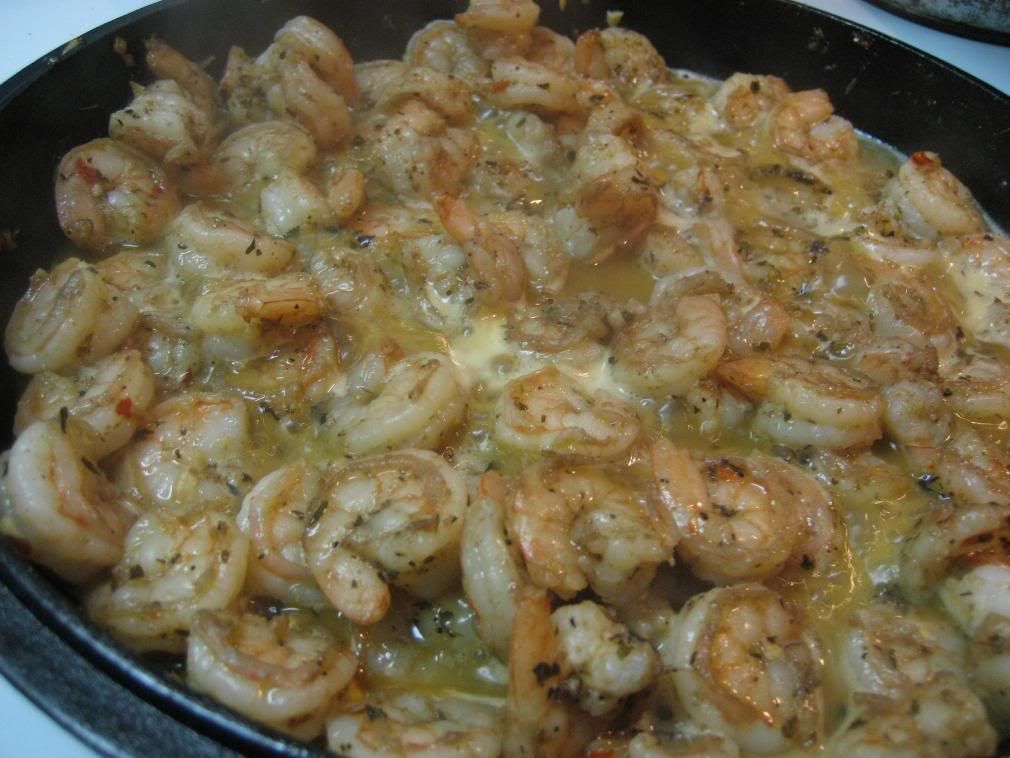 Then there was my actual
New Year's Menu
that I posted in detail
here
, and a few of the highlights, such as the
Roasted Green Beans
and
Stuffed Mushrooms
, both of which are definitely candidates for healthier dinner options, though the mushrooms perhaps in smaller doses (again, therein lies the challenge because even 10 of these are not enough...) and with just a few bacon bits instead of the real deal. The wonderful green beans are super easy and will really help my goal of having an actual vegetable with every dinner (aside from ketchup or pickles). The picture is before roasting the green beans, obviously, I hope ;)
After our food orgies leading into the Happy and Healthier New Year of 2008, we were going to start being good, except that "stuff" started to really get me down, so that first week of the new year we really didn't get around to being good, so I call this our False Start or Cheating or Not Doing as Planned, whichever.

I'm attempting to grow basil indoors because it's supposed to be easy, fresh herbs are stupid expensive even at the cheap grocery store, and fresh herbs are just yummy and healthy and make me happy. I have a black thumb, so my plant isn't thriving, but here it is a day or two after buying it in that cone shaped plastic bag in the produce section of the fancy and expensive grocery store and putting it into a pot. I have no clue what I'm doing, and it's not really thriving, but I live in Oregon where there is no sun most months (though we did get about 20 minutes here and there), so I blame climate. The cats remain interested but not snacking on it.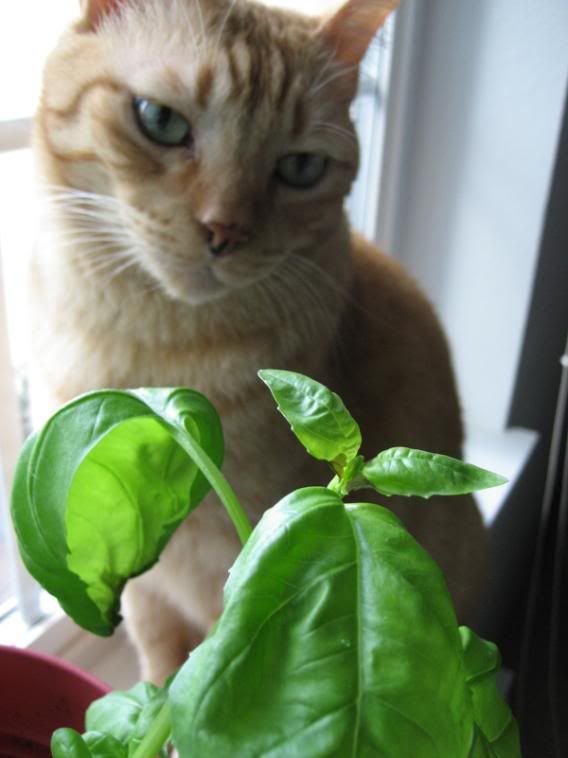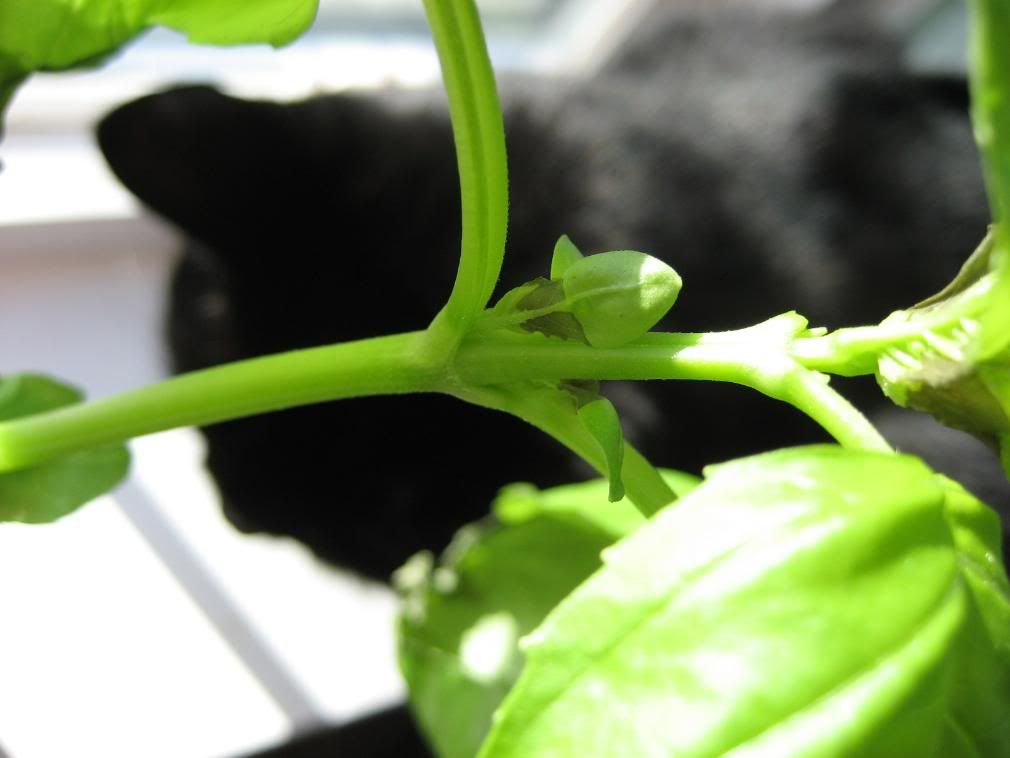 On even the saddest days for a happy girl like me who somehow tumbled into an angry depression due to the jackasses that sometimes enter our lives, nothing cheers me up faster than a latte made by Tom or my original kitten (during that 20 minutes of sun I mentioned) that started the love-fest that continues today.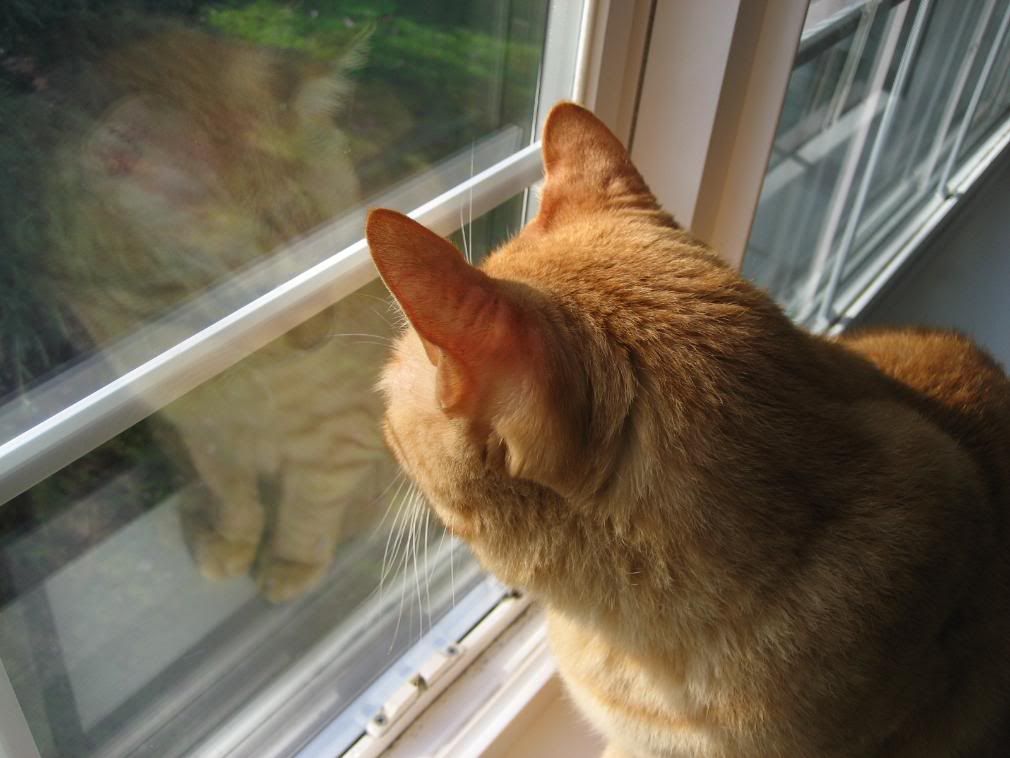 Yes, no self-portrait this week because there is nothing pretty about angry stress acne in full force, and I don't care to either remember or publicly share that aspect (well, except when I have no choice but to go to the store). Gawd, I need to cheer back up, sheesh! No. More. Whine.