Today is
smoke-free day 249
, and thankfully it's already Thursday and time for...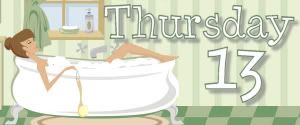 With the end of the WGA strike, new shows will be airing before long (well, true for some shows, anyway -
here's a really great list of what returns when
if you haven't seen it yet), and in anticipation of such joy, here is a quick sampling of the kind of shows that float my boat.
13 TV Shows I Love Watching
(no particular order and far from a complete list):

Get the Thursday Thirteen code here!
The purpose of the meme is to get to know everyone who participates a little bit better every Thursday. Visiting fellow Thirteeners is encouraged! If you participate, leave the link to your Thirteen in others comments. It's easy, and fun! Trackbacks, pings, comment links accepted!
View More Thursday Thirteen Participants