Today is
smoke-free day 256
, and it's also time for Thursday Thirteen!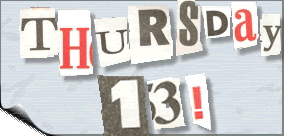 In honor of returning the Trekkies 2 dvd to Netflix since it didn't get here in time for Tom and I to watch it together before he left, and then
mid-haiku
it seemed poetically perfect for me to return it and wait until we can watching together, for this Thursday Thirteen I bring you...
The Next 13 Movies in My Netflix Queue:
(

I shuffle these around constantly, so there is little chance that these will actually be the next 13 I rent, but taken as is from my list, here is a peek at the first of the 169 in my queue

)
Get the Thursday Thirteen code here!
The purpose of the meme is to get to know everyone who participates a little bit better every Thursday. Visiting fellow Thirteeners is encouraged! If you participate, leave the link to your Thirteen in others comments. It's easy, and fun! Trackbacks, pings, comment links accepted!
View More Thursday Thirteen Participants