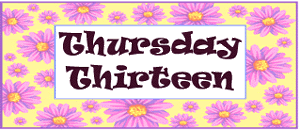 To the rest of the world, I lost my mom 13 years ago this week, but to me it's still like it was just yesterday. In
the
past
, I've kept it pretty generic and not specific on the blog. I'm not going to do that this year. This is for me, but you are welcome to pull up some coffee and have a seat with me. My mom's birthday is today, Thursday, March 13th. Hard to believe she would have turned 69 years old this year. The 13th anniversary of my mom's death, just one day after her 56th birthday (I know, so young,
ALS
is so unbelievably cruel), is tomorrow, Friday March 14th. We knew she lived for birthdays but apparently even more so than we suspected. I'm the same way, and I embrace it because to me there is no greater compliment I could ever receive than to be told that I'm just like my mother. She lives on through me and through the lives of those whose lives she touched, and I'm proud of any little bit of her legacy I discover within myself.
So, after all that long introduction, in honor of my mom's birthday on this Thursday Thirteen, I present not just one list but three lists because my mom really and truly was all that.
My Mom, Thirteen Ways of Being:
Diehard Cub's fan (as in full Cubs gear at her viewing when normal women would have been respectfully dressed in nice clothes and pearls or whatever you are supposed to wear in a casket, as in "please scatter my ashes where Ryno stood playing 2nd base")

Hilariously funny (though not always intentionally, which was often even more hysterical)

Barefoot (except in winter) and talked with her hands, even on the phone (genetics got me there, too)

Irreverent, almost completely

Inappropriate (but in harmless ways, usually)

Petrified of public speaking
Loud
Potty mouth (but no f-bombs)
Proud and photo-bearing (and wearing things like sweatshirts daring you to ask her about her grandsons)(nope, not my kids)

Always "pulling a boner" (her words, not mine...)

Not so good on the whole dieting thing that tended to start on Mondays, but if the situation called for it, she could drink a group of college kids under the table and then order a pizza for herself while they were passed out, almost just to make a point back before the word pwned even existed (true story)(not me, different college kid of hers)(no, she wasn't a drunk, not even remotely. sheesh.)

Lived and loved with all her heart, no holding back
Missed. Tremendously. And never, ever, forgotten. I promise.
~*~*~*~*~*~*~*~*~*~*~


A Compilation Mix of Thirteen Songs and Sayings You Could Expect to Hear During a Car Ride with My Mom
(all music would have been on
8-tracks
- remember those? - and now I'm all up here on my blog linking each song to a video on YouTube, two things she'd never have imagined)
:
Put a quarter on the seat, and I'll park it for you (which is really funny if you've ever seen my mother drive. or park. or drive into the side of the garage while trying to park. waaahahahahhhhaaaaaaa, kills me, even now whenever I need a chuckle.)

Linda Ronstadt "I'm Gonna Say it Again, You're No Good, You're No Good, Baby You're Nooooo Goooooood"

Try the radio, sweeter tune (in response to honking, whether at her or not)

The Platters "Oh-ho-only You (Only You)" (or something really nonsensical and nutty like The Ames Brothers "M, I say M-O, M-O-P, M-O-P-P, Mop," Ragmop)

None of these assholes will give me a break (said in exasperation while attempting left turn against traffic, which I try never to try to do)

Nat King Cole "L is for the Way You Look at Me, O is for the Only One I Seeeee, V is Very Very Extraordinary, E is Even More than Anyone that You Adore and Love is all that I can give to yoooooooou, Love is.... (L-O-V-E)"

Oh, just blow it out your ass (in reference to honking, I think)

Oak Ridge Boys "Elvira, My Heart's on Fire, Elvira. Getty a Hmm Bop a Hmm Bop a Mao Mao"
Bald headed Jesus on a rainy day! (stated randomly, sometimes while turning left, or general usage when annoyed at other cars - I've never heard anyone else say this, ever)
Peter Paul and Mary "Puff the Magic Dragon Lived by the Sea and Frolicked in the Autumn Mist in a Land Called Honah Lee." (not. about. pot. not.)

Don't make me pull over and stop this car; I will break your little ass (this never ended well. it was back in the days when spanking misbehaving kids - who? me? - was allowed. on the side of the road. if need be. don't judge.)

Statler Brothers "Don't Wait on Me (then the low voice: Little Darlin')/ When the Lights Go on at Wrigley Field I'll be Coming Home to You" (if you don't know, the lights did actually come on for the first time on August 8, 1988 at Wrigley Field, and you can bet your sweet ass that my mom was there - so was I - which was awesome even if that game did get rained out, but the song kind of lost its meaning after that...)
Oh, balls (general usage, applied liberally, as needed)
Bonus. Ronnie Milsap "But Tears Filled My Eyes When I Found Out She Was Gone, Smoky Mountain Rain" (classic, gets me even now)

~*~*~*~*~*~*~*~*~*~*~
Thirteen Titles My Mom Held:
Mom
Wife
Friend
Sister
Daughter
Aunt
Grandma

Girl Scout Leader
Room mother at school
Santa's Favorite Helper Ever

Easter Bunny
The Fat Toothfairy (her words, not mine, when she was all excited, change jingling in her robe so that I woke up, and she had to come up with some reason for standing there by my pillow and said that she was "the fat toothfairy" but that the real one would be coming later - made sense at the time)

Chef, Housekeeper, Healer, Psychologist, Encourager, Cheerleader, Advocate, Hug Giver, Birthday Planner Extraorinaire, Person who Loved Me Most of All No Matter What and Did Awesome Things Like Mail Me Cookies in College
~*~*~*~*~*~*~*~*~*~*~


Today is
smoke-free day 270
, and my mom would be positively thrilled about this. It really is just a day at a time, and today, this smoke-free day is for you, Mom. Happy Birthday. Yes, I love you, too. A bushel and a peck.
~*~*~*~*~*~*~*~*~*~*~
Get the Thursday Thirteen code here!
The purpose of the meme is to get to know everyone who participates a little bit better every Thursday. Visiting fellow Thirteeners is encouraged! If you participate, leave the link to your Thirteen in others' comments. It's easy, and fun! Trackbacks, pings, comment links accepted!
View More Thursday Thirteen Participants