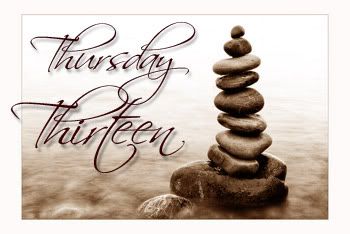 (thanks to
Samulli
for the cool header)
I'm still feeling the beautiful benefits of that fabulous massage last weekend. I tried
capturing my feelings about the moment in pictures
, and now now here's what went through my mind, blow by blow, 13 style.
Thirteen Things Going Through My Mind During My Massage
Yes, down to underwear minus the bra, is my level of comfort to which to undress. She said face down, which means my poor stress holder shoulders and back will be near the top of the list. Ah, yes.
Must quickly take a few pictures. Would love to share the feeling of this room on Sunday for Weekly Winners. I'm mostly naked. Must click quickly. Very quickly. But still holding camera steady long enough.

I'm here! I'm ready! I'm face down with my face in that face donut thing! Please come back in soon! Ah, these clean and crisp white sheets are the very definition of simple bliss. I hope she remembers what I said about more on the Swedish style and less on the poky painful accu-hell-pressure stuff that makes me feel the opposite of relaxed and kind of ruins my day.

So glad I remembered to shave and finally felt motivated enough to follow through with it. Bet she'll appreciate the gesture.

I'm pretty sure I have no backne/bacne/back acne today. I hope. Gah. That would so not be at all cool.

Oooh! The knock on the door! Am I supposed to actually answer, or what? Well, howdy.
Music that does nothing for me. I wonder if next time I could bring some George Winston. Not that I'll care about the music in about 5 minutes.

After the feet, my boring ass legs is where we are going next? Say hello to my Hello Kitty tattoo while you are there. Nobody else really sees it since it's... Oh, yes, keep doing that. Wait, but not that painful thing just now. Do I say something, tell her it's too much pressure? Oh, good, no need, back to the good touch.

Mm, shoulders. Yes. Dear. God. Yes. Heaveny, pure bliss. OMG. I hope I don't cry, but it feels so good. *This* is why I get massages. Exactly this right here.

Clear the mind. Stop thinking about anything. Just experience, enjoy.

OMG, from now on I'm doing this more often, like every day, when I win the lottery that I don't play.
Arms and whatnot- borrrrr-ing. Wait, why was I thinking about castles? Did I start to drift off? I hope I didn't drool, but I don't rightly care if I did. Don't stop.

An hour gone already? Ah, but that was so incredibly wonderfully nice. Next time, I'm totally asking for her because she did just right. I can't move yet, can't bring myself to get up and dressed and back into the real world. Thankfully, she whispered on the way out that I could take my time, so I will. And then I'll take more pictures to capture my happy so that I remember to do this more often (which I did, and those pictures are here).
Just for the record, today is
smoke-free day 298
.
Get the Thursday Thirteen code here!
The purpose of the meme is to get to know everyone who participates a little bit better every Thursday. Visiting fellow Thirteeners is encouraged! If you participate, leave the link to your Thirteen in others' comments. It's easy, and fun! Trackbacks, pings, comment links accepted!
View More Thursday Thirteen Participants