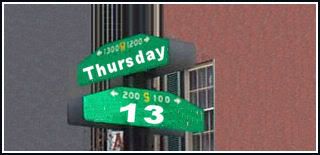 Not the most interesting list I've ever done, but I was kind of surprised at how many states I haven't been, considering how much I like to think I like to get around. (Take that however you wish)
I've clearly missed some places.
Thirteen States I've Never Been

North Carolina
Montana
Virginia
Delaware
Georgia
Arkansas
Louisiana
Missouri
West Virginia
South Carolina
New Jersey
Connecticut
New York
So, what am I missing? Do you live in one of these states? Travel to one often? Have relatives in another? Never been to any like me?
Get the Thursday Thirteen code here!
The purpose of the meme is to get to know everyone who participates a little bit better every Thursday. Visiting fellow Thirteeners is encouraged! If you participate, leave the link to your Thirteen in others' comments. It's easy, and fun! Trackbacks, pings, comment links accepted!