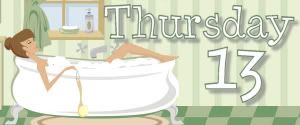 13 Things I Wish Happened Automatically

All things related to the cat box - I don't mind filling at the start, but it all goes to crap from there.


Vacuuming - working up a sweat and still having fuzz on the floor is heart healthy, but not good for my mood. I hear Dysons are good. I may need one.



Matching pairs - trying to find the other black sock with the same exact pattern and not the other close but no cigar pattern annoys me.


Groceries getting into the house and put away - I actually kind of *like* grocery shopping. And cooking. And eating. Not so much the rest.



Dishes - yes, I know that a dishwasher is automatic, but when it can load and unload itself I'll be even more impressed.


Travel - it's nice to take a Sunday drive or do a road trip, but sometimes it would be nicer to just teleport (is that what it's called?). The sci-fi set isn't all wrong at all.


Checking out - I think some places do this or are working on it where you roll your cart full of that which makes you happy through some sensor thing that calculates it all. Then you'd have to bag it, though, still, I guess. That should be automatic, too.


Fashion - when I leave the house looking wrong wearing a fanny pack because it's convenient, having something try to talk me out of it and physically offer, maybe dispenser-style, a suitable alternative, would go far towards solving my fashion problems. Until then, oh, yes, sometimes I really do rock the fanny pack. You think I'm kidding.



Money - some folks love to work and feel a sense of whatever it is they feel, but I think I'd do OK with automatic money and could learn to feel a sense of accomplishment at perfecting the art of leisure. I would be *so* good at perfecting that.


Decluttering - if I haven't worn it, used it, seen it or thought about it in a few years, poof!, all gone. I'd want an exception button for a few random things, but mostly this would be so very useful.


Laundry folding and getting put away - I really excel at the part about throwing clothes into the wash, sometimes even drying them on racks during my random boycotts of the dryer, but it's when I get to that last part that I have to do the reminder speech to myself that I'm an adult and that adults fold/hang/put away clothes. Life is to short for such hassle. How do you people in houses of more than one person even cope? And since you are likely good at it, will you do mine?


Gas filling - sure, I live in Oregon, so it is practically automatic (yes, by law we can't pump our own gas, yay!), but wouldn't it be easier to just have it never even get low, maybe regenerate itself in the tank? Think what greatness could be done if we had back all those minutes lost sitting at the pump!


Stink shields - I'm all for stinky people having rights to be out and about and all that, but if a little invisible stink protector shield went up around them, all quiet like without it making a scene, my feelings wouldn't be hurt. Since quitting smoking, my sense of smell is way keen, and that's kind of a good news/bad news thing, depending on whether I'm standing by the scent of lavender or the scent of ass.