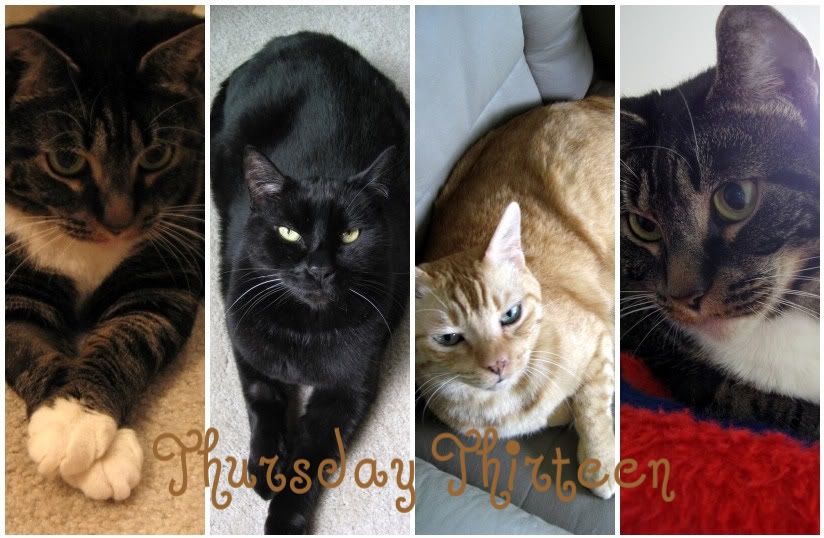 13 Bits of Chattery in the Cattery
(the first 30 minutes of any weekday morning at my house, spoken by me to the three meow babies, yes, it's gaggable, complete with hairball souvenir):
Aw, g'mornin' mama's original meow, my orange little cozy.

Thank you for sleeping by me, my love.

G'mornin' missy sissy, you guud gurl (whose a good girl? is the missy sissy is? yes she is a guud gurl).

Mama gets your breakfast after the shower, my pretty little fatness.
Oh, da dinky do, my boo boo!

How svelte you are, my sophisticat, best all around good kitten, many years in a row.

Mama loves.
All of those.
Each.
Lillow-bee! Breakfast! (followed by singing special song just for her to the tune of Breakfast at Tiffany's while pouring her special diet kibble)
Aw, lovin'a's, mama wishes she could stay home and nap and snack and do lovin's all day and be a cat in my house next lifetime.
K, you all get along, my little freeloadin' meows.
Have a good kitten'a' day and mama loves.
Do you talk totally batshit nonsense baby talk to your pets and give them all a million nicknames? Just me?