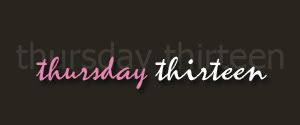 It's been very me-centric over here the past couple of days, even more than usual, which is cool, I suppose, since it is my blog and all, but I'm kind of done with me for a few hours. I'll be back. Worry not.
Since many of you are enjoying a day (or four!) off to be thankful, maybe you have a minute to tell me about you. Answer as many or as few questions as you wish. Or none while you just somehow leave me some sweet potato pie or stuffing in comments (since I'm dining at McD's for Thanksgiving this year. alone. sad. true. but actually totally OK with me because very good things are so very right around the corner. and in time for Christmas dinner. yep, see
private blog
-
email me
to get in, and shh.). If you choose to answer these over on your blog instead of here, just shout, and I'll update to spread the love of the link.
*Updated to add a link to
Joyce
who played along and
answered over on her blog
.
A You-Centric Thursday Thirteen
For what are you most grateful?

Do you like turkey?
How many pets do you have?

Have you ever eaten McD's twice or three times in one day?
What languages do you speak (yes, language of L-O-V-E counts)?
Do you talk to yourself, as in out loud?
What is your favorite scent?
What musical instrument can you play?
Can you juggle? (if so, skillfully enough for knives?)
Where do you call "home"?
Are you the popular one with a bucket load of casual friends or a quieter one with a handful of super close friends?
Has 2007 er, 2008, so far been a good year, a bad year or a mixed/undetermined quite yet kind of year?
Anything else you just want to answer that I didn't think to ask?
Happy Thanksgiving!