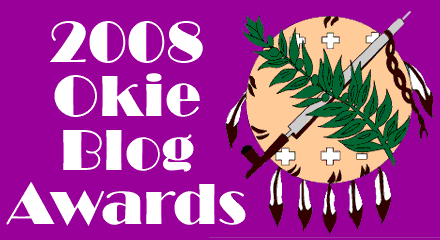 At first I wasn't going to say anything because most of you are not in Oklahoma, so that means you couldn't vote for me anyway, but then I kept getting more stoked about even just being nominated for a
2008 Okie Blogger Award
for best looking blog, and so soon after my arrival in my new home state, too, that I couldn't not say anything. I mean, really, that's just kind of cool to a girl like me. I'm honored. Too honored to be quiet about it. I'm starting to feel like home, like I'm almost an Okie or at least an Okie in training. Or something. And I like it here.
Just looking at some of the other nominees I'm finding some really great blogs of all kinds and have already added a few to my reader. Good stuff here in OK. There's still some I haven't gotten to yet, but I'm hoping to see them all by the end of the week so that I'm an informed voter and all that jazz.
Of course, if you do happen to be an Oklahoma blogger and do happen to like the look going on over here (and, yes,
I had help
making it exactly how I wanted),
consider voting for me
?