(If you aren't caught up, I drove to Chicago last Thursday. This is where I grew up and where family still is. Also, it's the place of an interview for the Japan thing I keep mentioning.)
Already this trip home has been so full of so much growth. A few of the things are those I struggle with but generally do not post about here for a few reasons. Maybe you can read between the lines or relate just in general. Maybe not. Suffice it to say I'm growing up and have had another approximately annual notch added to the belt that holds up my big girl pants. This time I think I've really turned a corner. We'll see as time unfolds itself. Yes, this is all cryptic on purpose (unless you were on Plurk the other day while I melted down into a puddle of crazy and was talked off the proverbial ledge). Maybe someday I'll
expand
expound further over on the private blog where I wrote shortly before the move from Portland to Tulsa, but today I feel good about me being exactly who I am again, so I'm rolling with that. And I have coffee. And room to grow more now that I'm in that mode.

Meetings, Secret and Otherwise

[Picture Was Taken to Go Here, but Turns Out Meeting is Secret. Gah.]

Already this trip home I've met an old high school friend. Old boyfriend, actually.
Prom
date
. We went with my dad to lunch. Amazing how much is different and how much is the same. Of course I mentioned I'd be going to lunch with the old flame to my dear Tom, who didn't mind a bit, but the old
fart
flame kept it secret from his wife, as I found out after the lunch. Wow. I'm so grateful for the kind of honesty that Tom and I share. I may get to meet another high school friend or two yet this trip, but maybe not. And I'm OK with that. I did meet another on the way to Nashville
the last trip
. Time moves on, and so do I. On Thursday I will be heading to Indianapolis to see one of my best friends. I only have two and only one that I get to talk to regularly. So that makes him pretty damn special. There are few secrets between us, either. Y'all who've been reading awhile know him as my
dear friend J
, who did the Chantix thing, told me about it and in that way is part of the whole regular blogging thing I started doing when I took that route to
quitting smoking
over a year and a half ago.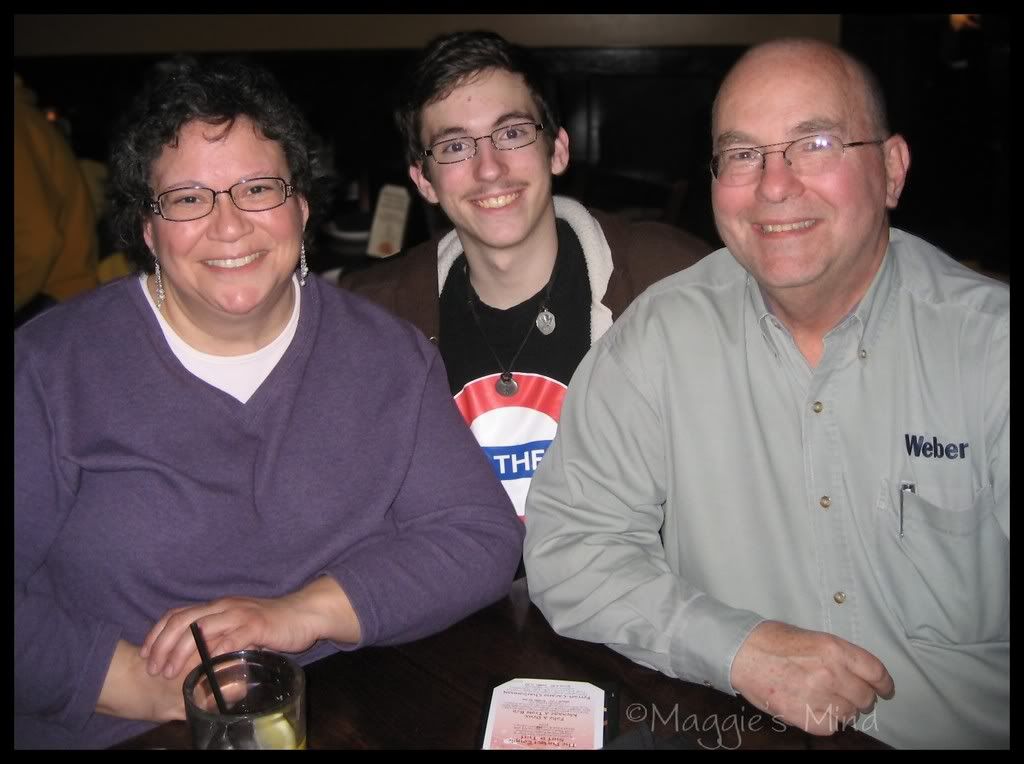 Annie, Zach and
Lou
Already this trip home I've met another blogger, a favorite blogger of mine and of many. The one and only Lou of
LouCeeL
. As a wonderful bonus, I got to meet Lou's bright son, Zach, who asked such wise questions about Japan stuff because I've been, might go again in July (big maybe) and because he hopes to go. Really neat kid. I also got to meet Lou's warm and wonderful wife, Annie (aka She Who Must Be Obeyed - or what sounds like "swimbo" when Lou says it). Imagine the one in charge of being married to all that is Lou. Yep, that's Annie - funny, sweet, warm but able to shoot some pretty serious glances his way to keep him in line, too. In two words: Awesome Annie. I went with my dad. That's a whole chapter in itself, but my dad thinks that while the rest of this whole knowing people online thing is probably comlete bullshit with fake profiles and whatever else, he thinks Lou and family are not only the real deal, but are some of the nicest folks in the world. The rest of you are my imaginary friends. Whatev. It was such an awesome time with much easy conversation and hugs all around (well, my dad did the handshake thing), and Lou does give the biggest hugs. Maybe bigger than
Mishelle
(who
I got to meet
a
little over a week ago
!), but maybe they are tied in that category. Not sure. I hope I get to meet them both again at the same time to compare. Lou's version of our meeting is
here
. While in Indy, I'll hopefully get to meet another blogger,
Tabatha
, another that I'm sure will be the real deal.
Pure Goodness Woman, my dad, me
Already this trip I've gotten to see a woman I haven't seen since
my mom
's funeral 14 years ago (though she's been in touch with my dad), a woman whose very soul is pure goodness. In the years that
ALS (Lou Gehrig's Disease)
slowly and cruelly paralyzed and eventually stole my mother from me way too young, this incredible woman was there for our family, always. I will never forget what she did and what it meant or the lesson I learned about how grand is the small gesture of bringing food to a family in turmoil. Without ceasing and for as many years as the devastation is continuing. This is a whole other nother post. For now, I'll just say it was a delight to have breakfast with someone who makes you feel good just being with her and who knows all the gossip but never has one unkind word to say about any person. Ever. It's like it's all filtered through her goodness filter before it leaves her mouth. Amazing. Inspiring.
Already this post is longer than I like to post, but it's been a trip full of a lot. Already. And there is more yet to come.