Thanks so much to all for the kind words on
my acceptance into the JET Program for 2009
. I'm beyond ecstatic! I'm also taking questions, anything you wonder about all this whole Japan thing. Ask away! I'll answer in a post soon-ish. I'll also be around to visit your blogs soon.
If you missed some of the rationale behind me going, I
touched on it in a post awhile ago
. The short answer is that while my life hasn't gone at all according to plan with 2.5 much wanted cute kiddos and a sexy minivan, I am blessed enough to have a wonderful man who supports my desire to do something kinda crazy that I wouldn't have gotten to do if I had gotten to do the mommy thing. Plus, Tom would love to see Japan [when he comes to visit me].
While yesterday afternoon was all about jumping up and down while yelling good news into the phone of the unsuspecting on the other end of my too good to contain myself news, today has been all about mountains of paperwork and forms and phone calls. I've been fingerprinted (all the way downtown for FBI background check), photographed (for my renewal passport photos, twice because the first lady
was a sleepy dimwit
did it incorrectly) and frustrated (by Google Groups issues and lots of phone calls trying to do things like set up a physical at a doc in a box that will do one for employment, not kids sports stuff), but I'm feeling near the summit. There will be more along the way, but this is the bulk of the bullshit for awhile. Until I get there.
Meanwhile, just for chuckles, I share with you the second version of the attempt at passport renewal photos along with the one that was taken 14 years ago, almost to the date, the first time I did the JET Program. I may be drowning in the sea of paperwork created by the runoff from the mountain of paperwork above, but I'd say I'm doing it far more gracefully, or at least more timelessly.
Then: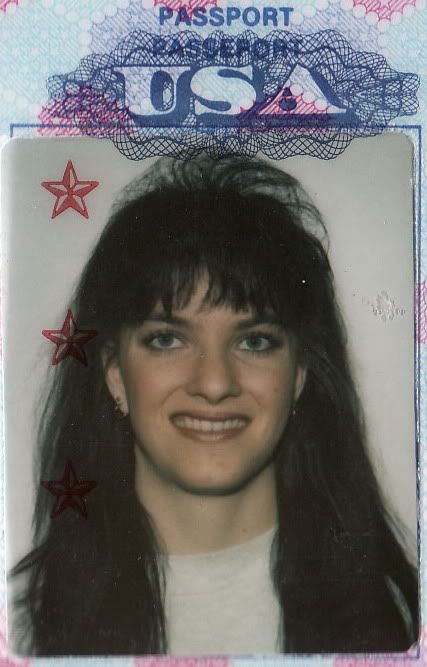 Now:

When I
went a few weeks ago to get my driver's license
and first had to go to some other office to prove citizenship, I used my old passport above with all of that big bang
theory
hair, and the woman kind of giggled at my 1980's hair.
Except that the picture of my 1980's hair was actually taken in 1995.
I've told y'all about
Maggie Fashion
and my inability to know any better.
Bonus: Since I'm in an official document photo sharing kind of mood, one of the worst photos of my adult life was the very one mentioned above, taken a few weeks ago for my Oklahoma driver's license. I wore less make up that day than in the photo above from today, but they managed to add 20 pounds in both body weight and make up and to make me look like
Tammy Faye Bakker
gazing stonedly toward the heavens. Bitches.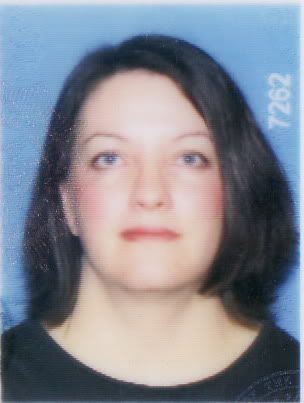 If you remind me, maybe I'll share the picture when I do my Alien Registration Card in Japan. Last time it looked about like the passport photo but without the smile since you aren't supposed to show your teeth in formal pictures in Japan. Even formal wedding pictures. No kidding.

Gotta go work on climbing some more of that paperwork mountain before I start digging out photo albums of my embarrassing childhood.

Shoot me those questions in comments. I'm more likely to post sooner if I have something to say.