Not far from
where I've been placed in Japan
, there are several places that start with what I would write in English as Bicchu..., but since there are different ways of writing Japanese words in English, sometimes another method is used. My
dear friend J
, who already thinks I'm nuts for doing Japan again (it's easier fresh out of college to put up with things like the camping-like conditions we endured - he's totally right!), noticed this little gem and presented it as evidence of what he's been saying all along: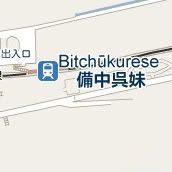 The first part, "bitch" (instead of "bicchu") speaks for itself. The long "u" does sound like "you." Now, considering that "e" in Japanese is pronounced like "ay," this really does look an awful lot like it's saying "Bitch, you koo-ray-say," which sounds an awful lot like "bitch, you crazy." Heh.

I'm still waiting to hear more details, but I do think I'm going to love it there.

In other news, I safely arrived in Chicago yesterday and will be here for a few days, not sure how many, and my blog reading will be light, so if I'm not around here a ton or visiting y'all a ton, that's my excuse.