Do you remember those one shoes I talked about here? The black patent leather with the stap across the top shoes I bought for
my interview in February
for
the JET Program
(the reason I'm leaving for Japan for a year just a week from today)? How I then
photographed
(from
this post
) those shoes and
talked about me walking in heels
and needing the help of YouTube to do so?
Does this help jog the memory?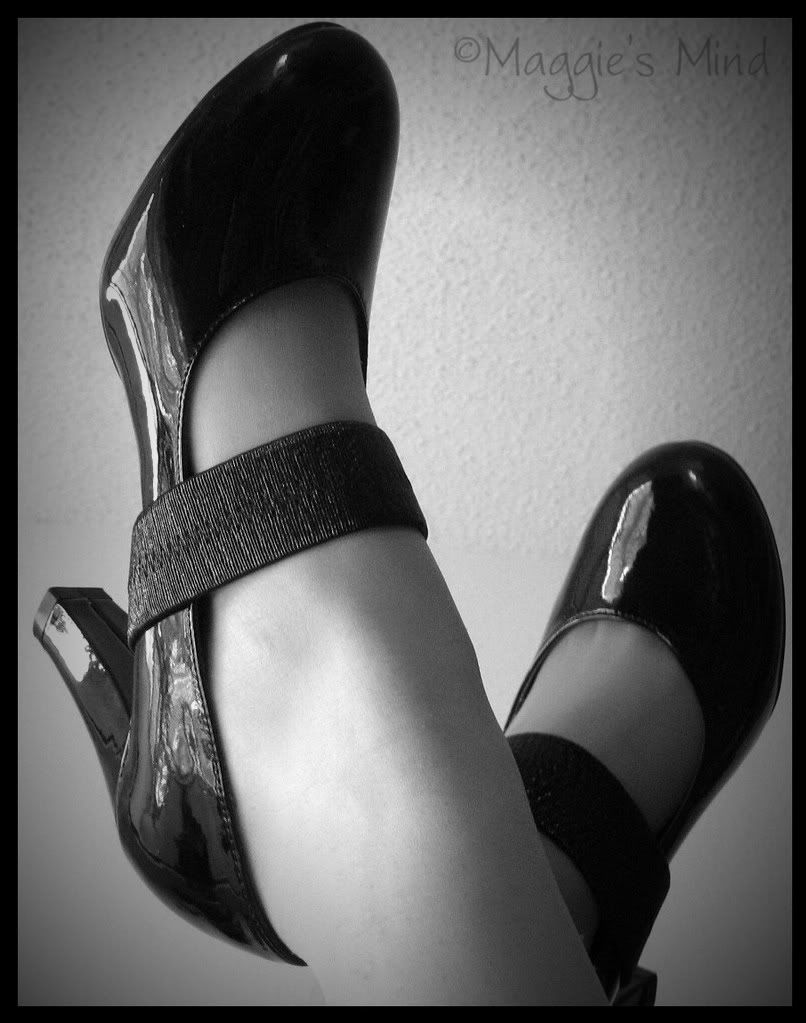 I wore these yesterday for more walking in heels practice when I went shopping for a million things I still needed to buy before leaving for Japan, mostly items to make sure Tom is a little stocked up on things like toilet paper, granola bars, kitty litter (and hugs and kisses). Being raised with some manners and consideration for others, when I was done loading everything into my non-air-conditioner-having-car (it's been in the 100's here in Tulsa, just saying) I went to put away the cart (here in Tulsa, where it gets stupid hot outside, some call a shopping cart a buggy, which cracks me up and distracts me from the heat for 2 seconds).
Something felt stuck to the bottom of my shoe as I tried walking back to my hotbox car where items were surely melting. When I looked down, I became homicidal.
I saw this: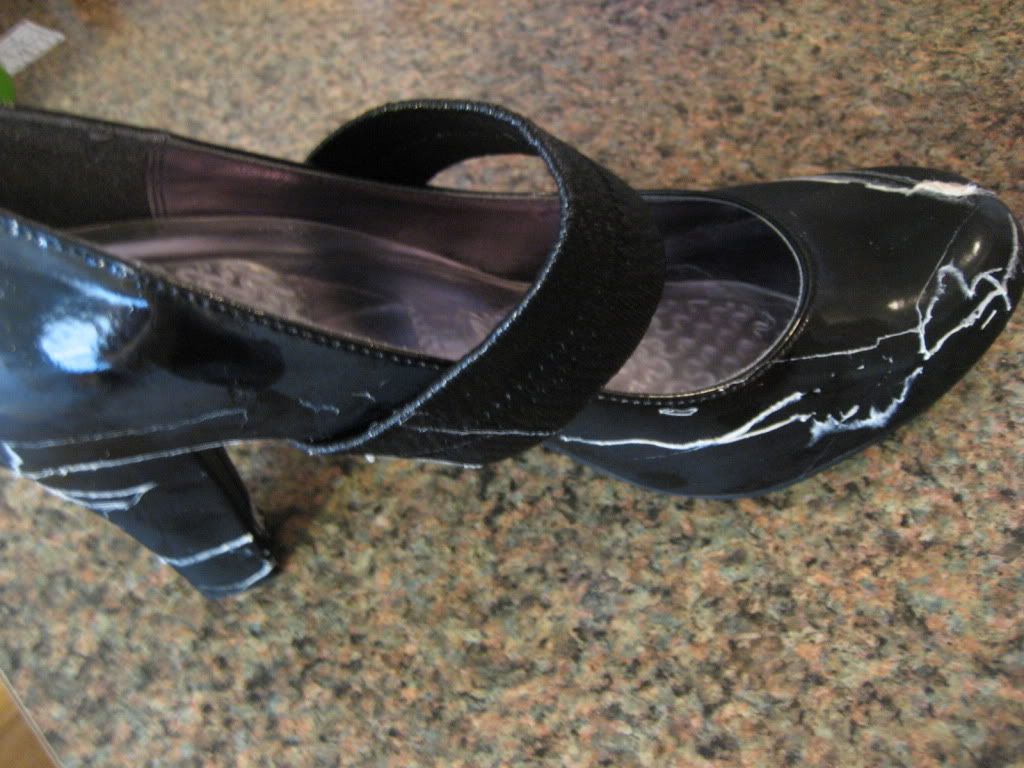 No, I have no idea how I got the gum wrapped around the entire goddamn shoe as if I'd tried to do as such.
I voiced aloud to myself in the empty-ish parking lot what I thought about the mother of someone who raised her kids (and I bet it was an adult kid, no reason, just a hunch because most little kids do know better) to think that it was OK to toss sticky chewing gum on the ground where someone would step in it. I've been chastised here before for saying something like someone having a filthy pig whore for a mother, but I'll say it again because the shoe fits, and when I'm that mad, I sometimes go straight for your mama's throat like the creative words of disparagement we learned in junior high. That still makes me more mature than the asshat who doesn't dispose of gum properly.
The gum still reeked of the peppermint that was probably being used to cover up whatever diseases are harbored in the offender's filthy pig mouth. I didn't want to touch it because, ew. The napkins I had in my car just made it worse, so even though I was in the middle of a bazillion errands, I had to stop at home to at least get the pig nastiness off of my shoes.
I tried putting the shoes in the freezer as I'd heard for gum removal, but it didn't work so well, and I was completely skeeved out having to pick at the infectogram of hate someone had left on my shoe and getting it under my fingernails. *insert gagging*
So, I turned to Twitter (
you follow me, right?
), the source of all information, good or bad or other, and the lovely
Zoeyjane
hooked me up with the solution that worked. She feared the peanut butter option I'd mentioned might ruin patent leather shoes due to the sugars and suggested olive oil.
And the olive oil worked. Like a charm. I put a little on a paper towel and gently rubbed on the olive oil until
it got hard
the gum started coming off. I get to meet Zoeyjane in Chicago before leaving for Japan next weekend (yay for BlogHer being in Chicago!), and she's getting an extra hug.
There was still gum on the bottom of the shoe where I wasn't afraid to use the peanut butter technique that goes like this:
Get Gum Off Your Shoes With Peanut Butter - The most amazing bloopers are here


Later yesterday, I got information from the Chicago consulate that Japan is still concerned enough with swine flu that I need to track my symptoms and temperature for the whole week leading up to departure and turn in the sheet before I'm allowed on the flight. I'm sure piggishness is not related to swine flu, so I should be OK.
At least it was the patent leather pair I was wearing and not
the other new pair
, the $100+ Tsubo ones that I got for under $15 (from
this post
). Can you imagine gum on these? *shudder*