Before I get to the
continuation of the pictures from last time
, that time the Himeji batch and this time the Kobe batch, I have to share my joys from last night.
So, I was to meet in the city (Okayama City) to go to the Korakuen Garden (past pics of this beautiful place are
here
and
here
) with the principal and some of the other teachers, but we had some time to kill. This led to the surprise opportunity for me to buy a second stove burner (w00t,
no longer just one
!) at the amazing
Bic Camera
(all in Japanese, sorry) that sells just about everything, kinda like Best Buy with brighter colors and many floors worth of stuff.
Then, there was an import store in the train station (major train stations in Japan often have huge department stores or shops above and/or below) where I was able to locate chicken broth, the capers
I was sure a few posts ago I`d never find
and also the heaven that is crunchy peanut butter. This means I can make my
Maggie`s Chicken Piccata
and restore peanut butter to its rightful place in my diet. The JTEs (Japanese Teachers of English) learned how to say "awesome" and "oh my gosh" with near fluency by the time we were done at the import store. They also said something about seeing the real Maggie. Yah, I did kinda dance a little when I saw the capers. How do you contain that kind of joy?
As if all this wasn`t enough, the angels sang when the teachers I was with wanted to stop at the Starbucks. I`d seen it at the station but hadn`t had a chance to go in. It`s even more overpriced than back home, but sometimes you can`t put a price tag on such wonderfulness.
We had a great night sitting and talking in the gardens with Okayama Castle in the backdrop, and I returned home to find out that the gasu ho-su (gas hose, once in awhile Japanese is that easy) that I thought I didn`t need when they asked me upon checking out with my new stove burner actually didn`t exist and that I did, in fact, need one. The good news is that they are super cheap, possibly available even here in Tiny Town (50/50 chance), and if not, I`m likely headed into the city again this weekend and will procure one at that time. Just knowing the process is unfolding brings me peace.
I also happened to notice at Bic Camera that they sell washing machines, some on the cheaper side. It`s too far to reasonably have them deliver, but it at least gave me an idea of cost if I decide to work the angle of replacing my dinosaur. I am even more convinced that
the spinner side is wonky
because it makes a horrible noise. I also think this might be related to why my clothes never dry, because I kill the spinning when it gets too loud. Maybe. Or it`s just too humid here. Or both. In any case, I feel bad asking my Board of Ed about the washer issue - like who owns it, and could I have it recycled if I buy something nice - since I just had my toilet fixed (minor issue, but required many trips to my apartment with busy people, so I feel bad bugging them).
If you`ve read that far, you deserve picture time. Here it is.
Elevator,
Okura Hotel
,
Kobe
, Japan
August 8, 2009
(the hotel stay was my friend`s generous gift to me, and the place was amazing)


Coffee Time



Room with a View, Okura Hotel, Kobe
Un.Be.Liev.Able.Wow.
Couldn`t believe we were right in the harbor, this high up and with this to look at every time we glanced in the direction of the windows.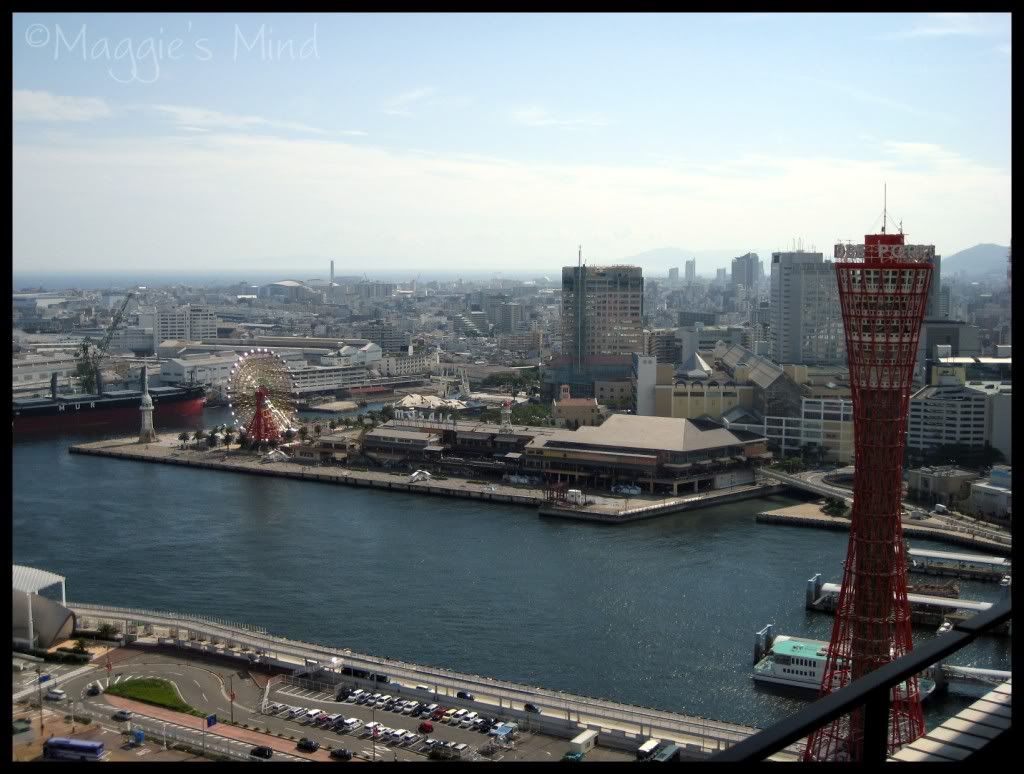 Pretty Even Inside the Room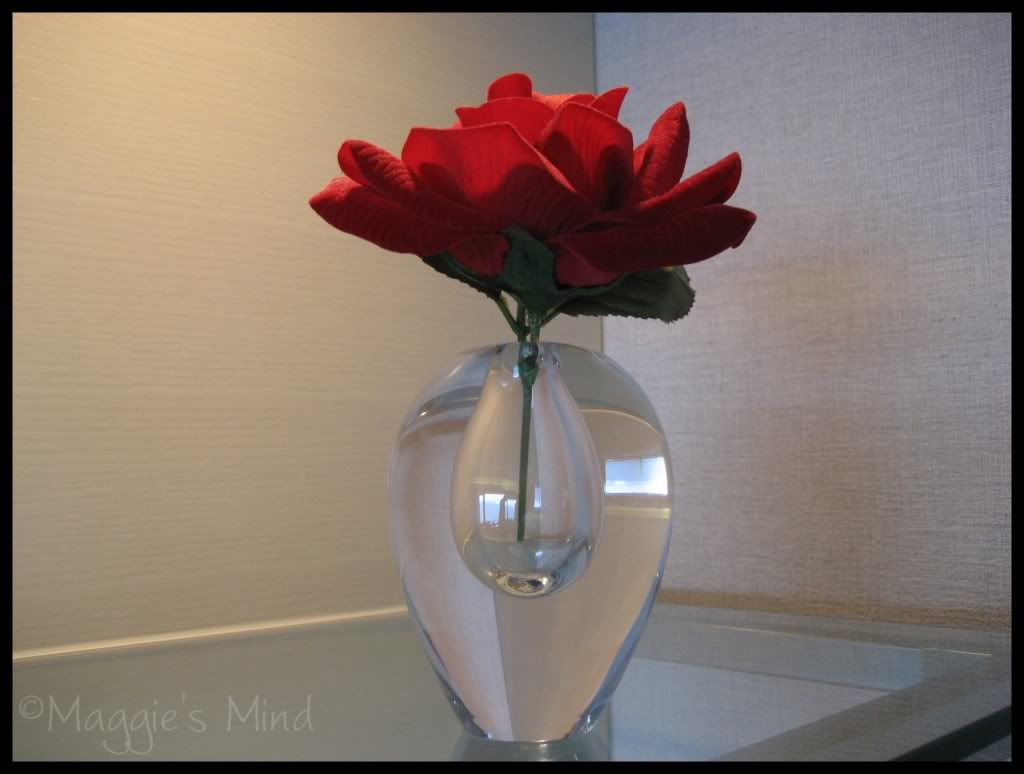 More Harbor View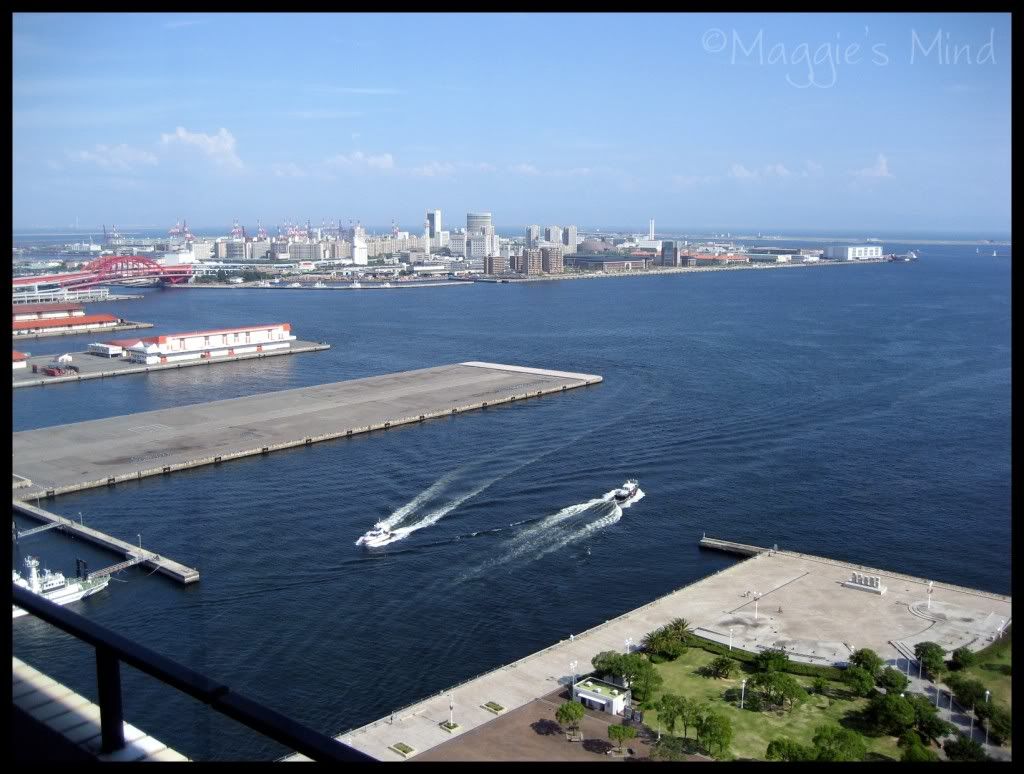 Port Tower, Kobe, in Harborland



Japan Coast Guard
We did a little cruise around the bay. It was amazing to see a port of that size and to think how that`s where all the magic happens, part of what makes Japan be Japan. We also saw this Coast Guard ship. Awesome little cruise and not too spendy.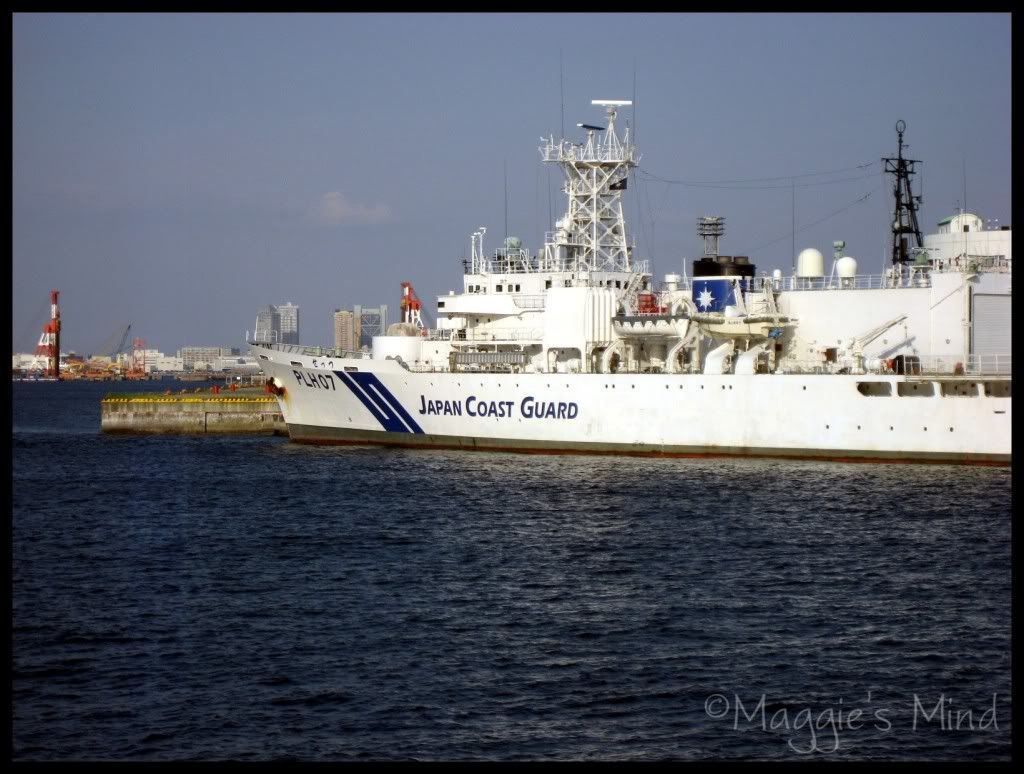 Pretties in Harborland
There are tons of little shops and restaurants all around the harbor. This one sells ooh, pretty colors!, one of my favorite visual distractions.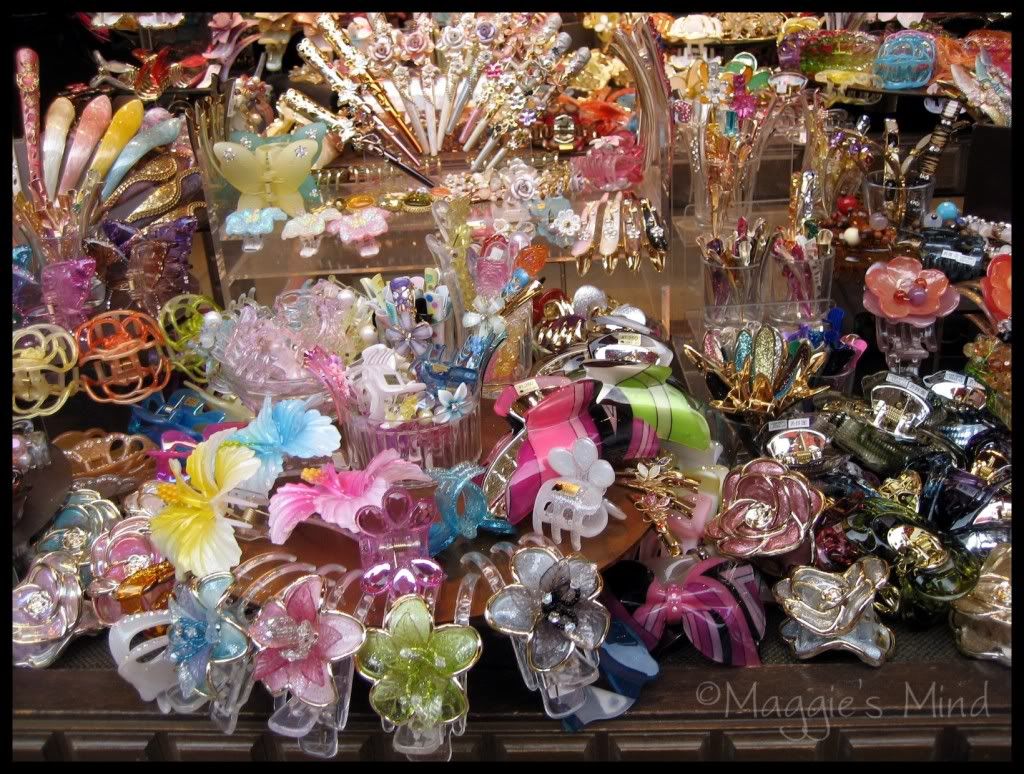 Ferris Wheel, Kobe, Harborland



From the Kobe Harbor Cruise
Ours was that hotel. Sweet spot. Very sweet.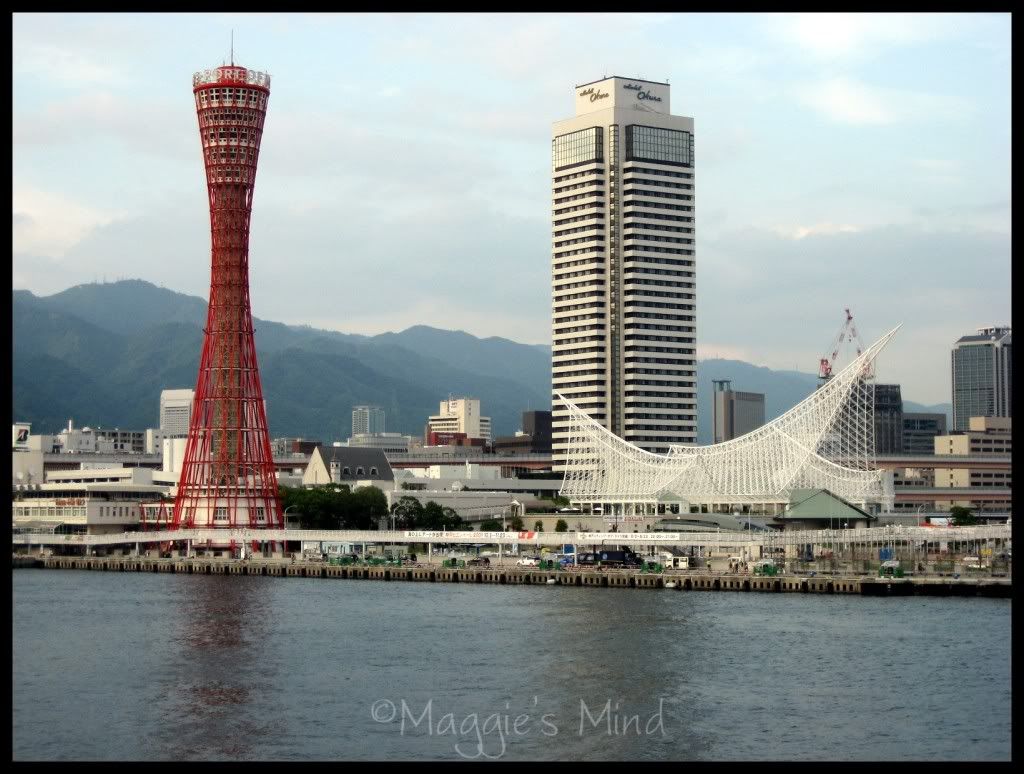 Kobe at Night, View from Our Room
(my night shots aren`t ever great, but you get the idea)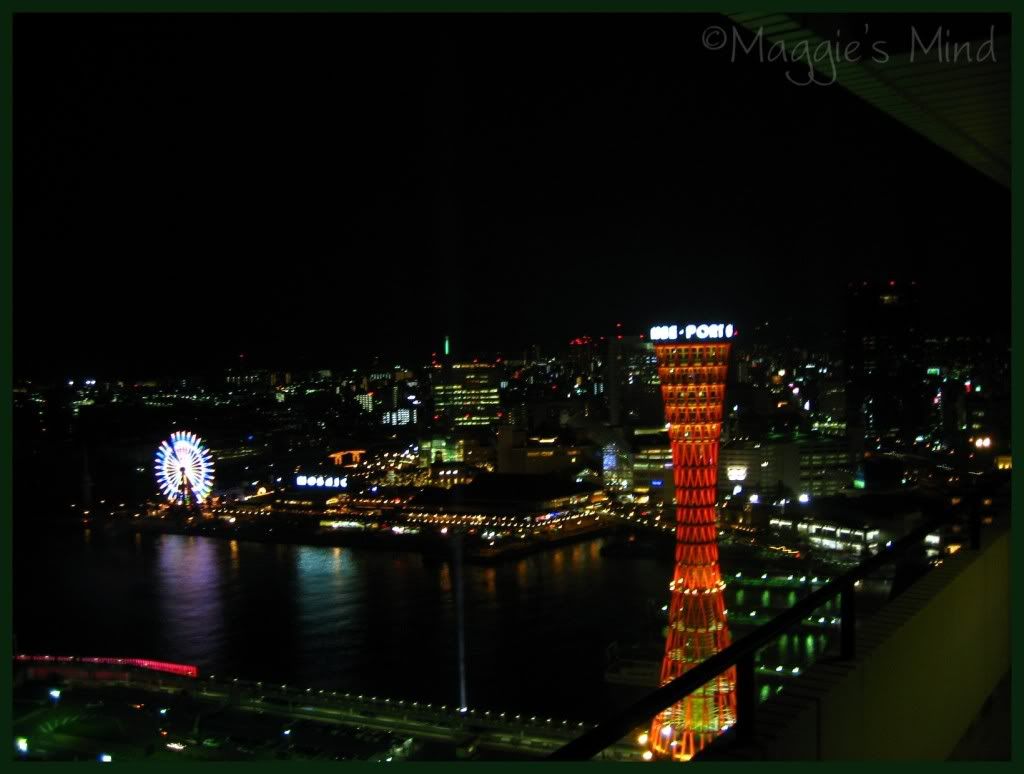 Port Tower, Kobe at Night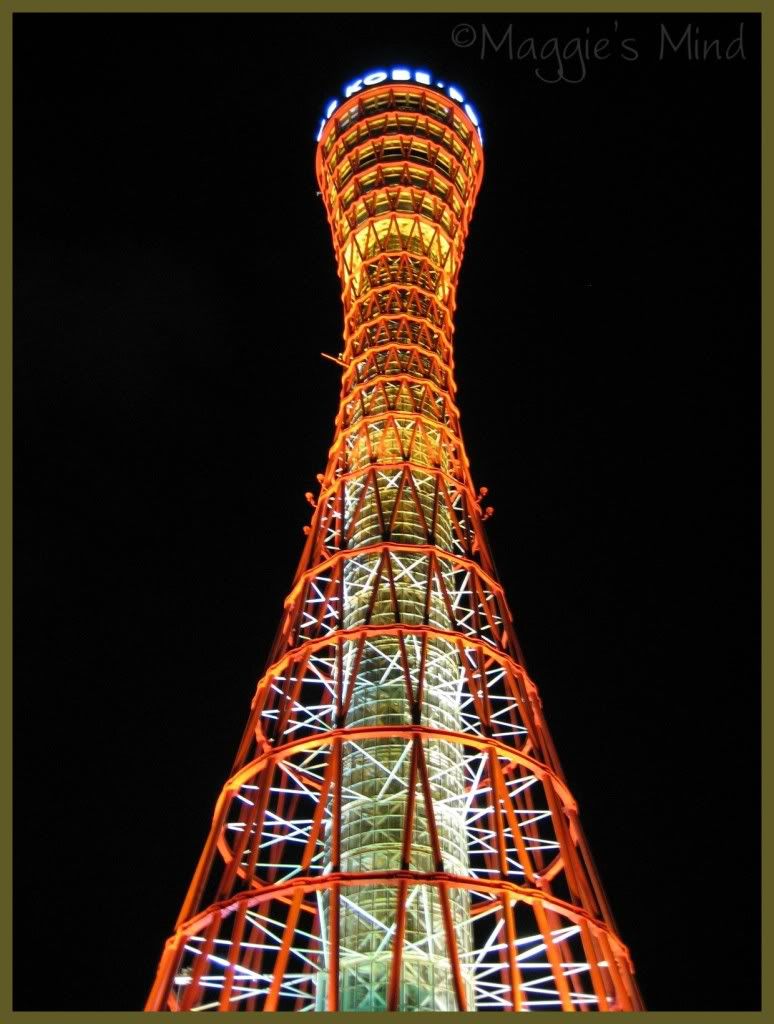 Kobe Harborfront Light Show
We saw it twice - once from our room, but then realizing we were missing the best part, we went down to the harbor for the 2nd show, and it was very cool.



Kobe, Cloudy
Saturday in Himeji and Kobe had been brutally hot, but Sunday was, mercifully, cooler, even if it rained all.day.long. This view seemed pretty to me no matter the weather.



Art in Kobe`s Sannomiya Train Station



Back Home to My Cloudy Countryside

Tonight I have nothing planned except trips to the handful of stores in town, hopefully one that sells my gas hose. So I can cook. In which case, I`ll also need groceries. And I`ll probably get to wash certain clothes for the 3rd time. That one`s the one they say is the charm, right? If it doesn`t work, it`s hot enough that going naked would feel OK.