I didn't visit
Hiroshima
the
last time
I lived in Japan. Part of it was geographical distance. The other part was probably something else. I guess I thought somehow it would be weird to be there, as an American, considering the history and all. Whatever the reason or combination of reasons, I never made the trip. I was missing out on somewhere special.
Turns out, Hiroshima is nothing like I'd imagined.
In fact, it's a really beautiful city, my favorite city in Japan now, actually, for plenty of reasons. Even if I didn't know the history, it would still be a beautiful city. Knowing the history just makes it more so by comparison. If my camera captured enough to convey half the beauty that I saw with my own eyes, you'll see what I mean in the pictures below.
There was no awkwardness about being there as a foreigner, even as an American. There were plenty of us wandering around, more than in a lot of places I've been. So much was in English that it was remarkable, and so many people went out of their way to be kind and helpful, from the folks at the hotel who responded to my Japanese in English, to the passenger on the streetcar (cities with streetcars are just plain cool/convenient) who tapped my arm to point out a free seat, to the conductor who explained where and how to transfer when headed to
Miyajima
(which will be it's own post with more I didn't expect), to the older Japanese guy in the park that enjoyed making small talk about Chicago baseball when I said I was from there. No grudges. No weird.
Hiroshima Peace Memorial Park
area is one of those places that just exudes peacefulness. While the
A-Bomb Dome
, the famous building that partially survived the nuclear bomb enough to still stand as a powerful symbol of Hiroshima and reminder of that day, sits in full view, just across the beautiful river, people stroll through the park either reflecting upon the
many monuments
or simply do mundane things like nap on park benches with their books open across their stomachs. Either way, there is a sense of peacefulness there so strong that it's like a soothing balm for the difficult emotions after visiting the
Peace Memorial Museum
(which did a nice job and cost almost nothing to visit). It's a place that makes you just want to be there and stay there awhile once you are.
I didn't expect that.
Here, then, are some of the pictures I took, though most of these images will stay in my mind forever.
Okonomiyaki

- Hiroshima Style
First order of business upon arrival in Hiroshima was to eat lunch, and there was no question that it had to be the famous Hiroshima style of

okonomiyaki

. I talked about the other kind last post. I think I still prefer the Kansai/Osaka style that is served most places I've been, but it was pretty cool to have the real deal at Okonomimura (or official Japanese site is here), a building that houses basically nothing more than over 20

okonomiyaki

restaurants.
Hiroshima, August 27, 2009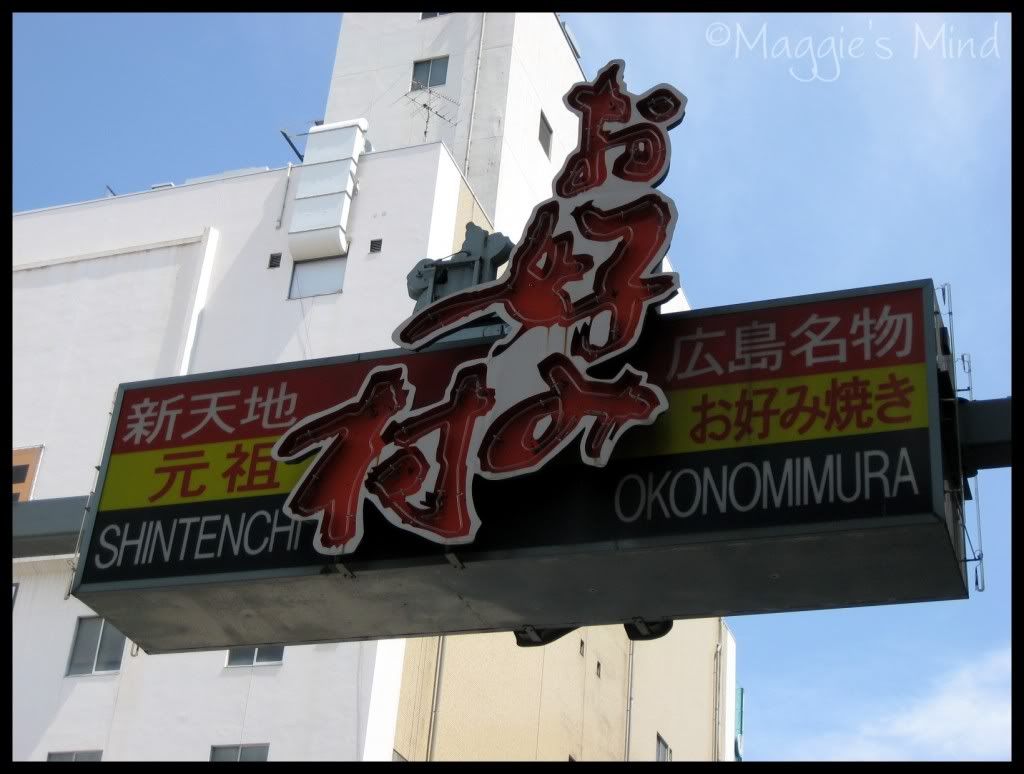 Hiroshima Peace Memorial Museum
They handled the tough subject well, and admission was only 50 yen (roughly less than US$0.50 currently)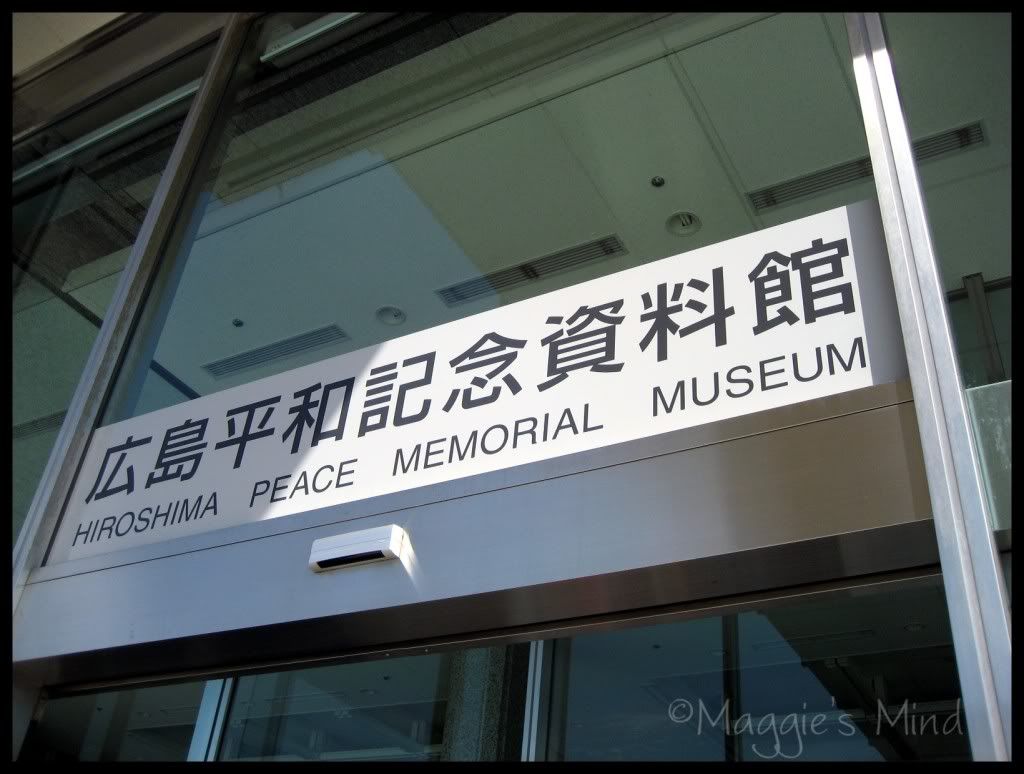 Picture of a Picture of the A-Bomb Dome
Hiroshima Peace Memorial Museum
Seeing the destruction then compared to the beauty now makes me believe in the power of people to overcome and move forward and create beauty from ruins. I read in the museum that transportation was largely back up and running just 3 days after that day on August 6, 1945. Amazing.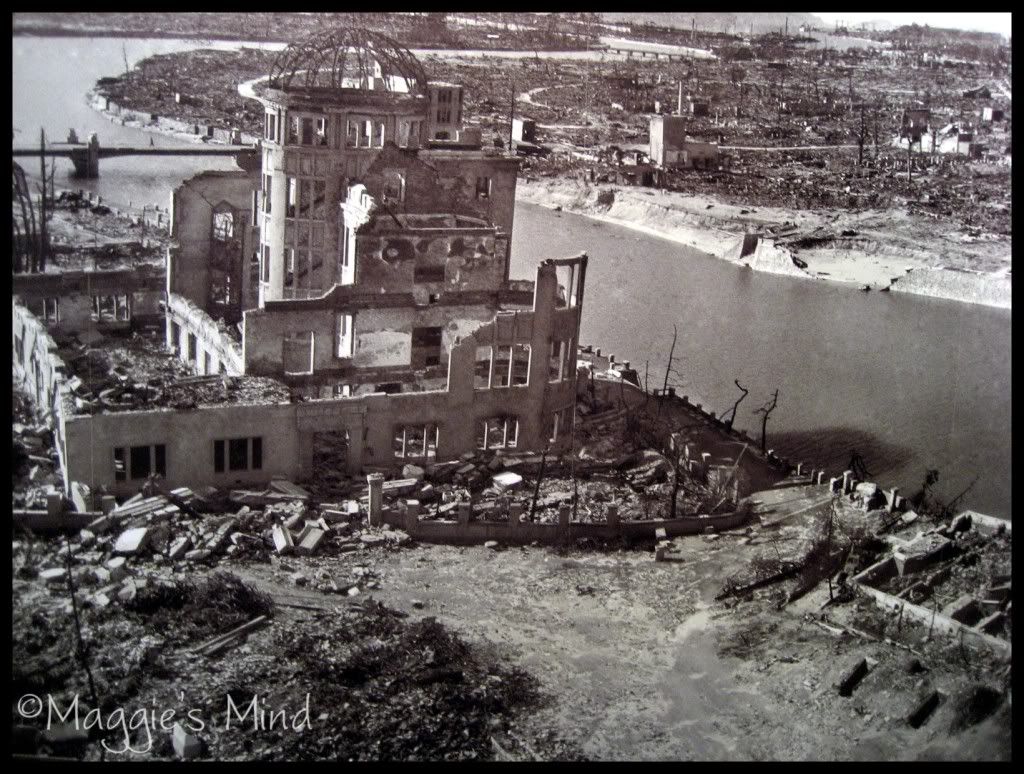 Hiroshima Peace Memorial Park
seen from the museum



A-Bomb Dome from a Park Bench
Hiroshima Peace Memorial Park



Beautiful Hiroshima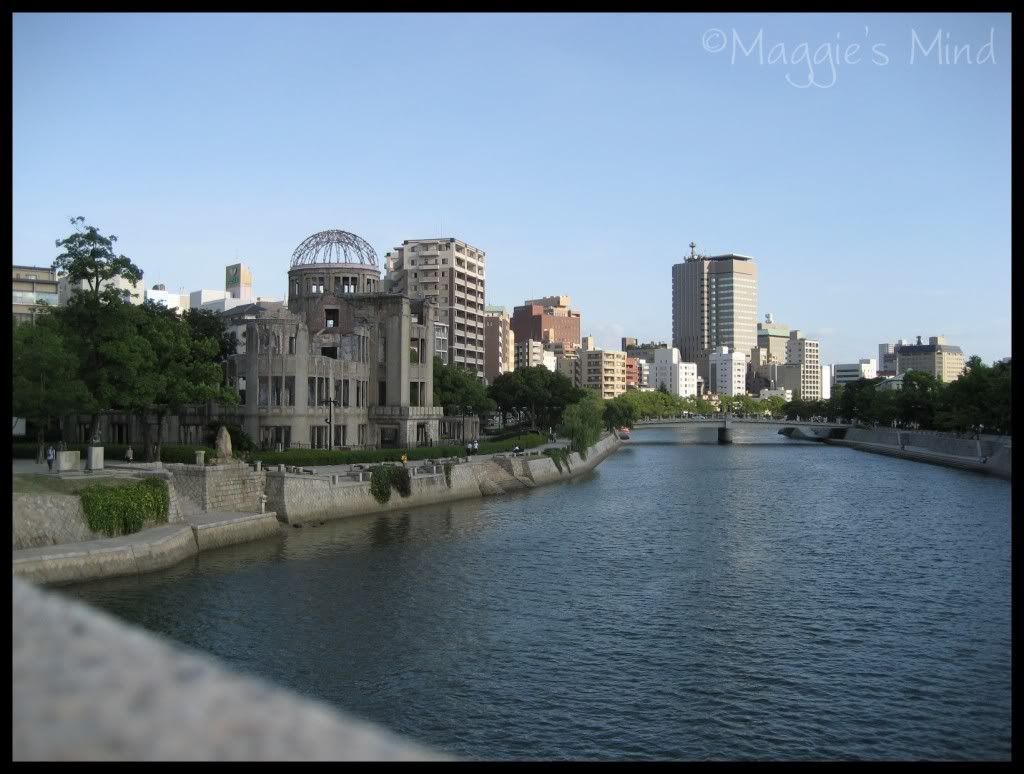 Memorial Cenotaph
Hiroshima Peace Memorial Park
If you look closely, you can see the arch framing the A-Bomb Dome. Many people paused here to remember and to pray (even me) for peace. It's worth clicking over to read this short blurb about this monument.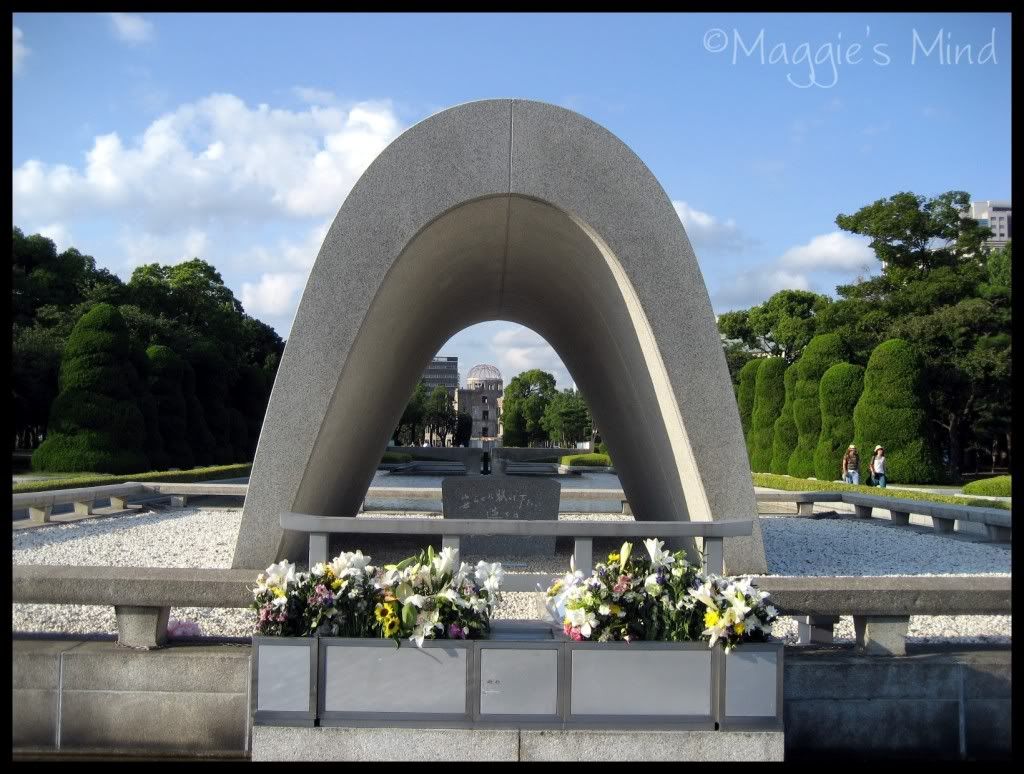 Origami Cranes
Everywhere in Hiroshima Peace Memorial Park
Surely you have heard the story about Sadako and the Thousand Cranes. If not, you must go read it now. I'll be back to Hiroshima again. When I go, I'd love to bring 1000 cranes with me. I've folded about 15 so far. I'd love it if you'd like to help. Here's a video for one way to do it, but there are other variations all over the internet. Please contact me if you'd like to help. If you mail me however many, I'll add them to mine when I go. How cool would that be?
The cranes in the middle of this collage were fascinating because they are a whole different style I'd never seen.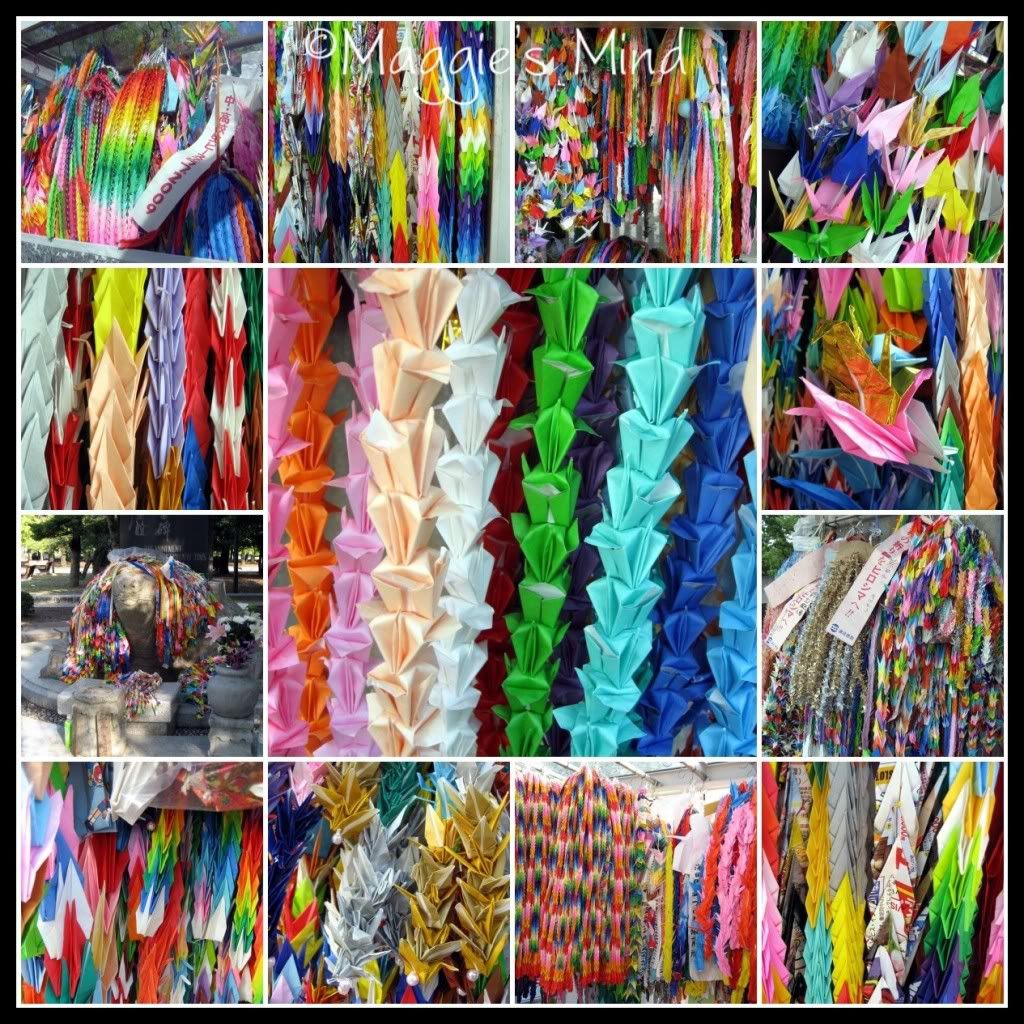 Another View from Another Park Bench
Hiroshima Memorial Peace Park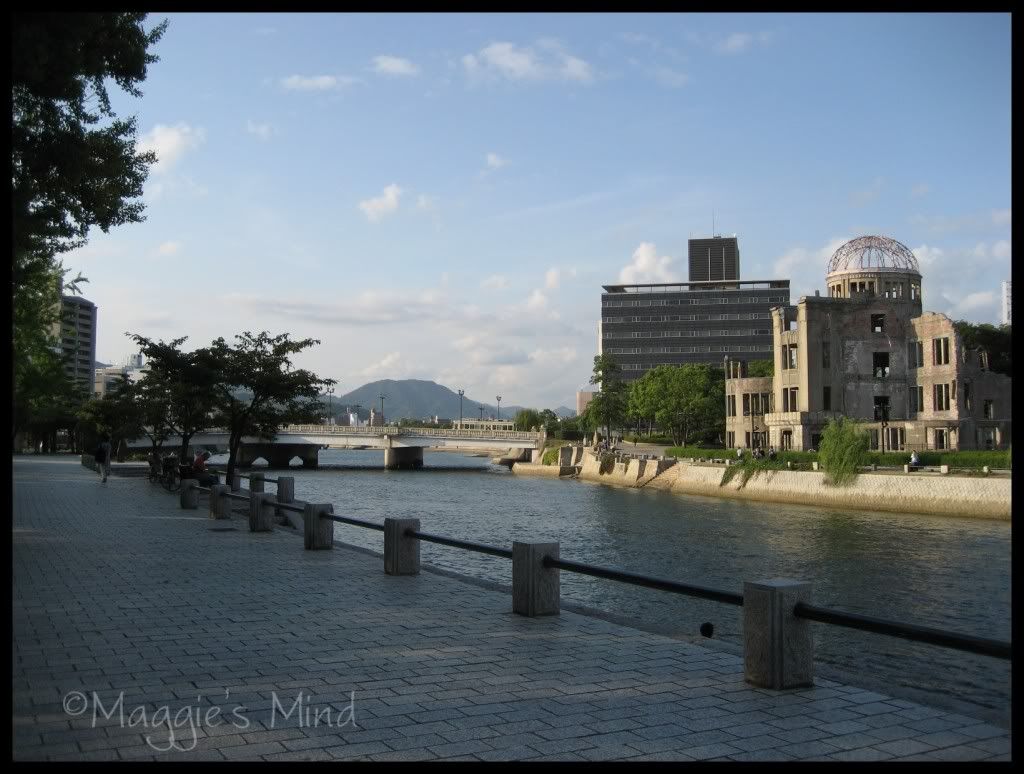 One of Many Napping on a Park Bench
Hiroshima Memorial Peace Park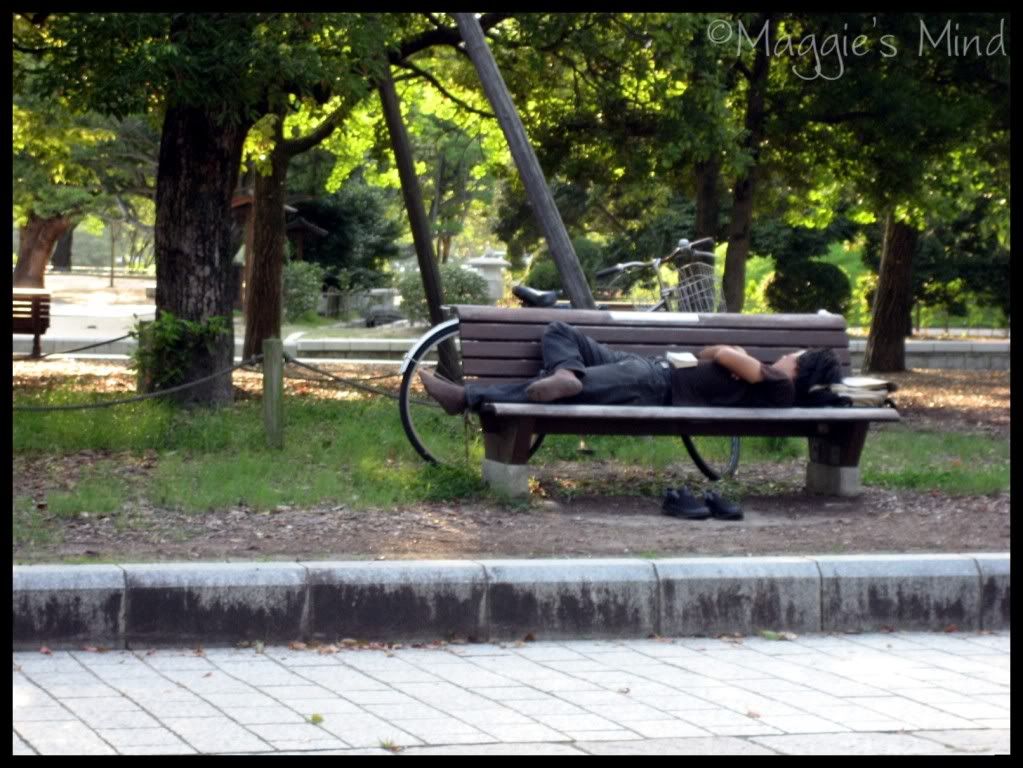 The Hotel that Isn't an Automatic Door / Please Do Rock the Room
I'm allowed to poke a little fun at the English when they talk about rocking the room, even if I really did appreciate how much more foreigner friendly Hiroshima was by attempting more English than most places.

I'll be back soon with Miyajima pictures. They will be fun.