Last night was uneventful other than that I finally "cooked." It`s weird walking into a kitchen full of other people`s dishes and cooking utensils and whatnot. Plus, the cabinets smell funny, which does`t do much for the dishes. So, pretty much since I`ve been here, I`ve had this odd aversion to my kitchen, and I`d been alternating between my

Breakfast of Champions

(CalorieMate, canned coffee), other food from the convenience store (no, the food is good there, really, you`ll see!), eating at one of the 2 or so restaurants in town that are open when I am (one closes after lunch, so it barely counts) or eating food I`ve been given.

Last night, on my single burner (yes. one. single. burner. like. camping.), I boiled water, threw in some pasta, drained and dumped, boiled more water and tried one of the boil in bag pasta sauces at the store. It said carbonara, but it tasted more like ass-o-hair-a. K, not that bad, but not great. Still, I cooked, kinda, barely, but just enough to count. The best part was the fresh cucumbers and huge white pears (they are almost the size of softballs, yay Okayama!) that I`d been given and cut up on the side. Now that I`ve nervously fumbled around with

the bra strap

pots and pans like a n00b (that`s for my sweet Tom, who I wish was here with me) and popped the kitchen`s cherry, I feel like maybe I could start doing more real cooking in there if I could get another stove burner. And a few ingredients I may or may not be able to find. Like capers to make my signature dish,

Maggie`s Chicken Piccata

.

K, now more pictures,

as promised

. They are chronological and start where we left off last time, out near my neck of the

woods

ricefields headed into "the big city" of

Okayama City

, which isn`t all that big but also isn`t nearly as podunk as I thought it could have been, like my Tiny Little Pretty Town.


From the Train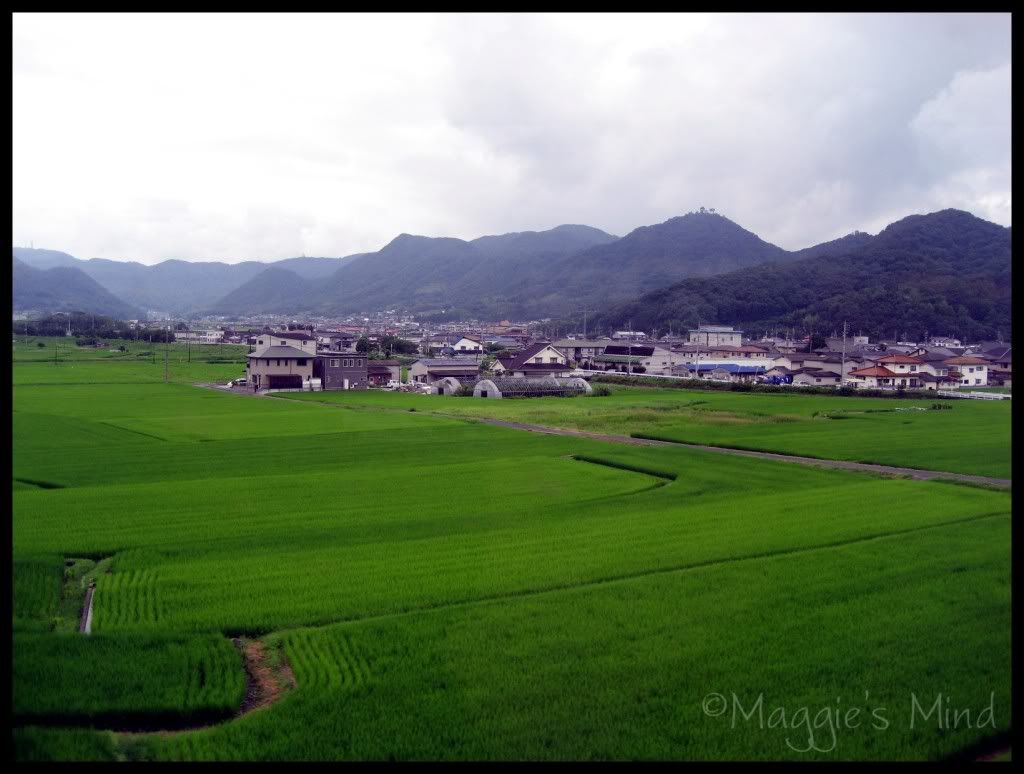 Okayama City Mastsuri (Festival)
Saturday, August 1, 2009



Decorated



Taking a Break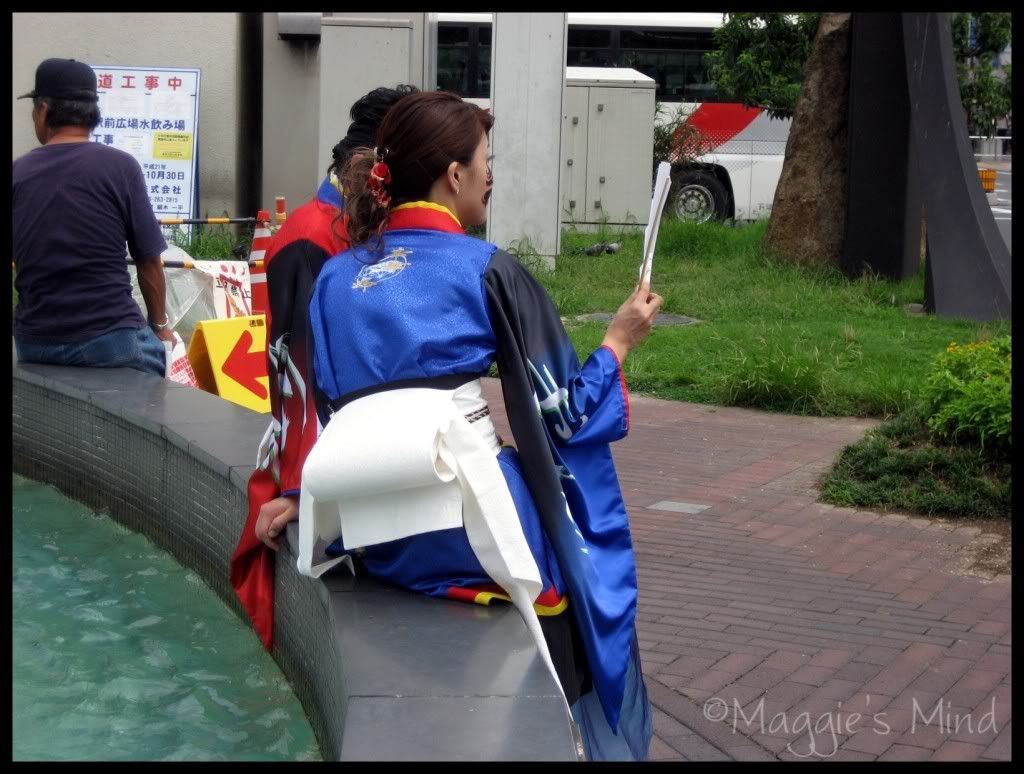 Silly



Okayama Castle
Okayama City, Japan
Same Day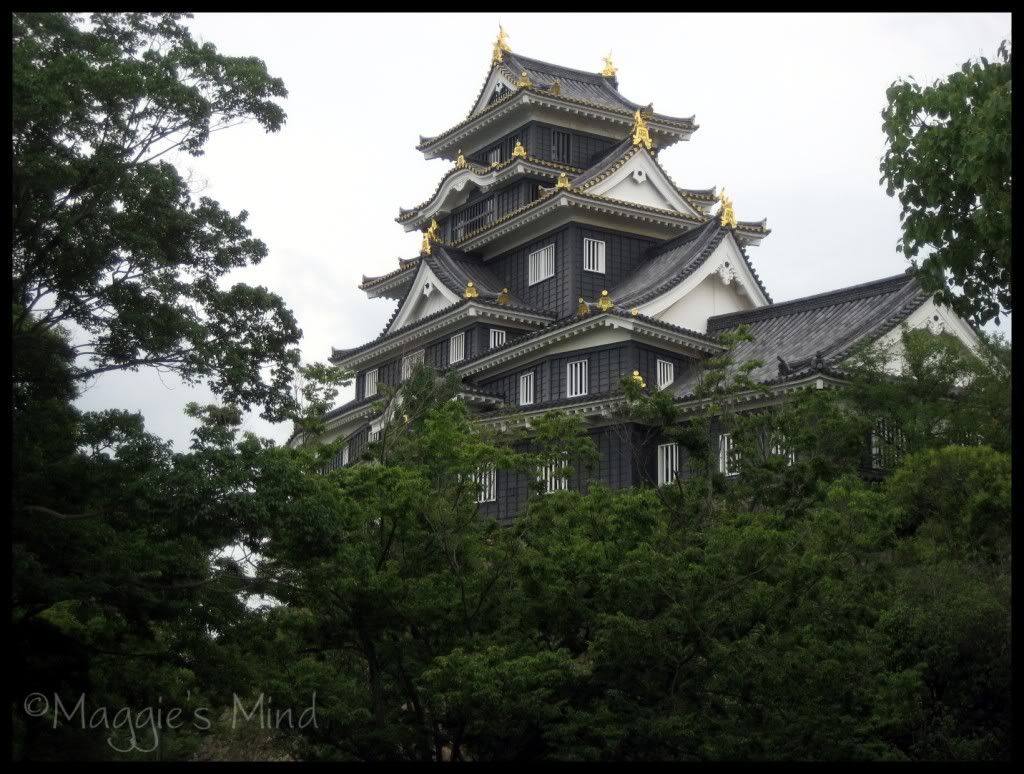 More Okayama Castle



Can`t Get Enough Castle



Castle Parts



Japan Does Rooftops Right



View from Above



Another View from Above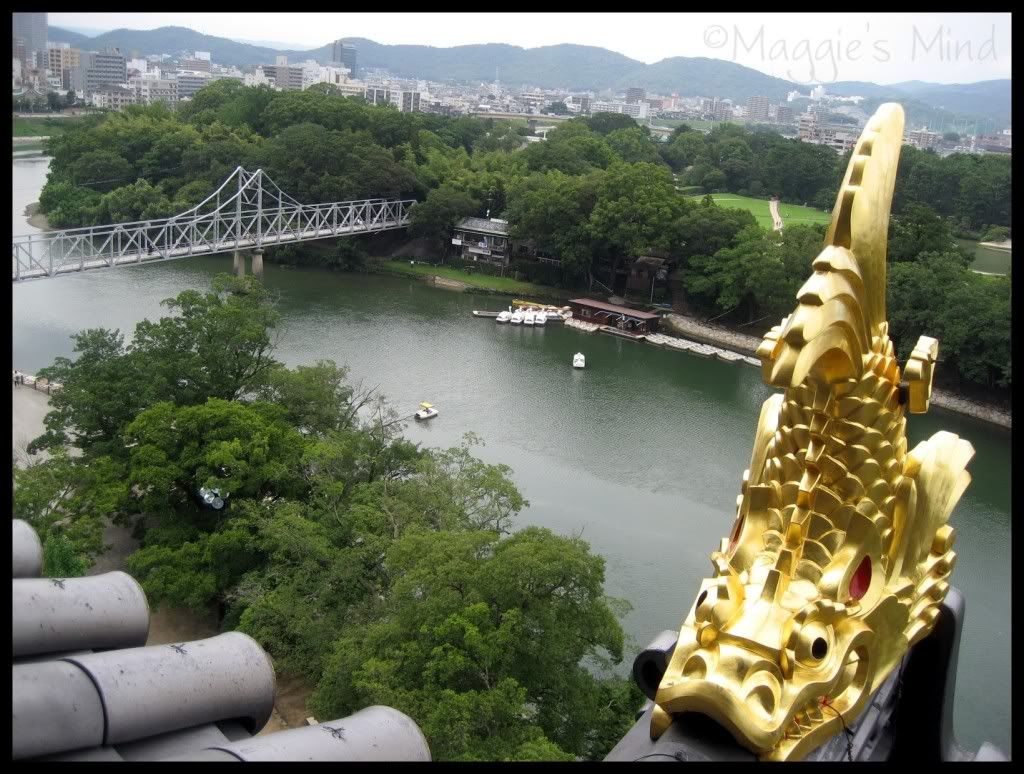 Red (Somewhere inside Okayama Castle)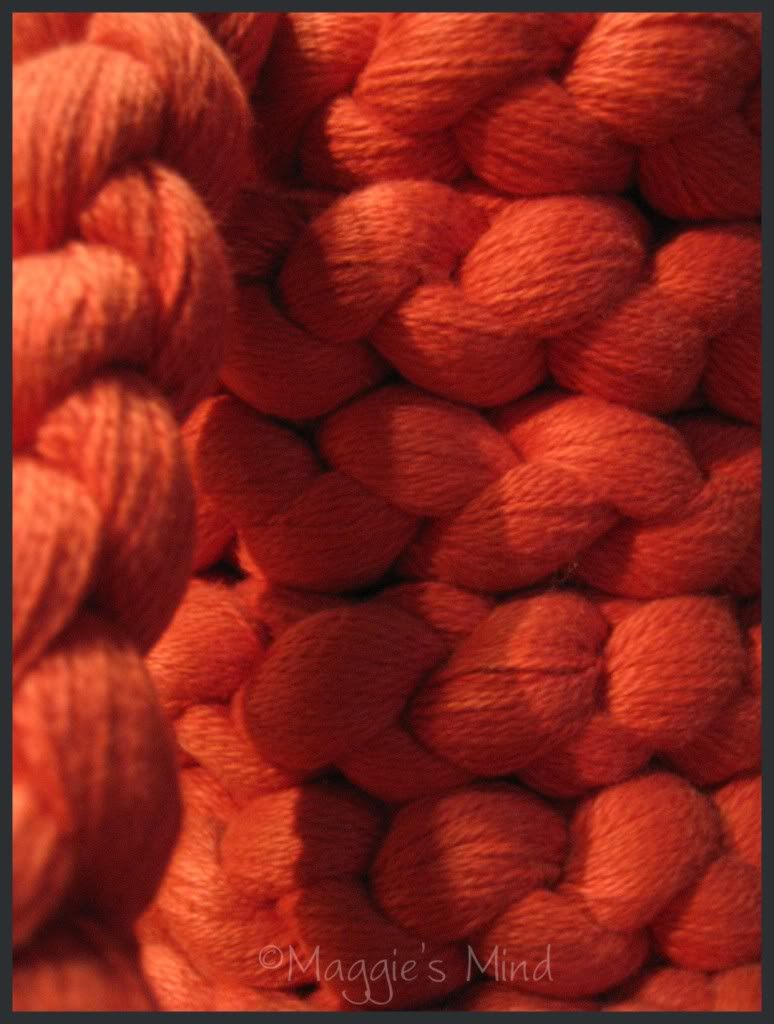 Hello, Kitty!
Giftshop inside the castle, of course.
Where I did not buy one or more Okayama themed Hello Kitty items.
Oh, wait, maybe I did. =^..^=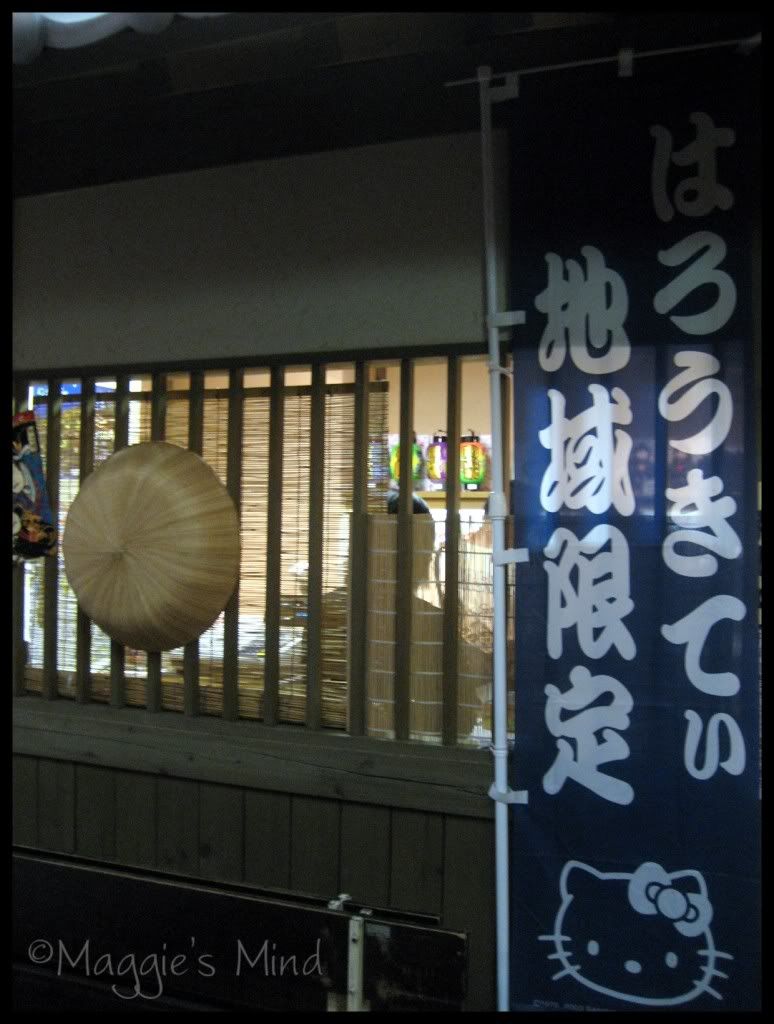 Korakuen Garden
Outside Okayama Castle
It`s one one the 3 most beautiful gardens in all of Japan.
Says someone who knows these things. We strolled around forever.
I don`t know much, but "they" could be right. This time.



More Garden
And I`ll going again next week, I think, with some teachers
from my school, so get used to seeing pictures of this heaven.
I`m told it looks different every time you see it.
I`ll get back to you on that.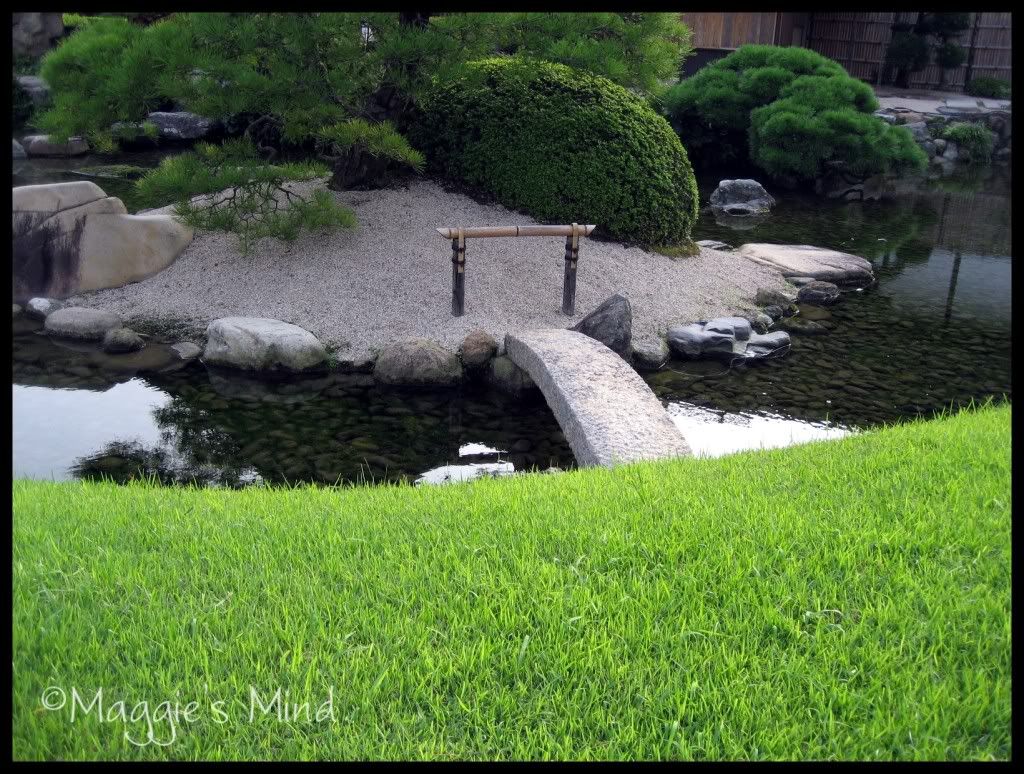 Ooh, bummer, that`s the end of this installment. I have one more installment in the shooter ready to, um, shoot once I get the pics to the blog and do my commentary thing. Since my friend from
Shizuoka Prefecture
, a wonderful woman I had the pleasure of teaching with last time I did JET and who is constantly improving her already good English (which I admire so much!) and had a beautiful view of
Mt. Fuji
outside her kitchen window (until some asshat put up a building), is coming tonight and we`re leaving early in the morning for
Kobe
, I might just post the next picture installment before bed tonight. We`ll see.
No plans yet for next weekend, maybe just checking out some of the nearby cities or something, but in case you like looking ahead with me, my other weekends are taking shape. I`ve got definite plans the following weekend to visit
this tiny but amazing island, Shiraishi Island
. The following weekend may or may not involve the
Innoshima Pirate Festival
(no, really, it`s a pirate island. for serious. i`d never joke about something as serious as pirates.) on yet another teensy weensy little island on the beautiful
Seto Inland Sea
. Plans are not yet firm. Depends on how much booty I still have left from the first possibly short paycheck at that point. So many tiny islands, so little bits of time. Argggghhhh! (that was for
Janet
, my favorite lover of that which is piratical or whose last name is Depp) Then, not that you asked, but since I`ll have a stretch of 5 days off in mid-late September, I`m thinking maybe a big trip to
Hiroshima
and taking the long way home via another island. Or something.