Silver Week
in Japan is a joyous thing that happens some years. 2009 is one of those years. Basically, it's when your regular 2 day weekend of Saturday and Sunday meet up with three days of holidays in a row on the following Monday, Tuesday and Wednesday. I had been hoping to get to Kyoto and/or Osaka and/or Nara, but since I waited too long to get started on plans, it was nearly impossible to find decent accommodation at a reasonable price. Also, I knew half of Japan would be there.
Instead, I decided to head in another direction, basically north/northwest-ish, up by the Sea of Japan side, and staying and seeing some cities in that area. Directly from Okayama Prefecture, after about 4 hours and a few trains, I arrived at my first destination,
Hinomisaki (日御碕)
. Hinomisaki is part of the city of
Izumo (出雲市)
(about a 45 minute bus ride) in
Shimane Prefecture (島根県)
, and it's where Japan's tallest lighthouse,
Hinomisaki Toudai (御碕燈台)
(link is in Japanese, sorry), stands. There is also a shrine right by the bus stop and on the way to the lighthouse. I hadn't back tracked to where I was staying yet, so I was carrying my backpack, with laptop inside, throughout the entire day, which somehow got heavier and heavier.
I took so many pictures that I'll be splitting this up into several posts covering the time I spent in Hinomisaki, Izumo, Matsue (*love* that city) and Yonago (didn't love that city).
Today you get Hinomisaki.
On the Train, Headed Out
Saturday, September 19, 2009
I do love how easy it is to get places in Japan.



For Izumoshi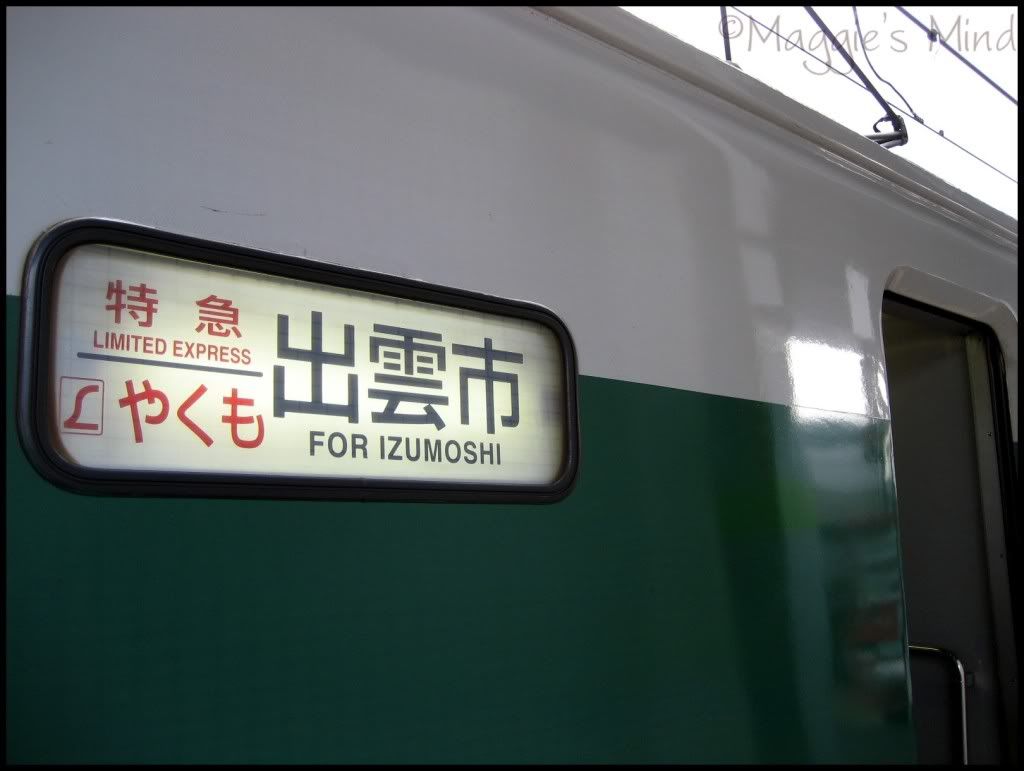 Hinomisaki Shrine
Torii


Hinomisaki Shrine Gate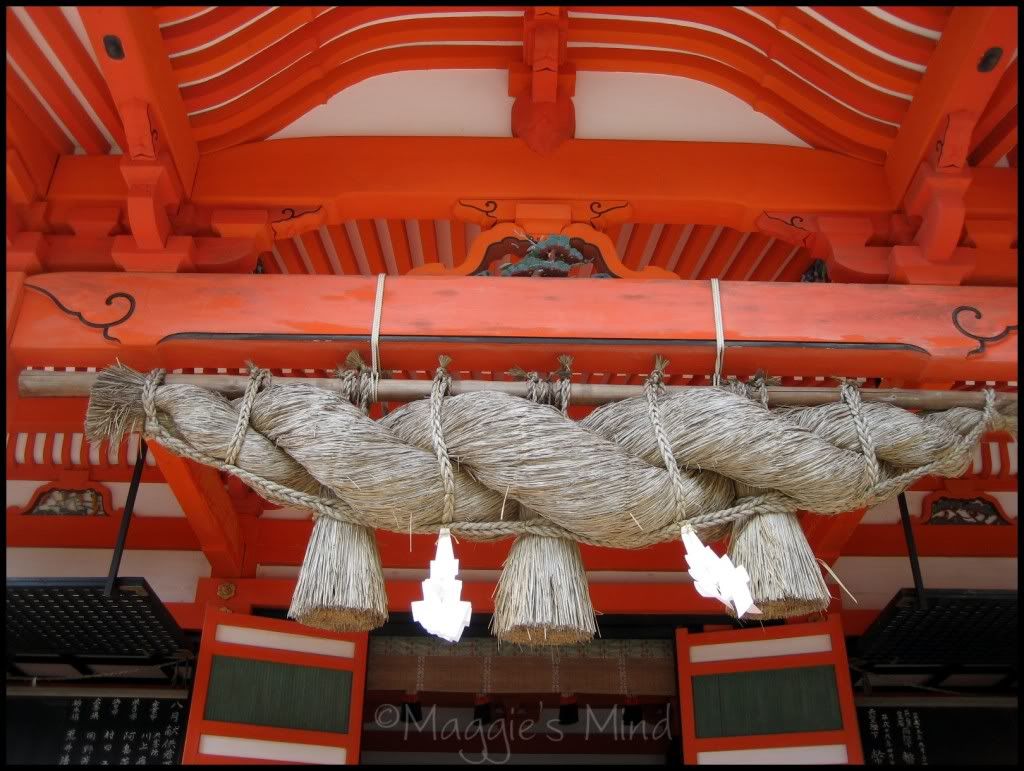 Omikuji in Daruma Dolls



Island Seen Walking to the Lighthouse



Diving
(which I did not do)



Sea of Japan
(Still walking to lighthouse, and this was my first time on the "other" side of Japan, the side that is not the Pacific Ocean coast but the one facing Korea, China and Russia. Apparently, the name is currently being disputed, but for my purposes, Sea of Japan works fine.)



Hinomisaki Lighthouse



More Hinomisaki Lighthouse



Walked Too Far
I missed the turnoff where I could have gotten to the lighthouse in about 10-15 minutes. Instead, I did see amazing views, but it took me closer to an hour, which is when that backpack first started feeling heavier. When I saw this sign, I was a happy girl because it meant I'd be there soon.



Almost to the Lighthouse, the Hard Way
Almost there. And I did pay my 200 yen (roughly US $2) to go all the way up to the top. Even though I'm scared of heights. And don't love small spaces. Or steep and winding staircases. Especially while carrying a backpack.
I talked myself out of about 829 panic attacks and only took a handful of shots from the top when I got there and just wanted to be back on the ground (Japan has earthquakes, which would have sucked at that moment, I kept thinking). The few pictures I took from up top didn't turn out because I was shaking. It was beautiful. Take my word for it.
Coming back down the stairs the way I did, kind of sideways-ish, always starting with my left foot going down while my right leg supported the weight of me (and the backpack I think I've mentioned) pretty much destroyed that muscle. I didn't know it until the next day, but as I write this already 4 days later, it hurts to walk. I suppose I'm glad I went to the top of Japan's tallest lighthouse, but I'm sure there are postcards showing the view from the top, and they don't cause panic or muscle pains. I'll keep that in mind.



Got Squid?
Out of the lighthouse and back on the ground with the fresh seafood for sale.



Lighthouse, Manhole / Up, Down



Walking Back to the Bus Stop, Sea of Japan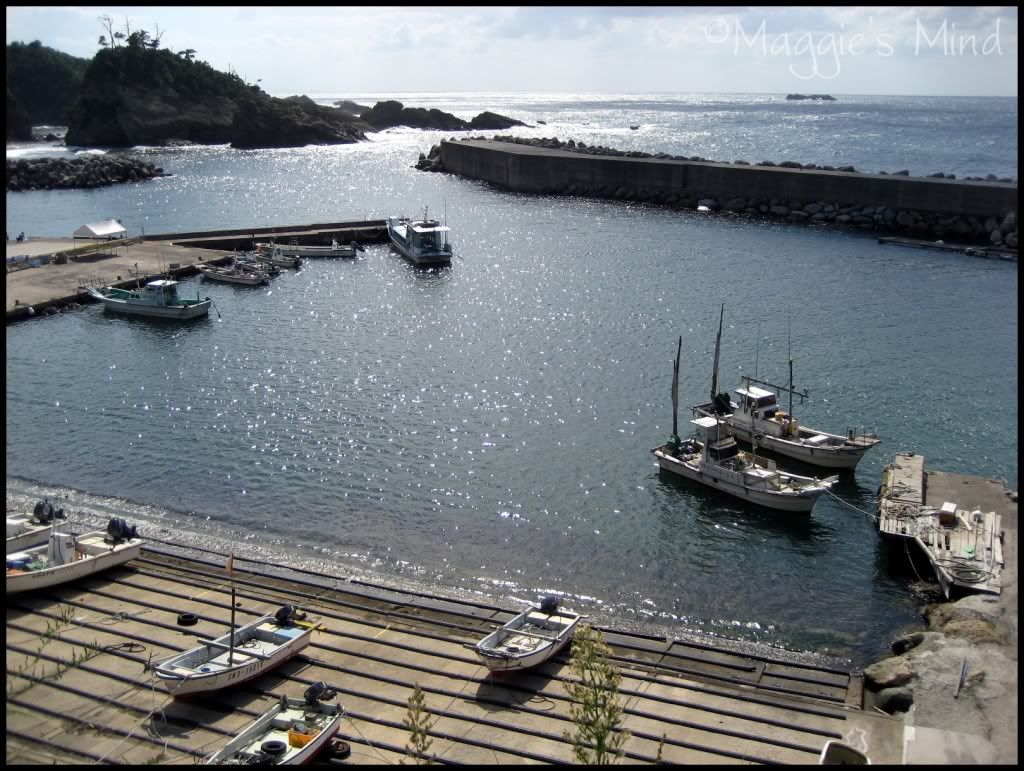 Thirsty
I was shocked when I lived in Japan before and first learned about Pocari Sweat. Because, ew, sweat, right? It's actually not a bad drink at all, and it is kind of supposed to do for you whatever Gatorade does with replenishing stuff you loose from exerting yourself. I was mentally and physically exhausted, and it sounded good.

After some Pocari Sweat, I still had a good 45 minutes before the bus to the culturally important must-see shrine,
Izumo Taisha
(basically on the way along the bus route from the lighthouse to the station), would arrive. It would still be many hours before I'd backtrack the hour from the train station to where I could check into my hotel. And set down that heavy ass damn backpack. Since I had time and hadn't yet eaten (not expecting to take the extended scenic tour route of getting to the lighthouse), I grabbed some
soba
from the little shop/store near the bus stop. There I met a couple of sisters about my age who live in Tokyo and who seemed surprised that I was traveling alone and could speak any Japanese. It's funny what amazes folks, I guess, but it made for good conversation. Anyway, we exchanged cell phone email info, and we've been sending messages back and forth once in awhile. Always good to make new friends.
Next post will pick up from here with pictures from Izumo Taisha Shrine. It really was pretty cool and probably my favorite shrine so far because it's all about the lovin'. Stay tuned.