Back in mid-October (since I`m that far behind), I emailed
my friend Kate
(too expensive to call, and modern technology allows me not to) to see if she felt like meeting me in
Kurashiki
to hang out for the afternoon. It was a sunny Sunday, finally not too hot and not yet too cold. Just perfect, really. I`d been there before (if you missed it,
here
and
here
), so I expected pretty much the same: a nice stroll along the canal, maybe trying to get on one of the boat rides that are always full whenever I`ve tried, popping into a bunch of cute little shops, lunch at some point, coffee at another, stealth pictures of all things Hello Kitty at the Sanrio shop (no cameras allowed), maybe the trek up all those stairs for a stop at Achi Shrine. The usual.
It did go pretty much like all of that, but with the addition of a gazillion demons in the midst, roaming the street like it wasn`t even a thing. Turns out it there was a festival that day. This happens all the time in Japan. This is also why I don`t even go to the bathroom without my camera. There could be a festival in there with costumes, drums or just a general sense of festivity. Would not surprise me (much) since it seems to happen everywhere else.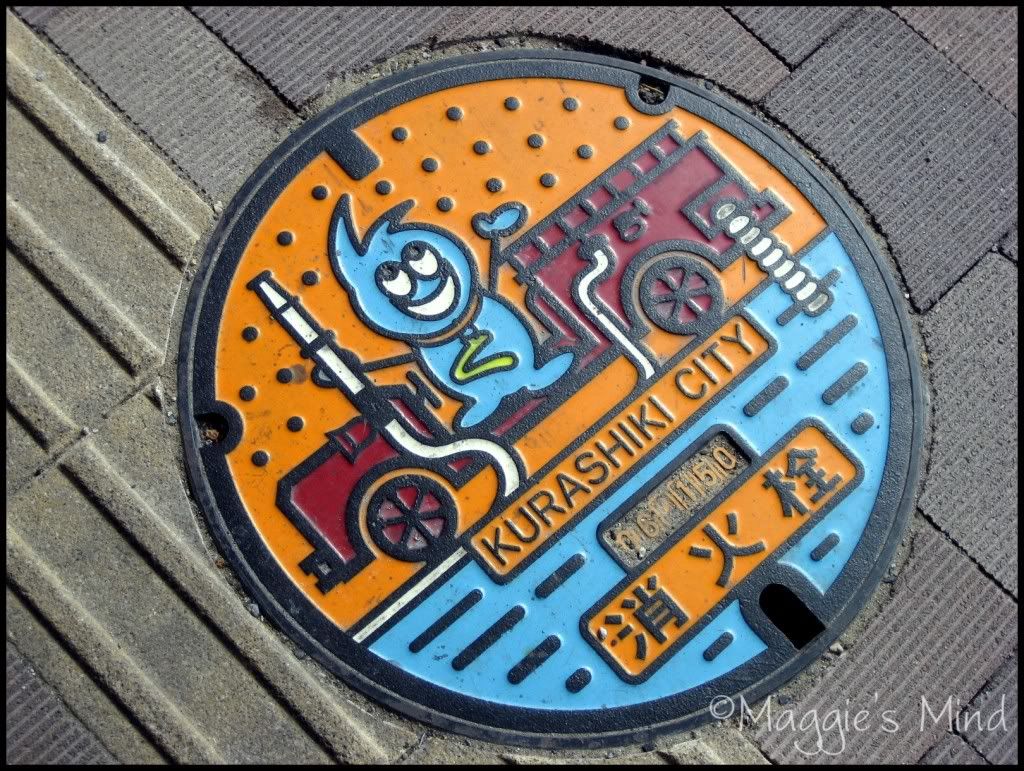 Mikoshi
A festival just ins`t a festival without a mikoshi, basically a portable shrine held on stilts, often by folks wearing happi who have been drinking since early. It`s hard to see that there is a guy inside the

mikoshi

playing a drum. They also tossed the whole thing up in the air, stilts about a foot above their hands waiting to catch it again. I was kind of glad to just be a spectator.



Mikoshi, Kid-Sized



Scary, Safety, Snacky
At this time, I would like to express my love for convenience stores in Japan (the beloved conbini). Chains include Family Mart like here, Lawson`s, Circle K, 7-11 and tons of others. Each a loyal friend when everything else is closed in a tiny town. You can buy everything there at any time, and none of it is gross. There are no rotating dogs, just good stuff. On this day a demon out front. Police, too.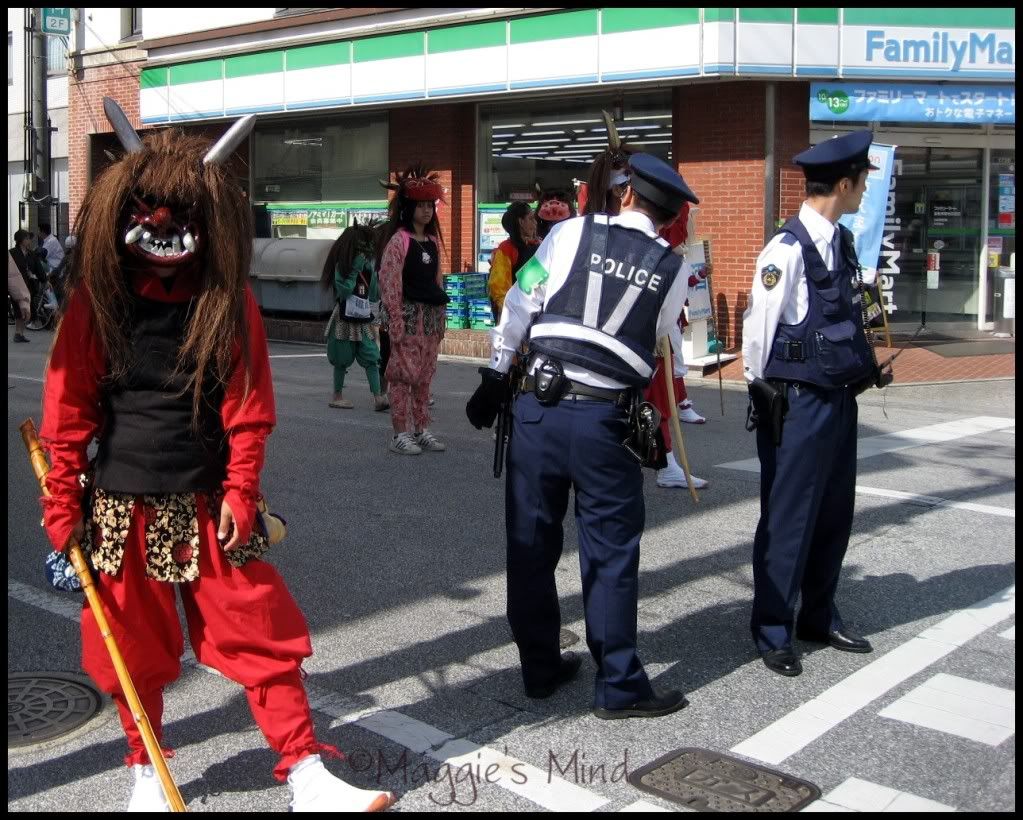 Fearless
I didn`t cry, but there were quite a few kids all wound up and scared and crying with all those demons out and about.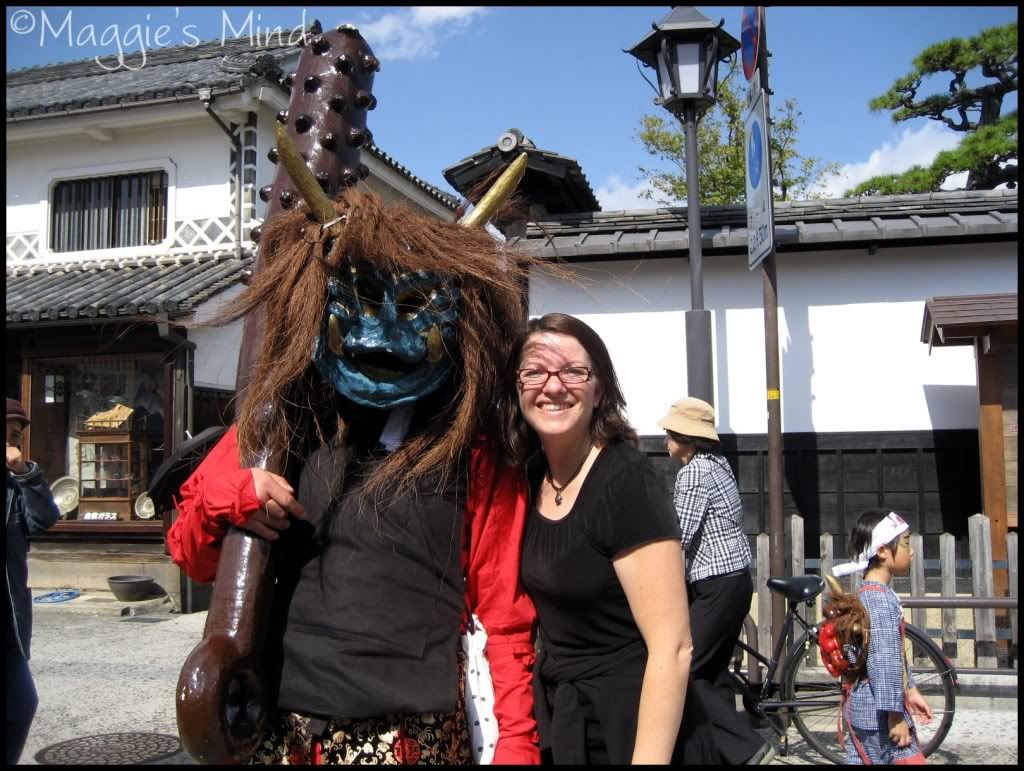 Demons are Daddies, Too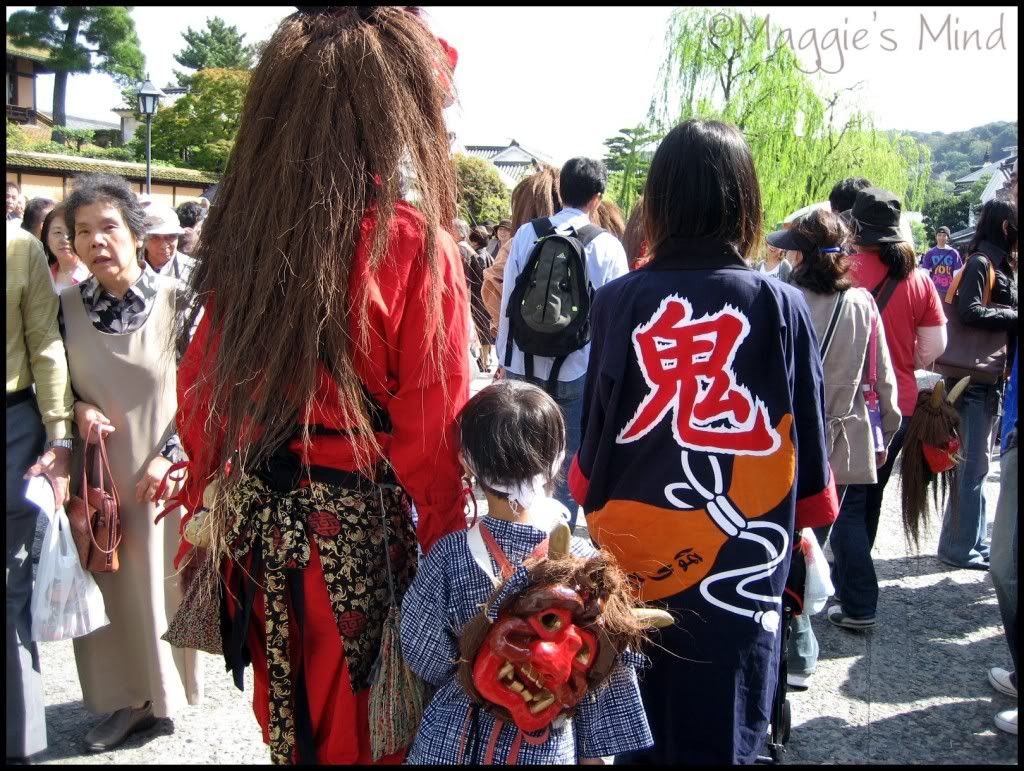 Happy Autumn, Hello Kitty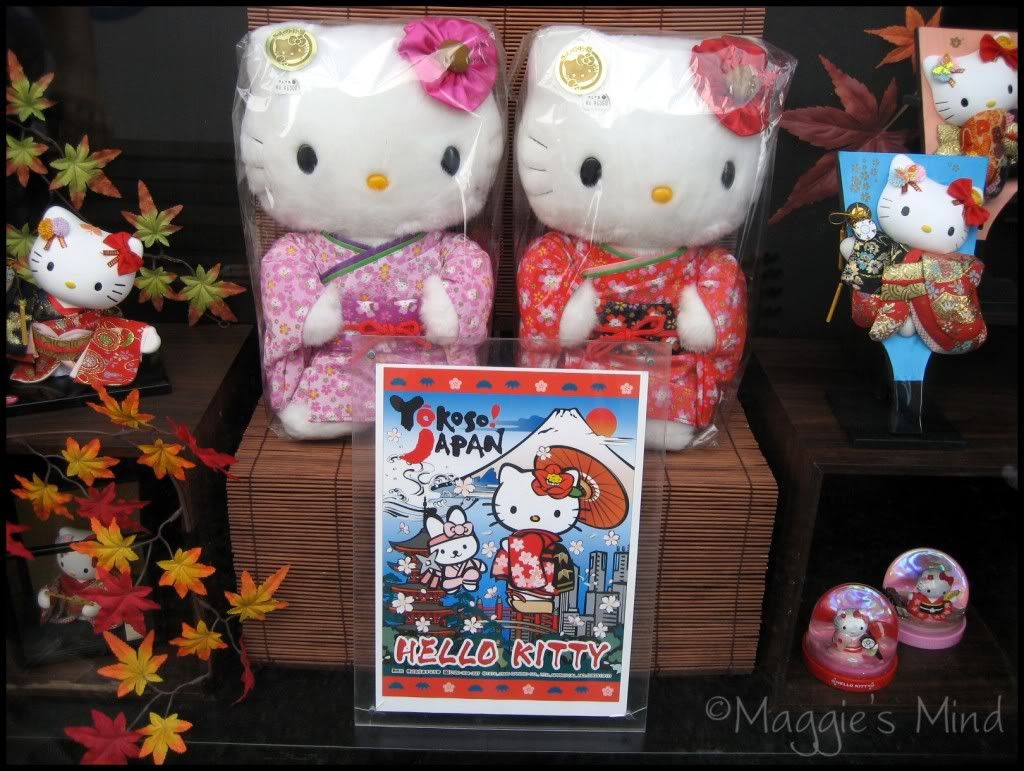 Ema
If you`ve been here for a bit, you know my love of ema.
Once in awhile there is one in English.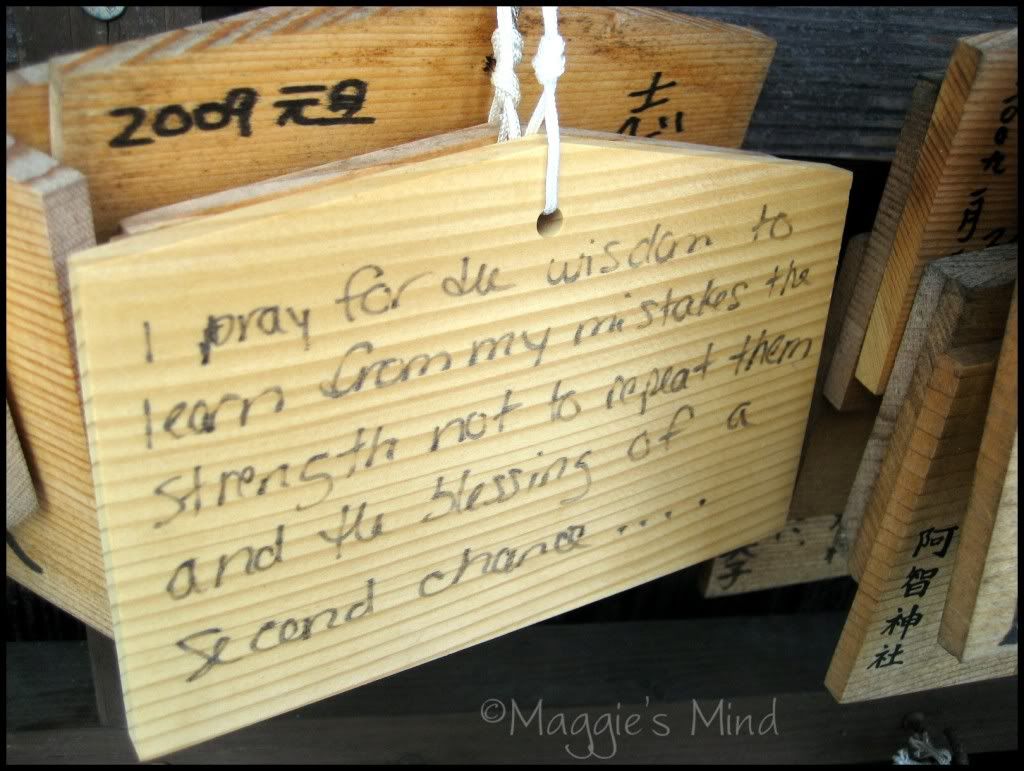 Chochin, Achi Shrine



Omikuji
Like pictures of ema that I cannot resist taking, so deep runs my love for pictures of omikuji. Guess I`m living in the right place.



Coffee, Tea and Breeze
Banners blowing happily in the breeze. Once in awhile 500 yen for a single cup of usually very good coffee, served in a pretty cup atop a delicate saucer and with no free refill, seems almost justifiable. This day was one of those. We had time to kill before the boat ride, so there we were.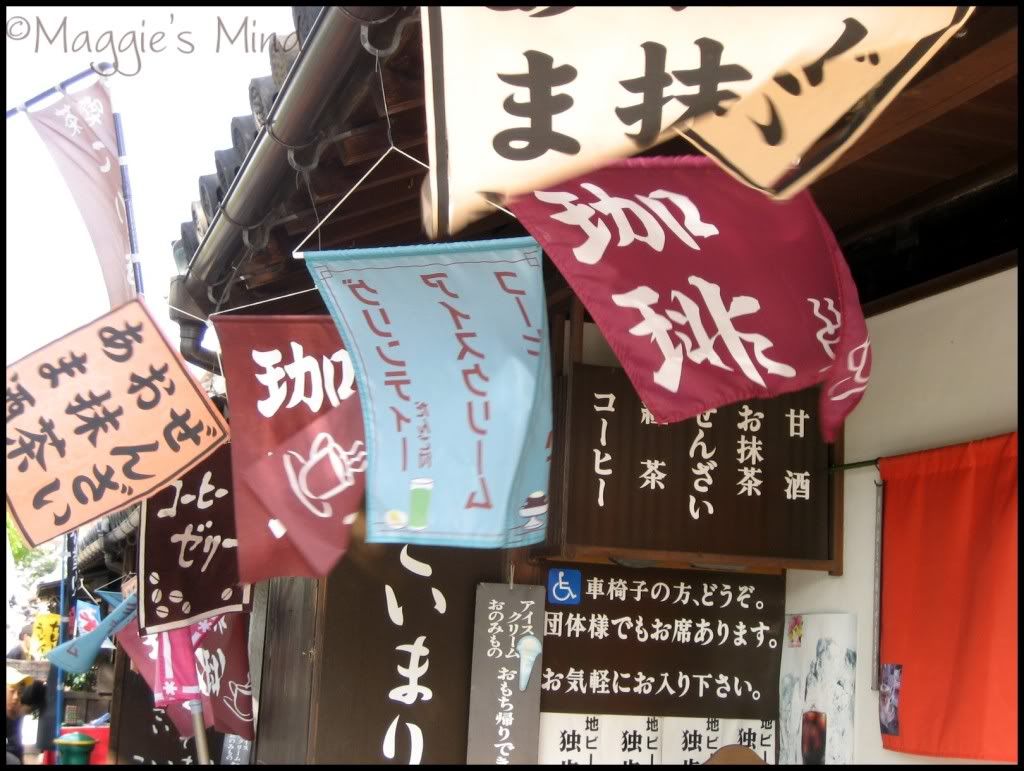 Boat Ride, Finally
Every time I`d tried before to do the boat ride, it had been sold out. This time, we made it happen. It was cute.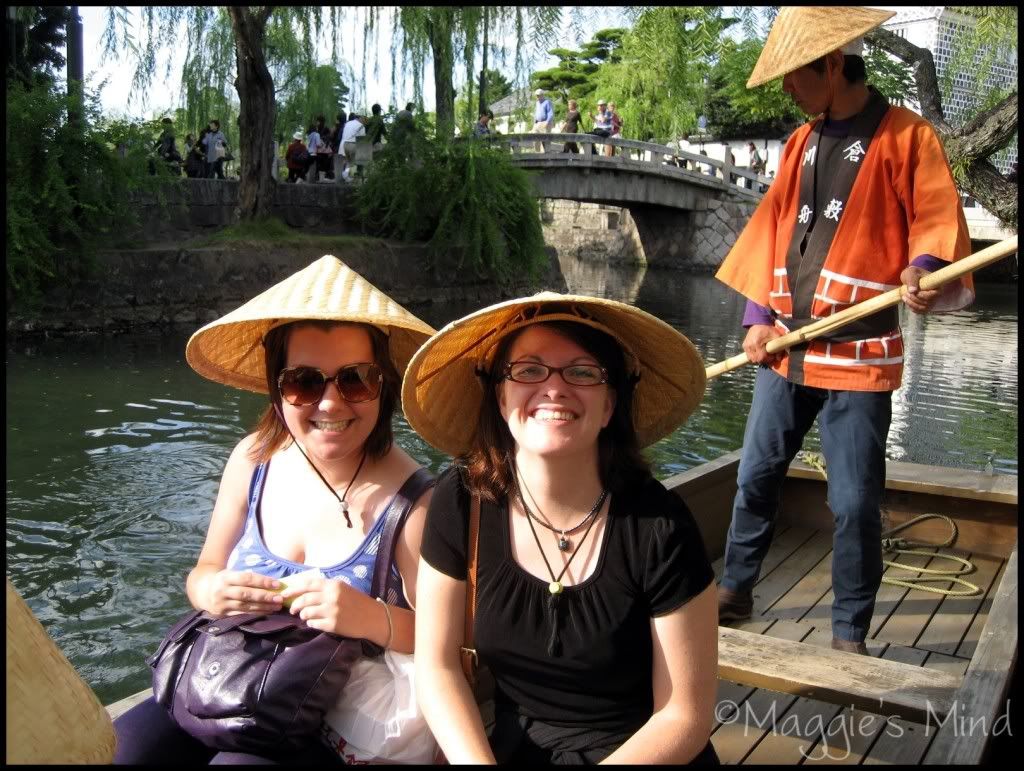 Suinkyo


(seen from our boat ride)
I think all of the above may have been a part of the Suinkyo Festival. Oddly, I can only get bits and pieces of info when I ask, so the rest is guessing. In a nutshell, my understanding of the festival we happened to bump into goes like this:
The demons represent the bad that is to be driven out, probably for a good future harvest.
The portable shrine (

mikoshi

) is there as part of giving thanks for the current harvest (the festival takes place in the autumn).
The

suinkyo

, these cute old men and old women with fans, are there to add some fun and whimsy, and if they bop you on the head with the fan, it`s considered good luck. If you don`t see the bop coming, like happened to me, I think that should count as bonus points, but I don`t think that`s built into the system.



Japan Likes Cute



Making a Demon Almost Say Cheese
Someone taking a picture here will often say "hai, chee-zu" to the folks being photographed, to which those being photographed do not respond at all. It`s one of those things that has been adopted but only halfway. Kind of like Christmas cake. There will be more on that later, I`m sure. If not, remind me. Anyway, we didn`t actually say cheese.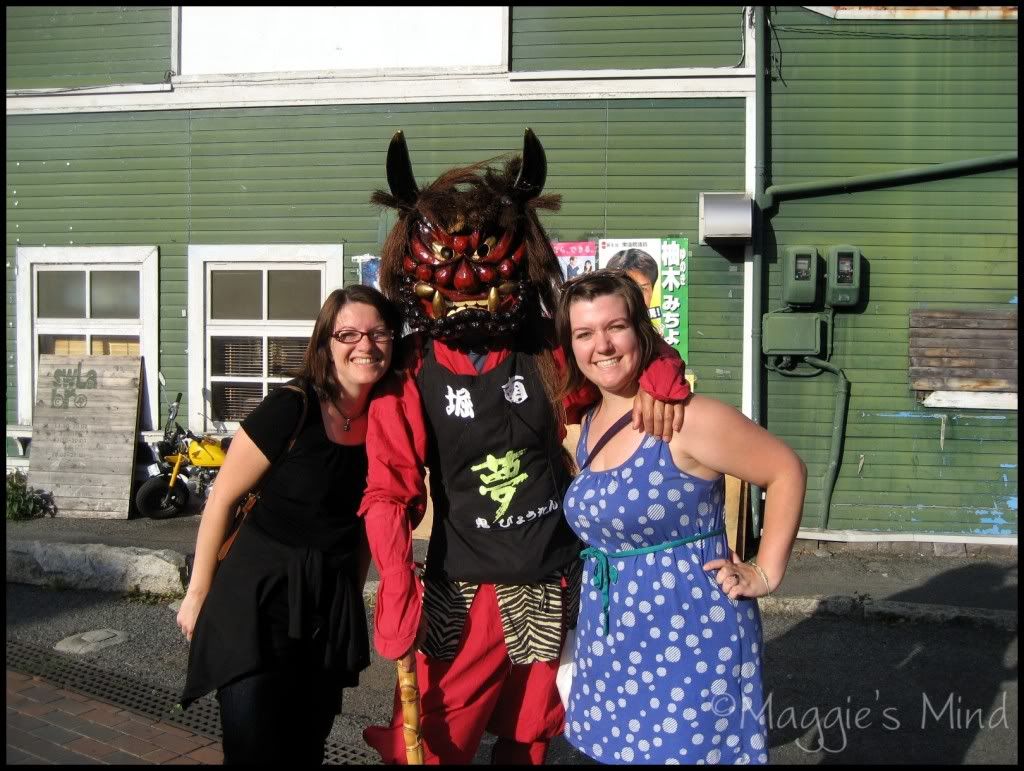 I`m hoping to get caught up soon and back to updating more regularly again (and visiting your blogs - sorry I`ve been MIJ). I have some stories saved up and, of course, tons of pictures of everything from the bike trail, to how I spent Halloween, to the samurai festival. Looking ahead, I have a couple of trips to Osaka/Kyoto planned in the next few weeks, plus a trip to Fukuoka to watch sumo wrestling, so it`s not like things are slowing down for me to catch up. I see that as a good thing. All in all, Japan is treating me right, and most of the surprises, like bumping into festivals, are good.