In the spirit of catching up so that I can try to get current at some point, here are some highlights that happened while I was ignoring my blog or doing only picture posts:
On September 27th, after going the route of a "new" old bike that was just as bad as the original but with a different assortment of annoying problems, I finally just bought a new one. It's a one-speed granny bike (need that basket for shopping), and it's curiously smaller than everyone else's, but the light works, the brakes work (and do so without alerting everyone that the foreigner is slowing down or stopping), the tires take and keep air, and it doesn't make me feel like the little engine that couldn't every time there is the slightest incline.
On September 28th, I got a "new" old washer. It is amazing. It doesn't require my attention every 5 minutes and spins itself without intervention from me. It is a thing of joy. If you never witnessed that which I endured previously under the reign of the more manual than automatic old school washer, then you cannot comprehend the sense of well-being washing over me every time I do a load of laundry.
The story of the singing contest would go here, but it's just long enough to need its own post, which will be forthcoming. Shortly. Probably next post. I promise. Maybe.

From my journal: Friday, October 9th: Today I sang, on demand but impromptu-edly, in Japanese, in front of a first year class, one that often mocks me. Then again the next period, too, in the class with the kid who broke my slipper yesterday. In the 2nd class, I at least saw it coming. The textbook was about how Ken is a good singer, and when does he practice, and why doesn't Ratna (or Yumi or someone) join him on Saturday evening. Then the JTE (Japanese Teacher of English - we do "team teaching") asked me when I practice singing, you know, as part of the dialog. Since I don't really, out of my ass I pulled that I practice singing every evening. In the shower. Please

don't

join me. Not quite the tone the textbook dialogue was aiming for, but at that point, I couldn't really say "please join me," now, could I? This is what happens when I make shit up on the fly and don't have a chance to think things through all the way to the end of the of the confines of a given dialogue.
October 24th, another festival. This one in Tiny Town. I never did find the rumored food booths (and it's not like the town is big enough to hide them from me), but you know I took pictures.
Strings Strung All Around the Town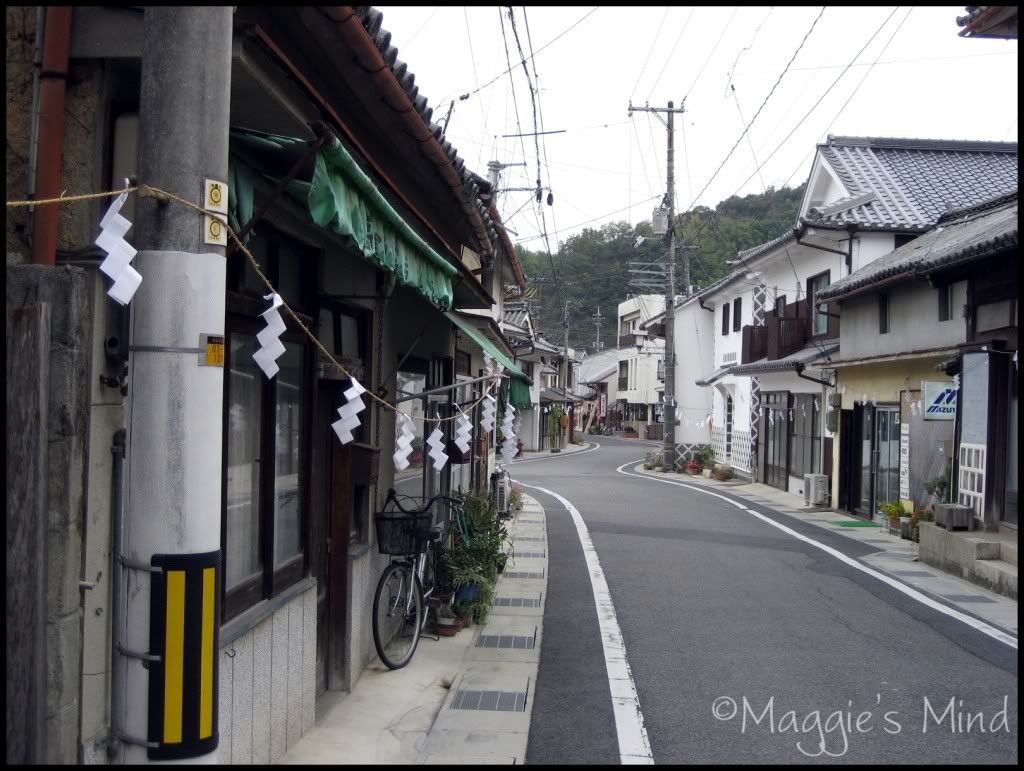 Little Kids, Litte

Mikoshi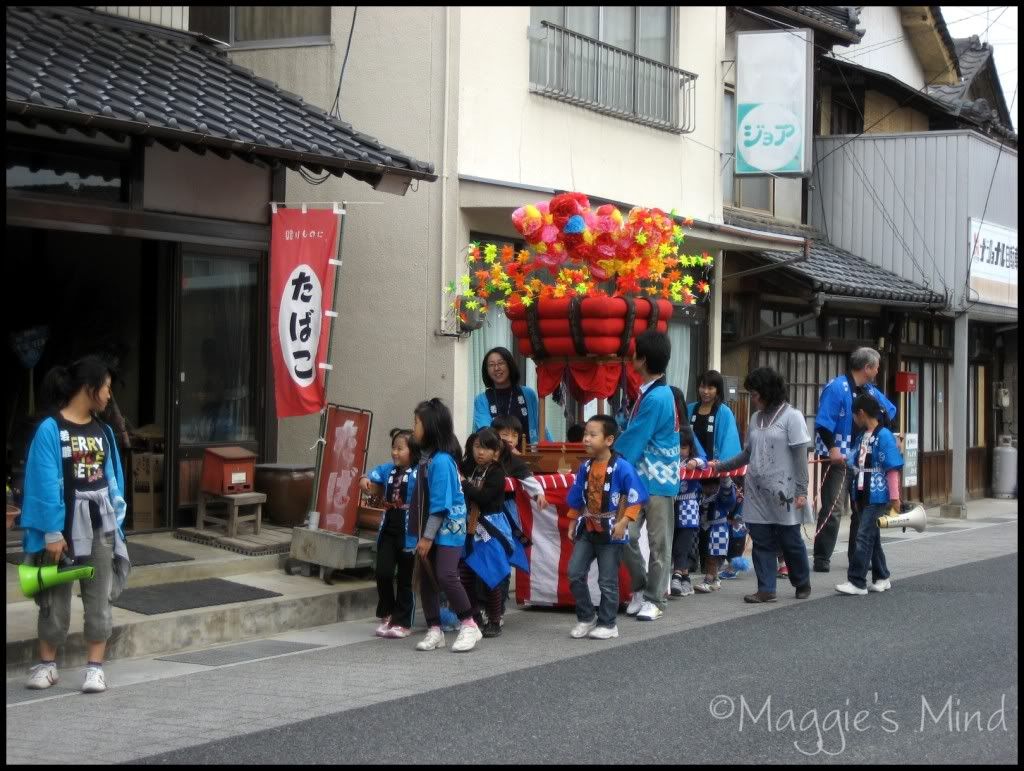 Biking Around My Town
The festival was pretty dispersed, so I rode around catching bits of it here and there and sometimes just getting regular old shots of every day stuff. I love this little path and the tree about to droop with persimmons (though I would not know for several weeks, until I biked the Kibi Trail, which is yet another upcoming post, that these were persimmons, a fruit that's all the rage this time of year where I am).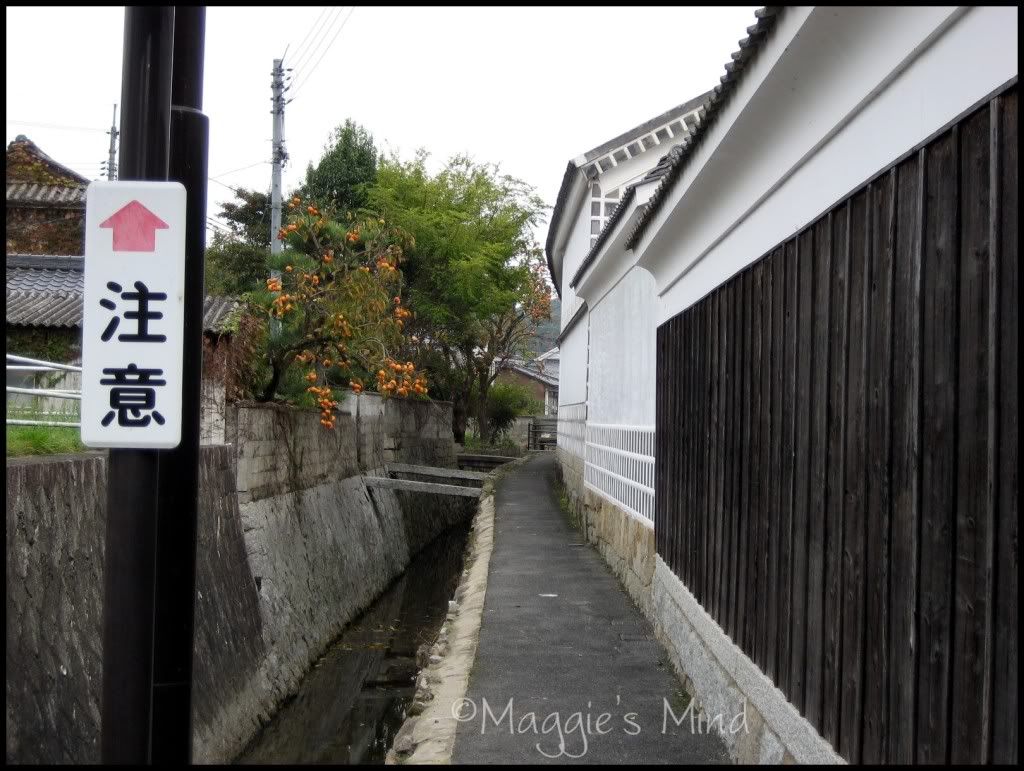 Bigger "Kids," Bigger Mikoshi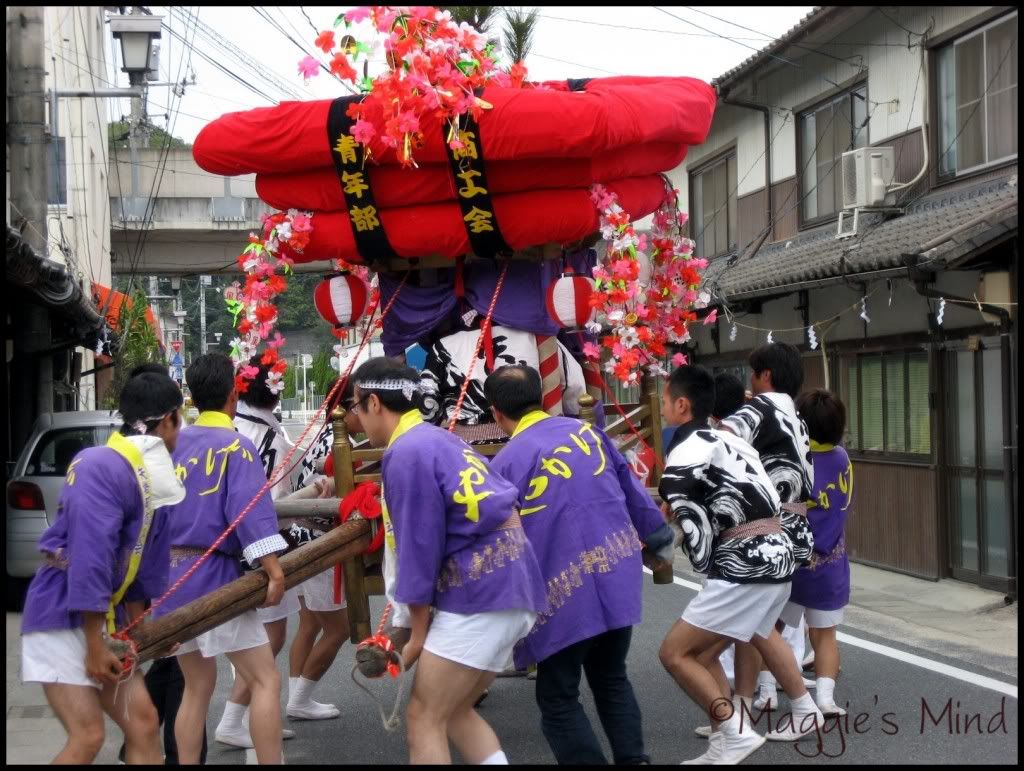 The Shot After the One Down His Pants
Fun group of guys, some already a little drunk. When they stopped to rest, I stopped to take a picture. Then one of them wanted me to be in the picture. The guy holding the camera first took a shot down his pants. He was either kidding, or they erased it. Either way, I was grateful, but I will probably always giggle when I see this picture.