My mother used to always say "cold hands, warm heart." She also hated cold but loved this holiday time of the year more than anyone I've ever known. She's gone. I'm here. Tom's there. The Christmas season could really suck this year. I'm happy to report that it doesn't.
Yes, Japan does it way differently. They don't "get it" how Christmas for many is emotionally wrapped up with a complicated bow of twisty heartstrings that bind together memories and feelings for which words just don't exist, good, bad and other. Some of the feelings are real, some are what those damn holiday cry commercials (where people come home for surprise visits at Christmas and make coffee and whatnot) and all of those Christmas movies tell us to feel, and some feelings are from out of nowhere. Or out of exhaustion. Busy times, these times. Add a layer of religion in the mix for those who pitch/bat/play shortstop/other for that team, and it just churns the "guess you had to be there growing up with it" pot of "they don't get it" even more.
My first Christmas without my mom, 14 years ago, I was also in Japan. I had a little bit of a meltdown in the department store, just trying to buy pants. There had been a banner by the station proclaiming "Hearty Christmas," and the store was playing Christmas music. I was sure (still am) that I was the only one who knew the words by heart and with my heart. I just wanted to go home. But Mom still wouldn't be there. And that would just be worse. I felt so
alone
Over the years, I've gotten more than OK with Christmas again. Year by year, Tom and I have built our own traditions, and I do find comfort, much joy even, in our mixed up ways of celebrating how we like because the cats won't notice or care. Every year, at some point, there is something that triggers the "I miss my mom so much" ugly cry, and then I get merry. She was never sad at Christmas. And I
like
to be happy, so I often just am. Or try to be. Unless folks don't act right.
None of the above is what I intended to write. Christmas, a swirling flurry of emotions and thoughts, never know what will spill out.
What was going to write is that I had a great day today. In fact, the whole week so far (it's late Wednesday night) has been pretty great and the opposite of lonely. It's been the opposite of being concerned that "they don't get Christmas," though I am enjoying my students' responses to the no Christmas Cake back home but 9 reindeer thing (
from back in the sumo post, scroll down
). There's been food and good folks. There's been letting Japan do this time of the year the way Japan does it and feeling grateful, sincerely, to be included. I look so forward to next year with my sweetheart and our traditions, but this year I am here. As of this moment, I am content to be where I am and to embrace it like it will never be quite this way again because it won't. My opinion on all of this is subject to change, but for now I am grinning broadly.
And I took pictures. You know I did.
Monday Night Eikaiwa Group, Nabe Bonenkai
Monday, December 14, 2009
Every Monday the foreign teachers here in Tiny Town get together with a really nice little group of Japanese folks who want to practice speaking English.
Eikaiwa
= English conversation class.
Nabe
= heaven cooked on your tabletop.
Bonenkai
= end of year, forget the year party. All of this happened at my place.


Disheveled Christmas Tree Vandalized by Cotton
Tuesday, December 15, 2009
Tuesday was some kind of health check thing where they send you from room to room to check you out head to toe. In the waiting area of the EKG room was the most mixed up disheveled Christmas tree I've seen in a long time. The lights weren't on, the garland was all messed up, and there were huge tufts of cotton tossed on random limbs. I had a good laugh and took a stealth picture.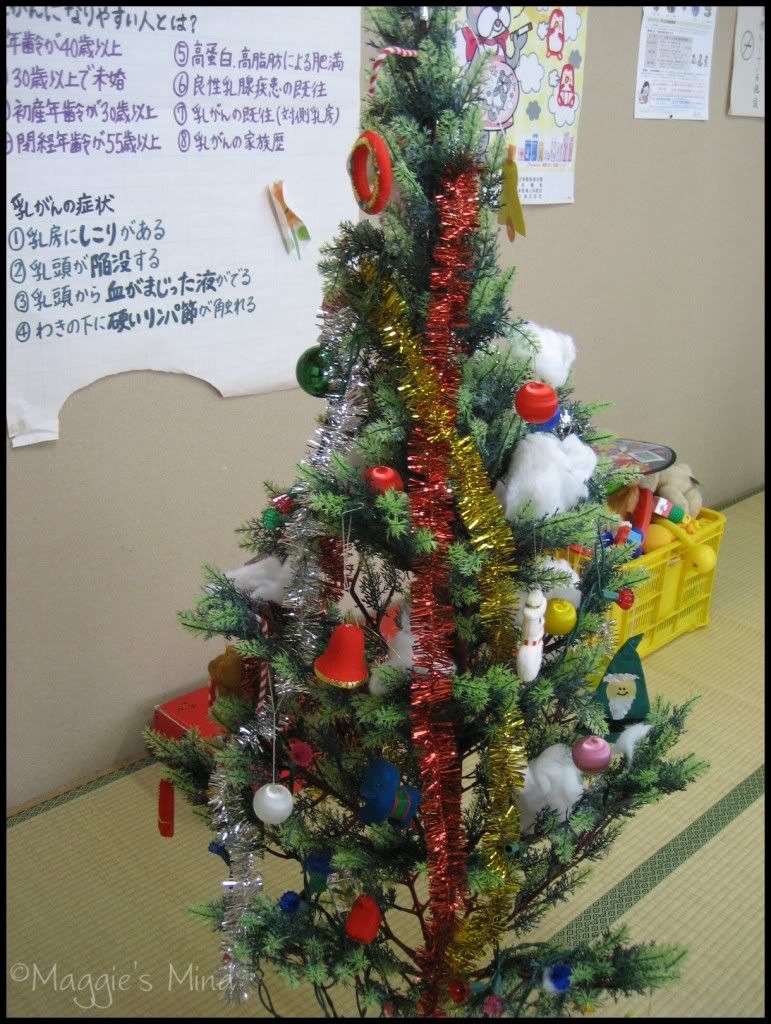 Later that night, I went home and ate the

nabe

leftovers, followed by hot chocolate while I watched Christmas movies.

I Heart Papa-san and Mama-san
Wednesday, December 16, 2009
We were invited tonight to the elusive Chinese restaurant I've mentioned that is only open for lunch and that I rarely get to visit. I'd met Papa-san before and finally got to meet Mama-san tonight. They cooked us a huge meal, were fun and interesting and just a joy to be around, and they even sent us home with leftovers. And a Christmas present. I melted.
Papa-san is very musical, and he plays instruments I've never heard of or seen. This one is a very simple 2-string Chinese guitar-like instrument that sounds like a violin. It's called

nikou

, meaning 2 strings (maybe).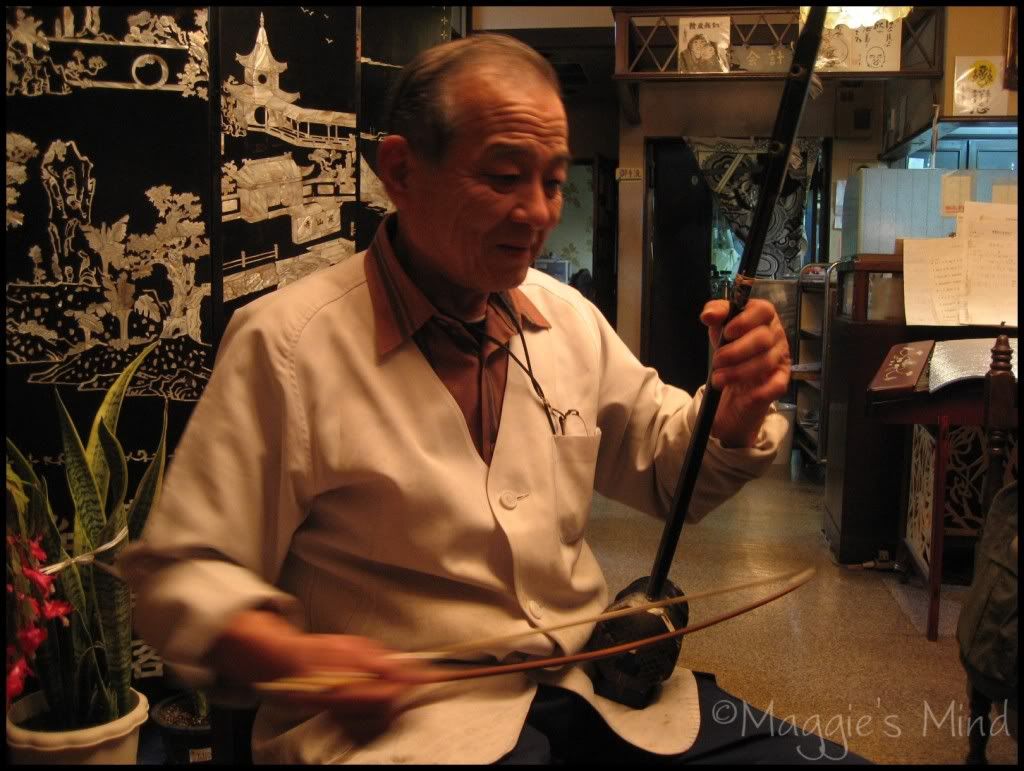 More good stuff. When I first got here, any chance I got, I tried telling pretty much everyone I met that I wanted to learn how to cook Japanese food. Putting the word out there in a place like this usually results in somehow getting hooked up with someone. It hadn't happened. I'd given up. Then, within 10 minutes of meeting Mama-san, she said that she'd heard (yay for the grapevine!) that I want to learn how to cook Japanese food and that she cannot wait to show me. I also got invited to join them just after the start of the new year to see the sunrise. I think. At first she said 7AM, but then mentioned 10AM. I'll find out. Either way, I know it will be time well spent because they are all kinds of awesome, any time of day.

Christmas Cake
After the huge dinner, there was the traditional Japanese Christmas cake, and it made me feel oddly at home.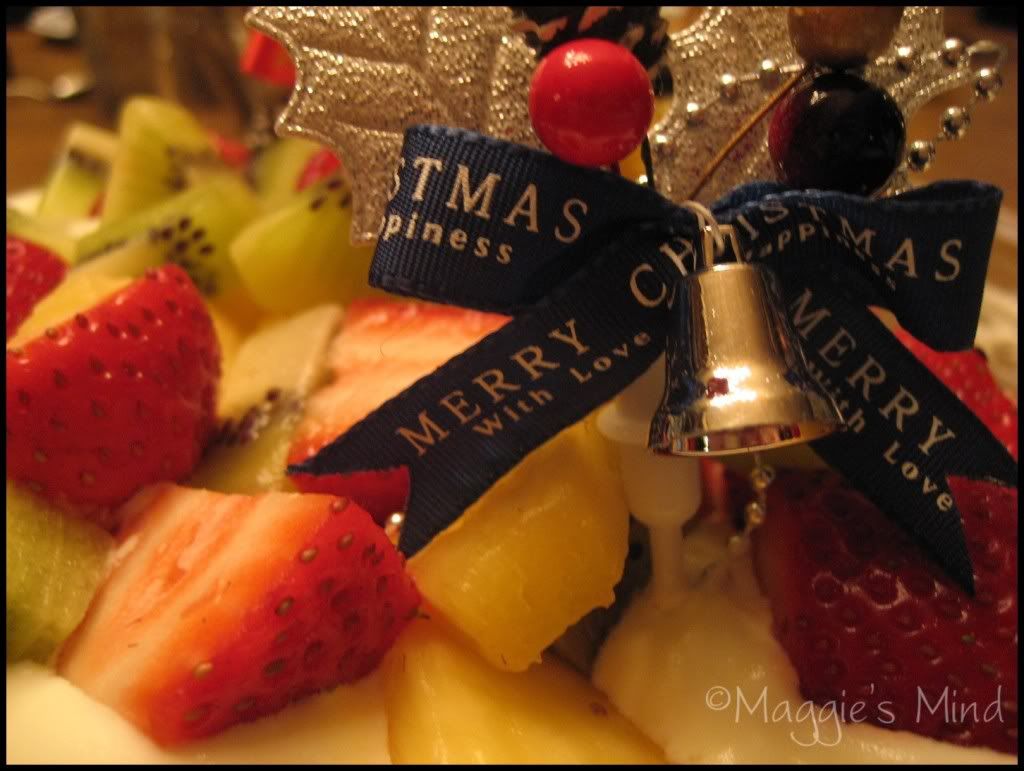 The weather has been cold for a place without insulated buildings or proper heating (my apartment has a nice AC/heater unit in one room, so no complaints here, especially compared to last time), and the forecast shows possibly a little snow in the days to come (believe it when I see it - weather prediction is no more accurate here than back home). I don't love shoveling or driving in snow, but since I'd get to just watch it fall, I kind of hope the weather guys are right. Either way, it's winter-ish. My hands get so cold teaching in a 45F classroom, but my heart is, indeed, so very warm lately. It's not my mother's Christmas, but it works for me.