I just did something here that nobody in his/her right mind would do back home. I went to the grocery store on Christmas Eve. It was pretty well festooned with Christmas cheer and Christmas music in the background, and there were a few people milling about, but it was not the pandemonium that grocery stores are back home the closer it gets to Christmas.
There was, of course, the traditionally Japanese
Christmas Cake
(woulda bought some if they had a smaller version), even a turkey leg here and there, and they had tons of special foods not otherwise on display with a cheerful Merry Christmas sticker. That way you knew that it was supposed to be for Christmas. And not for a freak show. Because otherwise, seriously, with some of the choices, I wouldn't have been sure.
Of course there was fried chicken because of the KFC on Christmas Eve tradition here, so if you didn't
get your advance order in on time
(scroll down if you click the link) and would have been left chickenless, they'd have you covered. There was also sweet and sour pork, and that made sense to me somehow, more than the fried chicken thing, though I can't explain why. There was an odd assortment of all kinds of stuff. I wanted to take pictures, but they have those signs at the entrance saying not to, and I'm kind of noticeable here in my weensy little corner of Japanland.
But then I saw this. And I no longer cared if they threw me in picture takers' jail or whatever happens. For all that was wrong, this really disturbed me:
Merry Weiner Potato Pizza Christmas

Look at this a little more closely. There are, indeed, weiners (weiner. weiner. weiner. I said weiner.). And scoops of mashed potatoes. And corn. And it's a little hard to see, but I'm pretty sure that's tuna under there. All this silliness on a pizza. A pizza. It would make sense considering the whole combination tuna/corn/mayo pizza travesty that goes on here as if that's a valid way to order a pizza. I opted not to have this for my Christmas Eve dinner.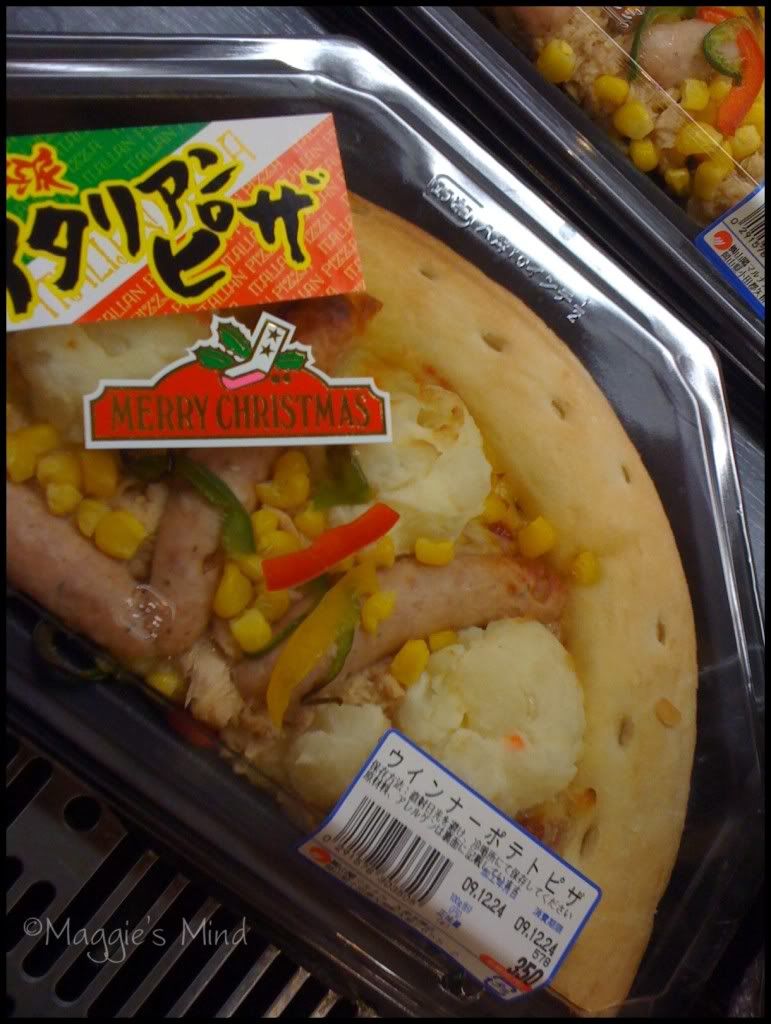 Merry Chicken and Shrimp Christmas
Instead I went with the chicken and shrimp. It's still not right, but at least it's not so wrong.