Doing my best to stay current so that I can update during my travels. I`m leaving the day after Christmas, and I`m *so* excited. All of the festivities leading up to it just add to the excitement. As I said last post, I`m embracing whatever kind of different Christmas is and will be this year, and it`s been good. Friday, in particular, was 7 layers of awesome.
Mid-morning, one of the JTEs (Japanese English Teachers) came over to my desk and presented me with a gift bag. It was full of cards handmade (and some elaborately so) by the students of my favorite class, the elective class. Imagine being literally half a world away from family, friends and your own way of celebrating Christmas and then finding out that some students have been putting all this effort into making cards for you because a JTE was sweet enough to think of you. My eyes teared up a little, and then I smiled reading them. Some of them were actually pretty funny, even if not intentionally so, and it just made them that much sweeter.

Hi There, Kitty
Friday, December 18, 2009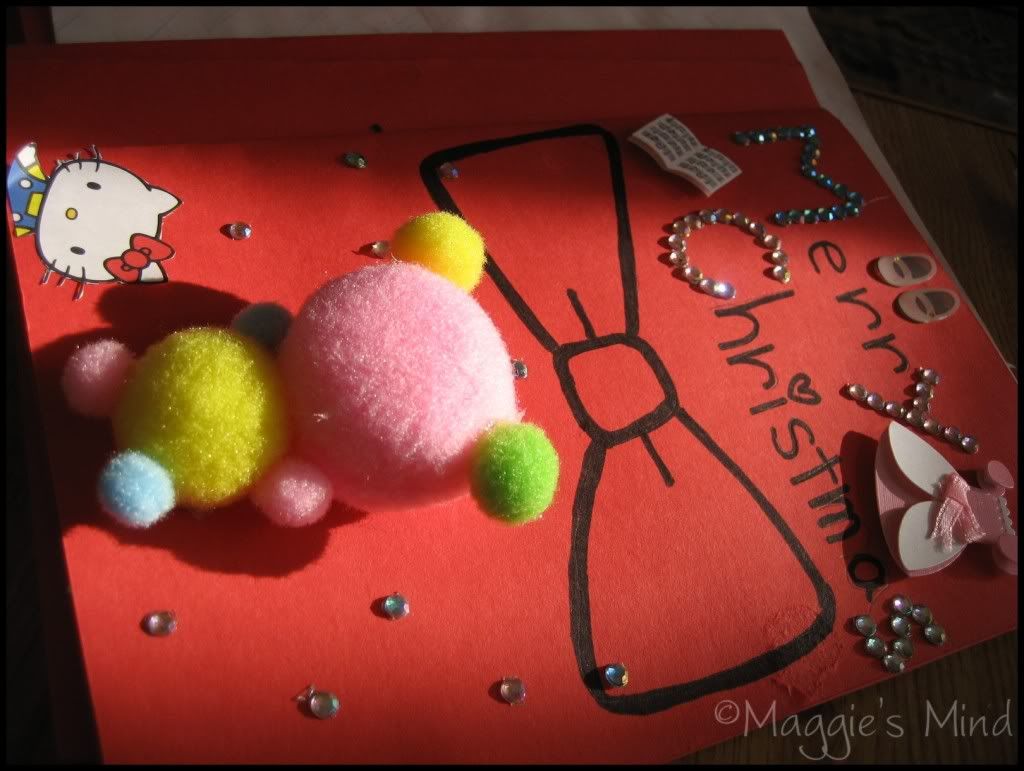 Hey, Ho.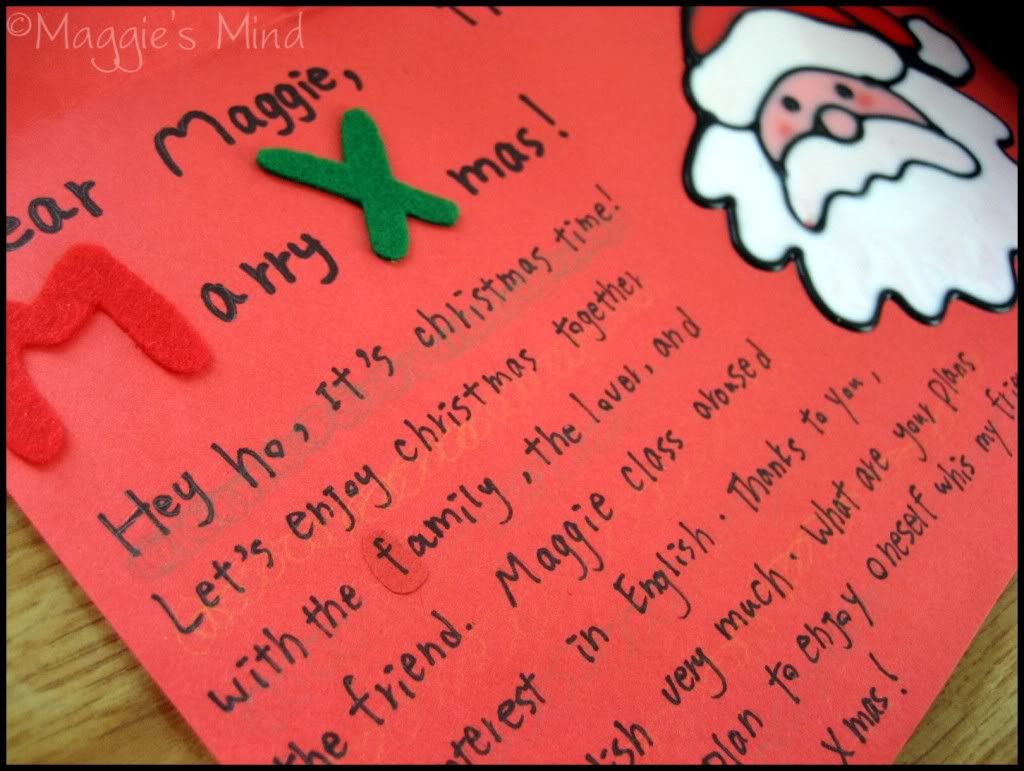 Hello Christmas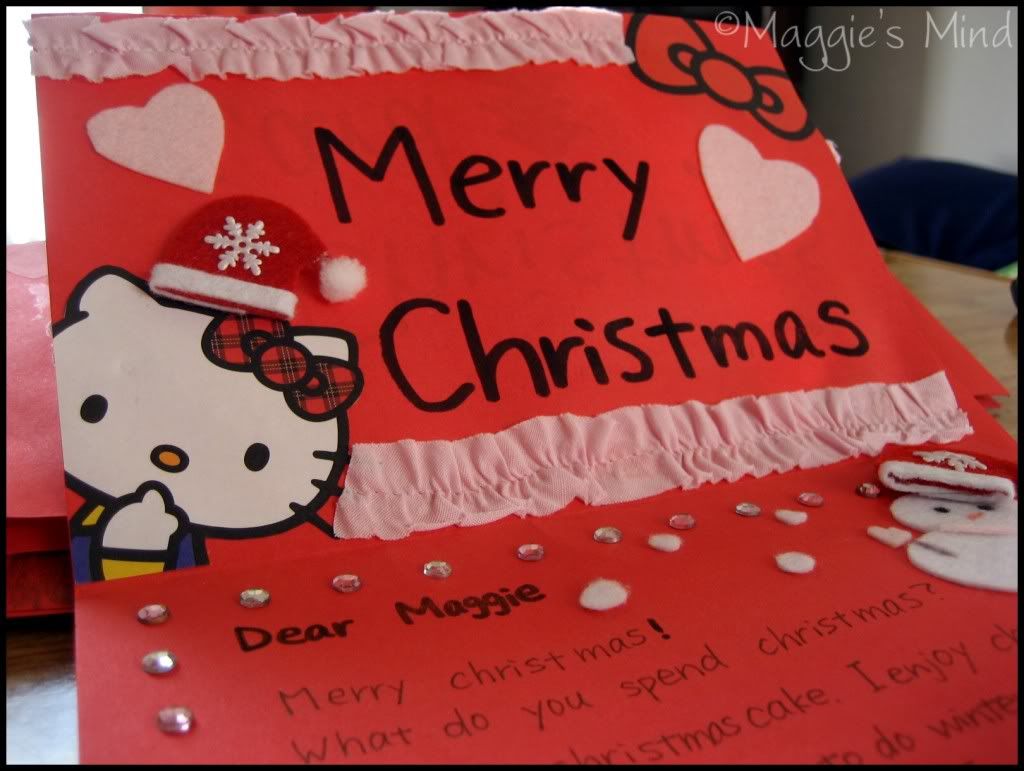 Christmas Cutouts





You can see how much work they put into these. All I could do was thank the JTE, but there are really no words in my language, hers or a muddle of both to explain how much it meant. After the new year, I'll get to see that class again. I hope by then I've come up with some way to let them know how thankful I am for how thoughtful they were.





After work on Friday, there was a party in Okayama City, an international exchange type of event between Okayama City and South Australia, but all of us were invited. There was one slot for a free ticket for food and drink (plus an awesome Santa hat) if you did a quick presentation about Christmas in your own country, even if it wasn't Australia. I snagged that opportunity and used some of the same Powerpoint slides I've been using in class covering some of the same key differences I've mentioned on here - Christmas cookies instead of Christmas cake, 9 reindeer with names instead of 1 or 2 or unknown nameless ones, Santa's home in the North Pole vs. Finland, etc.





Oh, and there was wine local to Okayama as well as to South Australia. I did a lot of tasting for comparison. They also had us stand up and sing Christmas songs unrehearsed in addition to Japanese songs we'd never heard of, with gestures, one about the oyster

okonomiyaki

in the little town of Hinase (where one of our group lives, and where we will be going to see if the song is right). Most of us had been sampling enough wine that an impromptu performance wasn't a problem but was still pretty funny.


Dinner
There was not a ton of food, more like several appetizers, but they were delicious and gorgeous.



Just Desserts



Me, Okayama City
The peach shaped fountain is always there in front of the station, but all of the blue circles of lights are just for the holidays.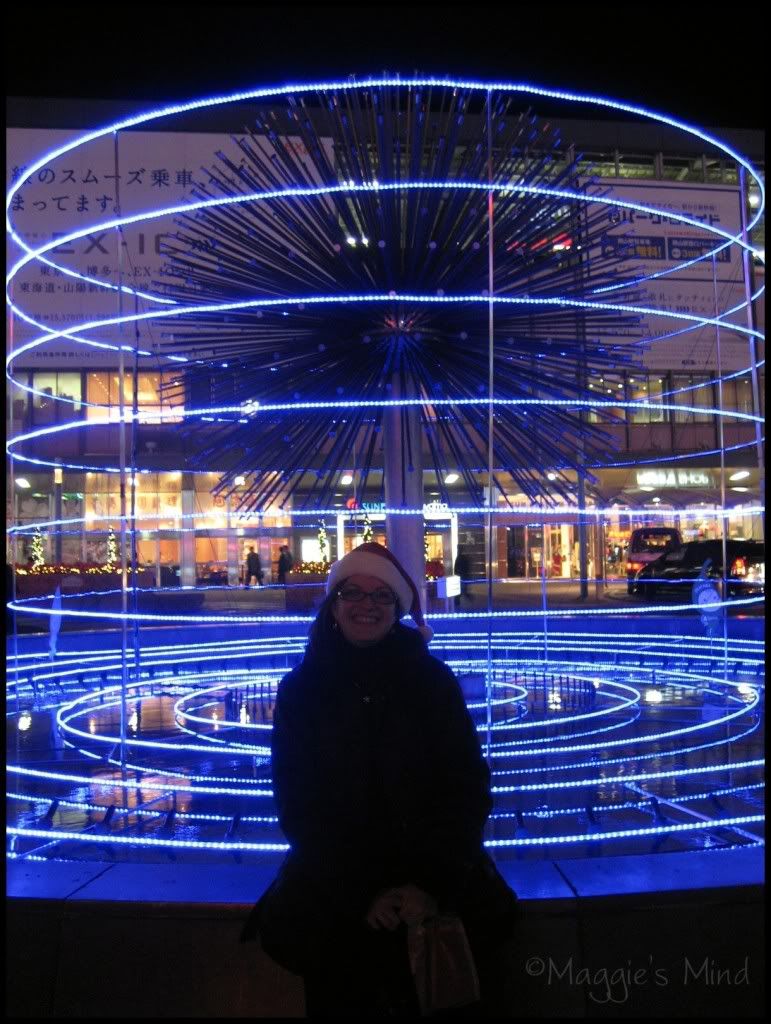 Christmas in Okayama



OMG, It's Santa in a Mini Truck!
Snapped this one fast in the dark while walking in front of cars, so it's blurry, but Santa is in there. Not quite a common sight.



Me, Santa Hat, Out and About
After the Aussie party, we went to our favorite bar and then to karaoke, wearing Santa hats all the while. It was a fun night.





I even slept in that Santa hat. Most of us only have any kind of heat in one room. The friend's house where we stayed didn't have it in the living room where we all slept, so it was very chilly. Under enough blankets and with the help of the Santa hat (and the aforementioned alcohol), it was fine though. Getting up was a little less than fun.



Hello Kitty Holiday Toilet Paper
By Sunday I felt recuperated enough to get some shopping done. I needed toilet paper. Never knew this existed, but the moment I found out, I had no choice but to get it. Same cost/quality as the regular stuff, too!

Can't end this post without mentioning how much I have always loved Brittany Murphy and how shocked and sad I was to find out that she had died. Way too young. Her family must be devastated. Keeping them in my thoughts.
Tonight I re-watched one of my favorite Japan-related movies that I probably loved even more because she was in it. Plus ramen, which is
a thing of joy
when it's the real deal.
It's a movie called
The Ramen Girl
. The movie made me homesick for Japan when I first watched it over a decade removed from Japan because it was filmed in Tokyo and Yokohama and just really captures what it looks like on any given street in a Japanese city, plus a bit of gorgeous trademark Yokohama, too. Watching it again while being here feels odd in just how familiar it seems. It's half in Japanese and half in English, and even that feels so much like my life, understanding some but having no clue about the rest (except that the movie uses subtitles, while my real life does not) . Her character is the same sweet but kind of silly type she usually played, and it just works.
I liked The Ramen Girl better than
Lost in Translation
(though I liked the scenery and the story in general, just maybe not together) because the main character in The Ramen Girl actually enjoys being in Japan rather than pretty much hating every minute of being someplace dear to my heart, which always kind of stood in the way of me fully loving Lost in Translation.
Anyway, I just watched The Ramen Girl again, and I still love it, even if it makes my heart sadder that Brittany Murphy is gone. If you haven't seen it and are interested, it's available to watch instantly on Netflix. Or to rent or buy somewhere. It's one of those movies I'll probably watch a million times and always remember the thoughts in my head the night I wrote this post.