Woke up bright and early for the long trip with several train transfers and only got on the wrong train once but, thankfully, got off of it right before it started to go where I wasn't trying to be. It only cost me about 30 extra minutes, and then I did get to where I was headed,
Nagasaki
.
I'm traveling alone but only kinda. See, one of my favorite Oklahoma bloggers,
Baloney
,
asked
more readers to take the flat version of herself somewhere. She's been along for the ride, and I've been snapping pictures of her along the journey. It's made it a little more fun. Once the trip is finally done, I'll be sending her the best pics to post and/or post them here.
For now, just some of my other favorite shots from today in Nagasaki.
Nagasaki Atomic Bomb Museum
Saturday, December 26, 2009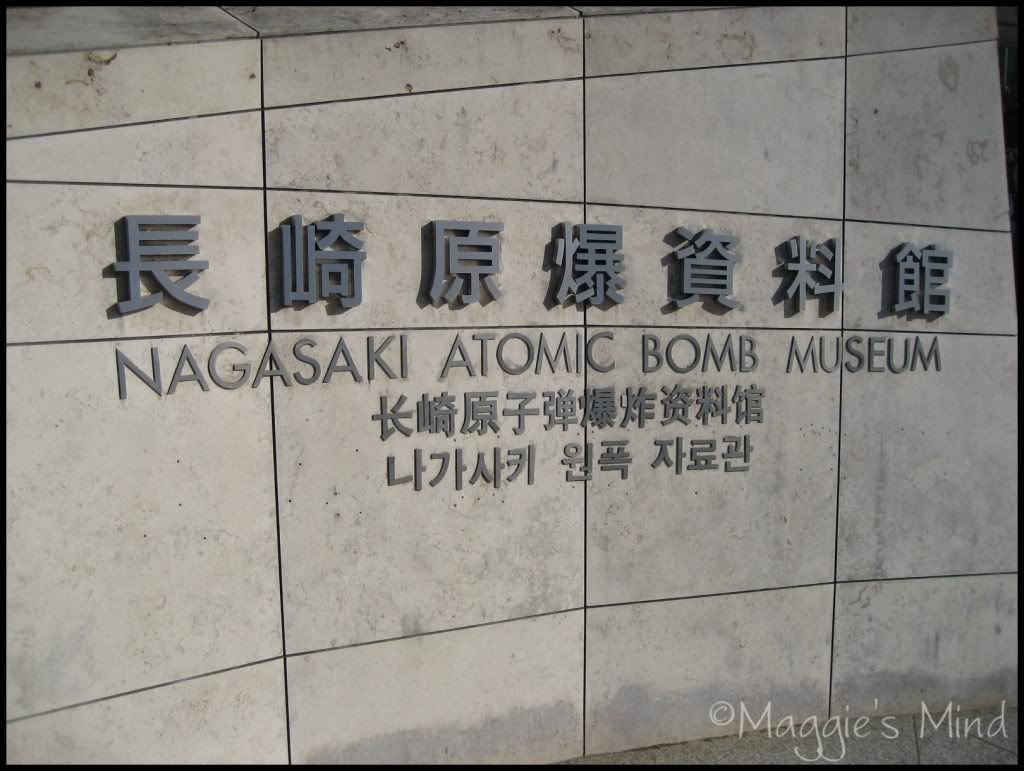 Cranes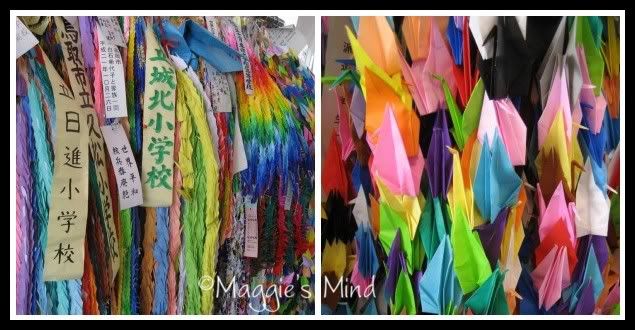 Prayers for a Peaceful World
What you can't see is that this message is made of tiny paper cranes. Pretty amazing.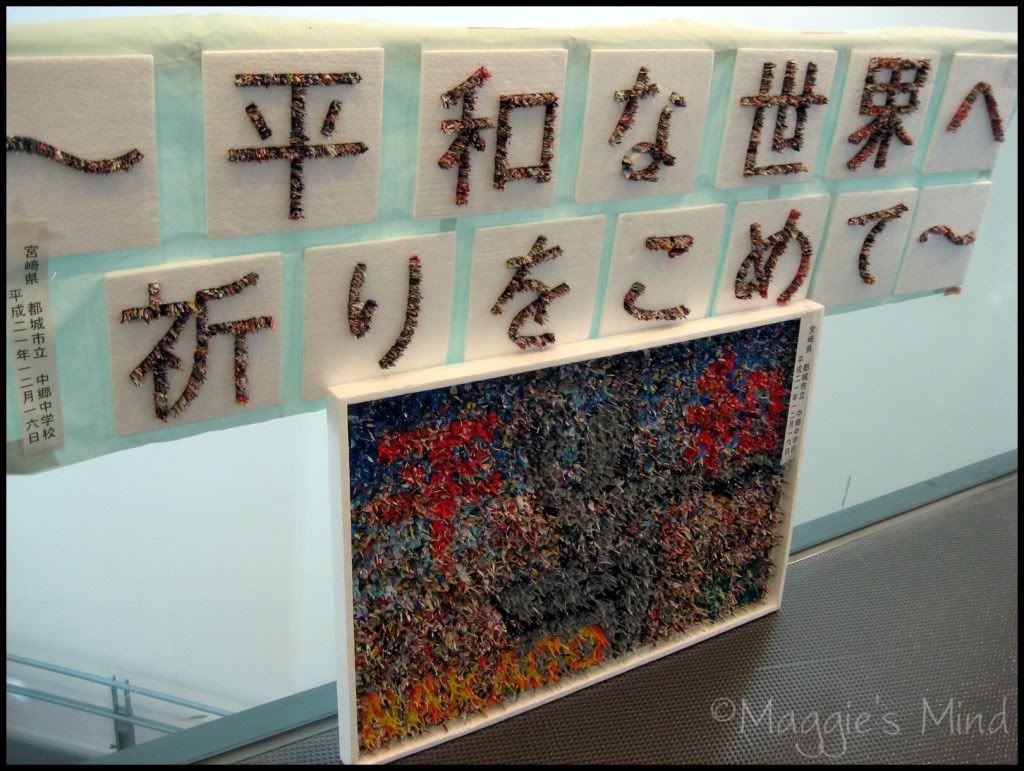 Hypocenter, Nagasaki, August 1945
Or as a Japanese gentlemen said to me, I assume to make sure I knew what I was seeing, "ground zero." That and a few other little things have felt kind of awkward, though, where the intent could go either way and awkward in a way I definitely did not experience when I visited Hiroshima. Maybe it's all in my head? In any case, a terrible thing happened right here.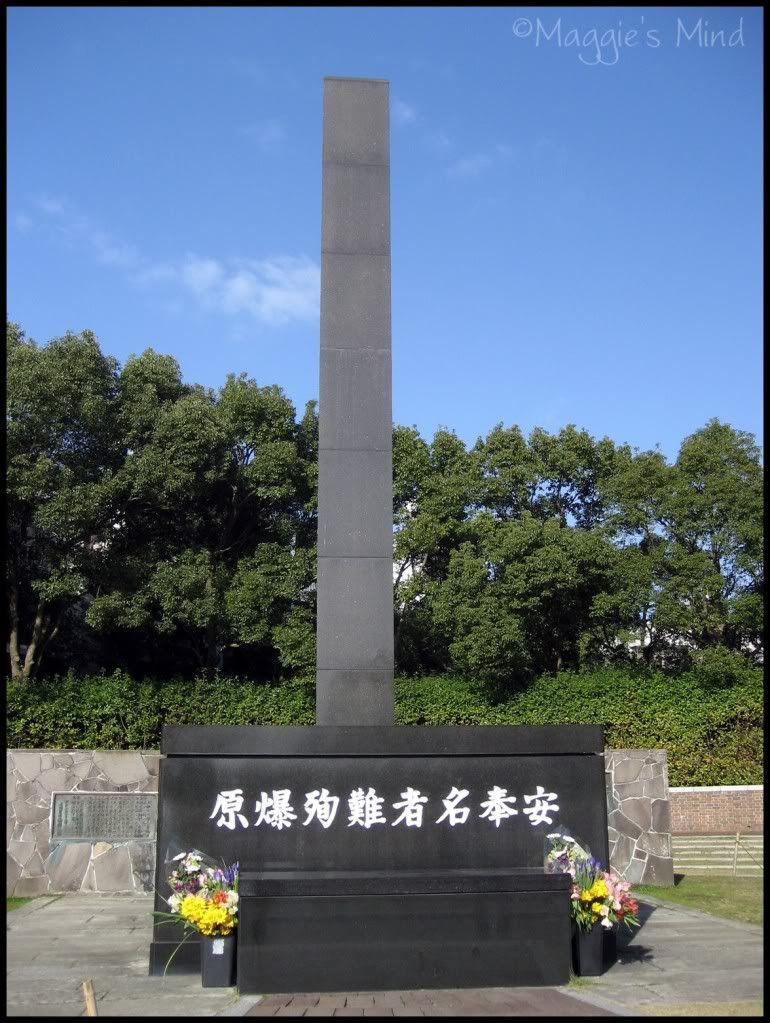 "Joy of Life" Statue
Peace Park, Nagasaki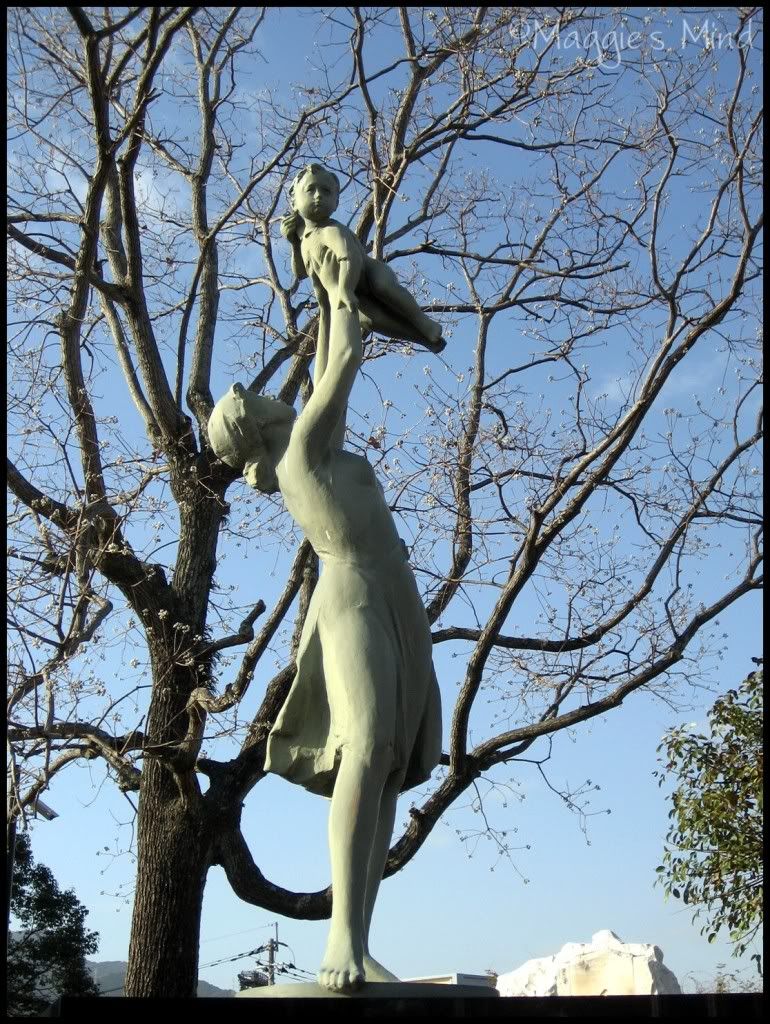 More "Joy of Life"
I really loved this statue. It says so much and made me think of hope.



Peace Statue
Peace Park, Nagasaki
The plaque near it explains "The elevated right hand points to the threat of nuclear weapons, while the outstretched left hand symbolizes tranquility and world peace. Divine omnipotence and love are embodied in the sturdy physique and gentle countenance of the statue, and a prayer for the repose of souls of all war victims is expressed in the closed eyes. Furthermore, the folded right leg symbolizes quiet meditation, while the left leg is poised for action in assisting humanity."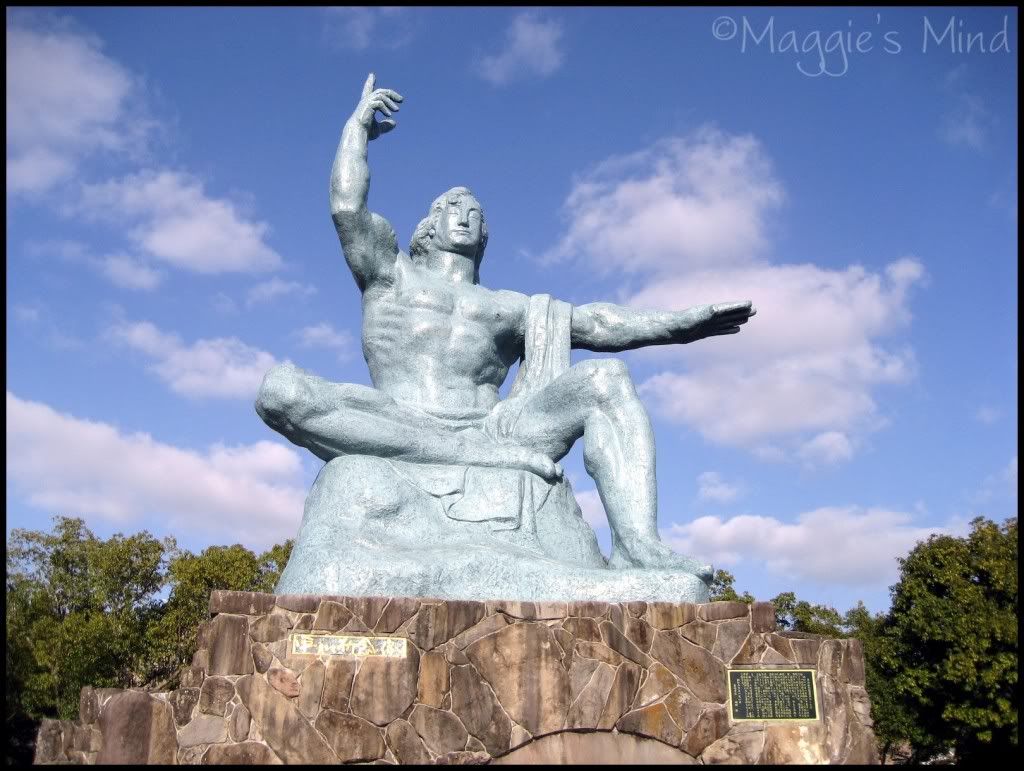 "Protection of Our Future" Statue
Peace Park, Nagasaki

Urakami Cathedral
There are a lot of churches in Nagasaki as a result of European influence from the 16th to 19th centuries. You'll likely be hearing a little more after tomorrow's city touring. There is quite a bit of interesting history behind this church in particular, which was built when the ban on Christianity was lifted, was destroyed by the atomic bomb in 1945 and was rebuilt. I saw part of the original at the museum and a piece of the wall near the hydrocenter.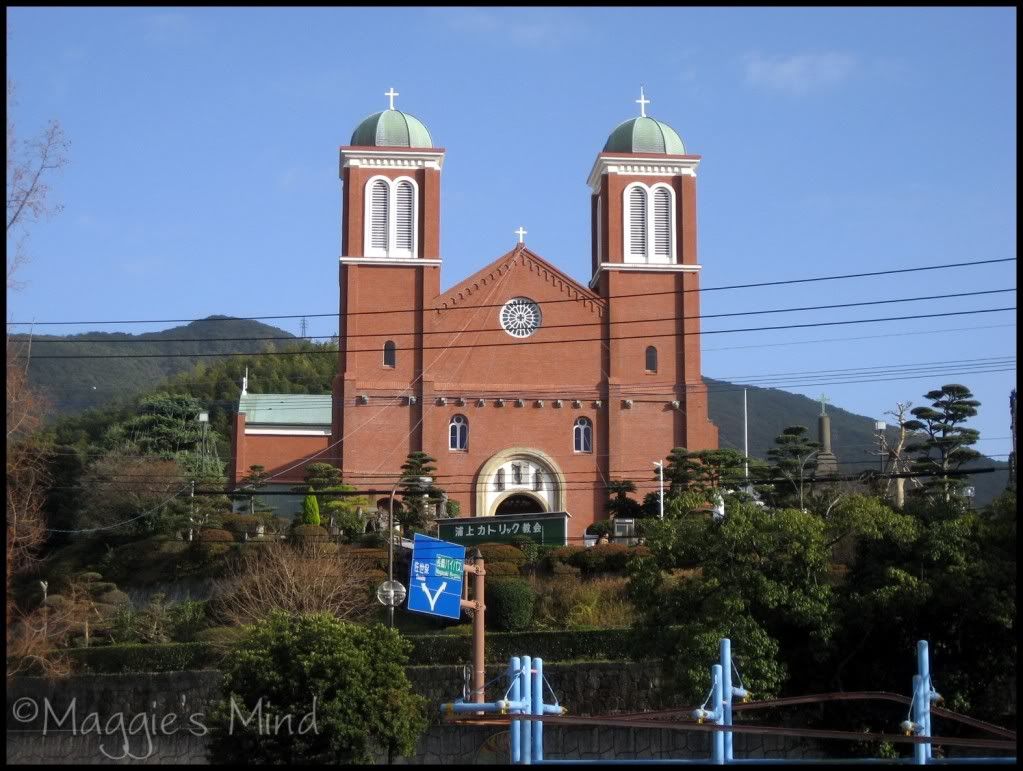 Seen from the Streetcar
Yes, a Ferris wheel on the side of a building. No, I didn't.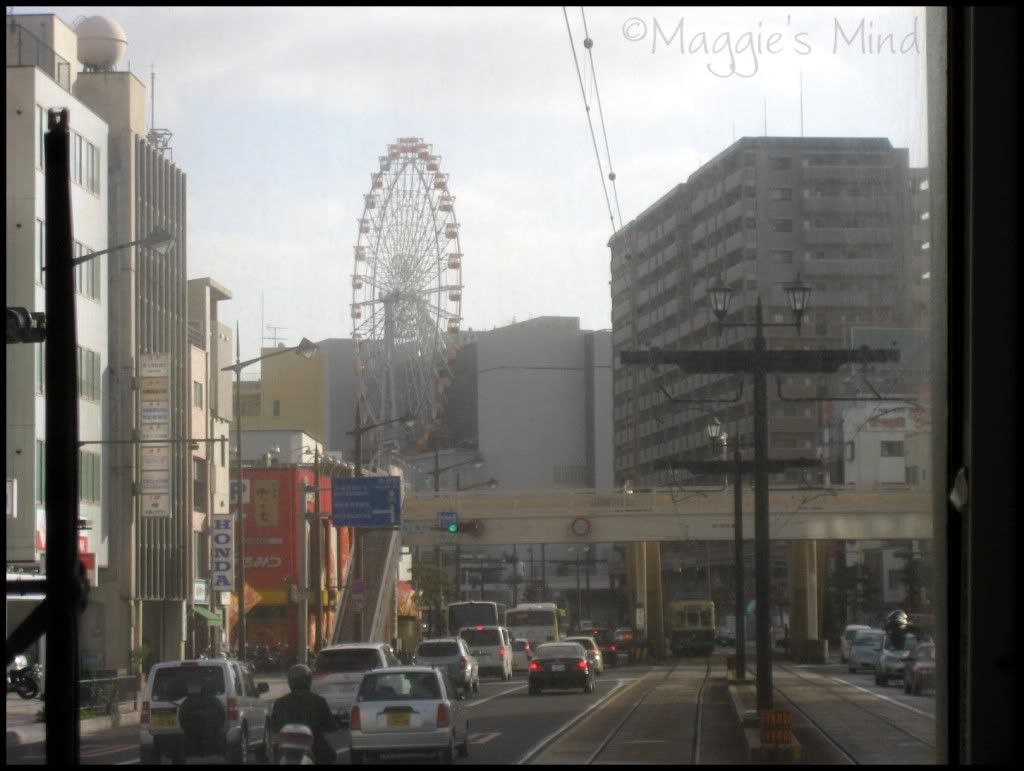 Nagasaki Harbor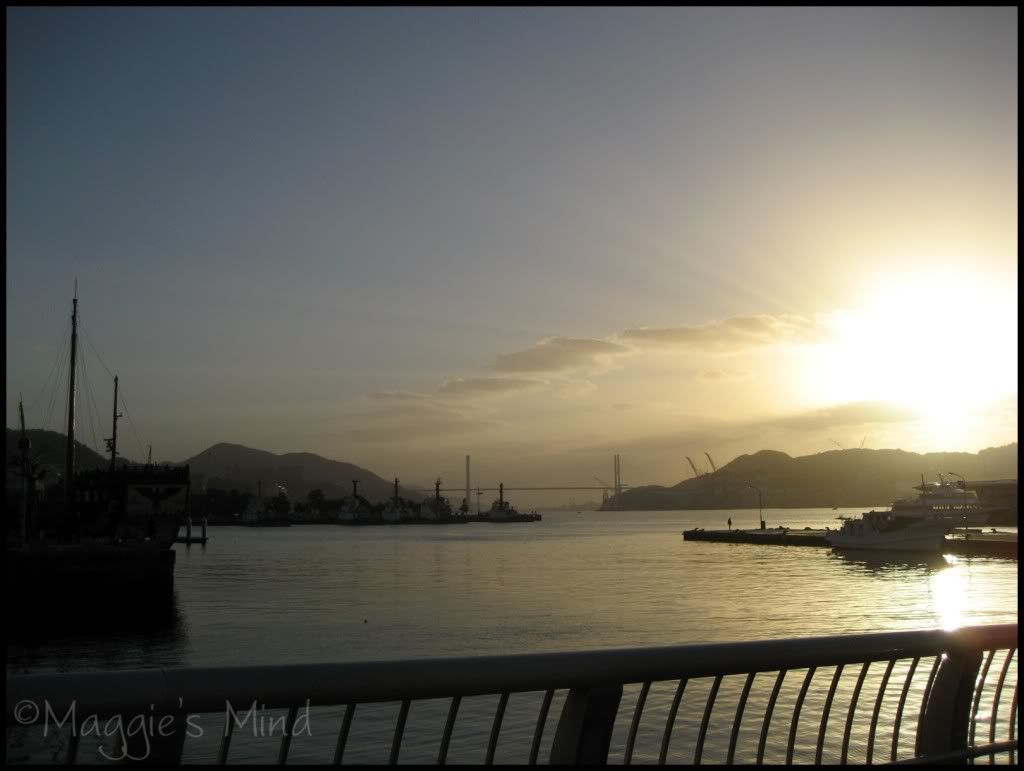 Champon


Champon

is one of the things you are supposed to eat in Nagasaki. So I did. The place smelled oddly like wet dog, but I've become a fan of yet another variety of noodles.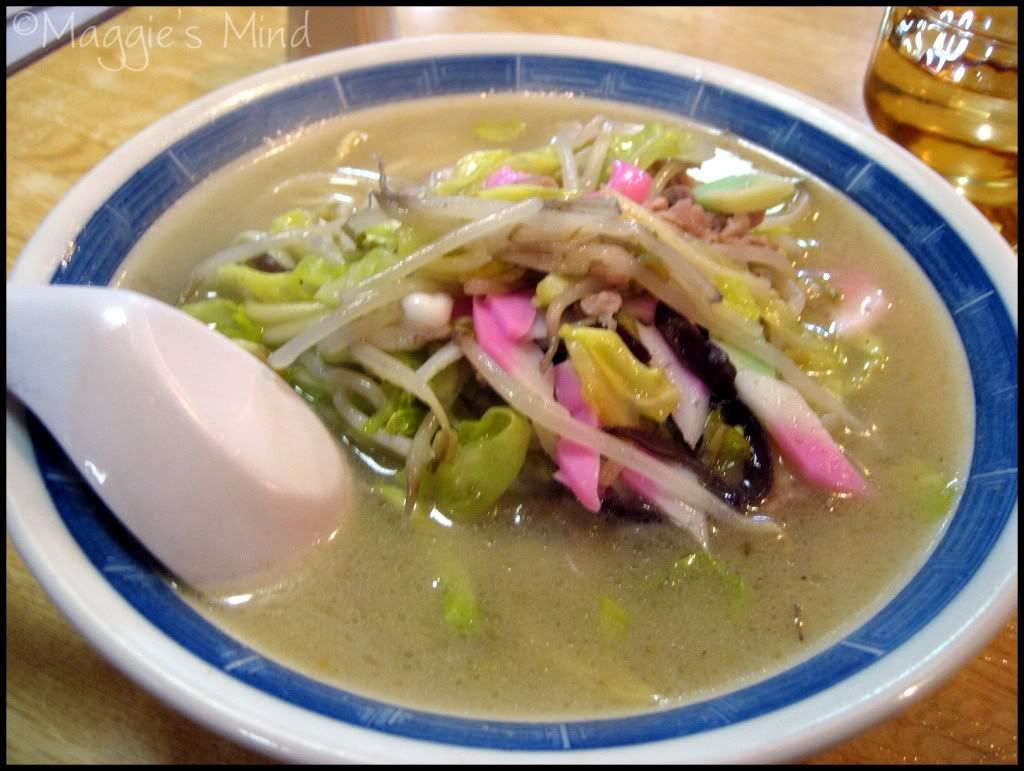 Peace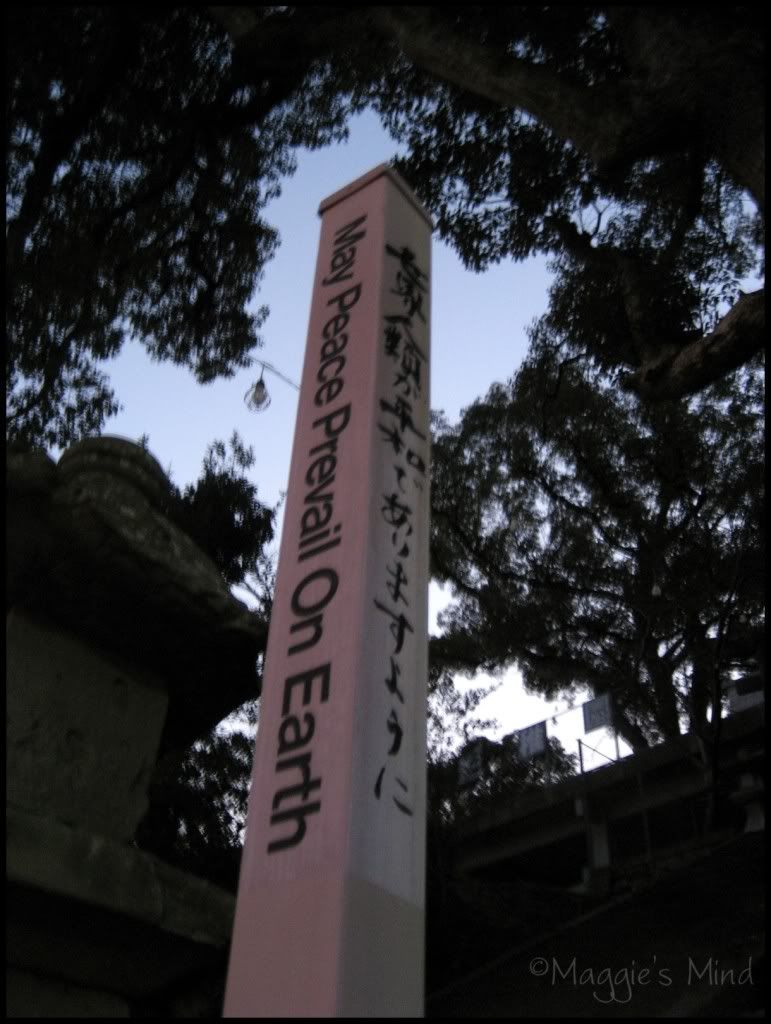 Nagasaki at Night from Way Up High
I pretend like I am not afraid of heights when I'm traveling, so I did the ropeway thing to the top of Mt. Inasa (better than climbing, right?). The view all around was spectacular. I clutched tightly to whatever I had my fingers around, but I didn't pee at all, so I'd say I was a successfull ropeway rider.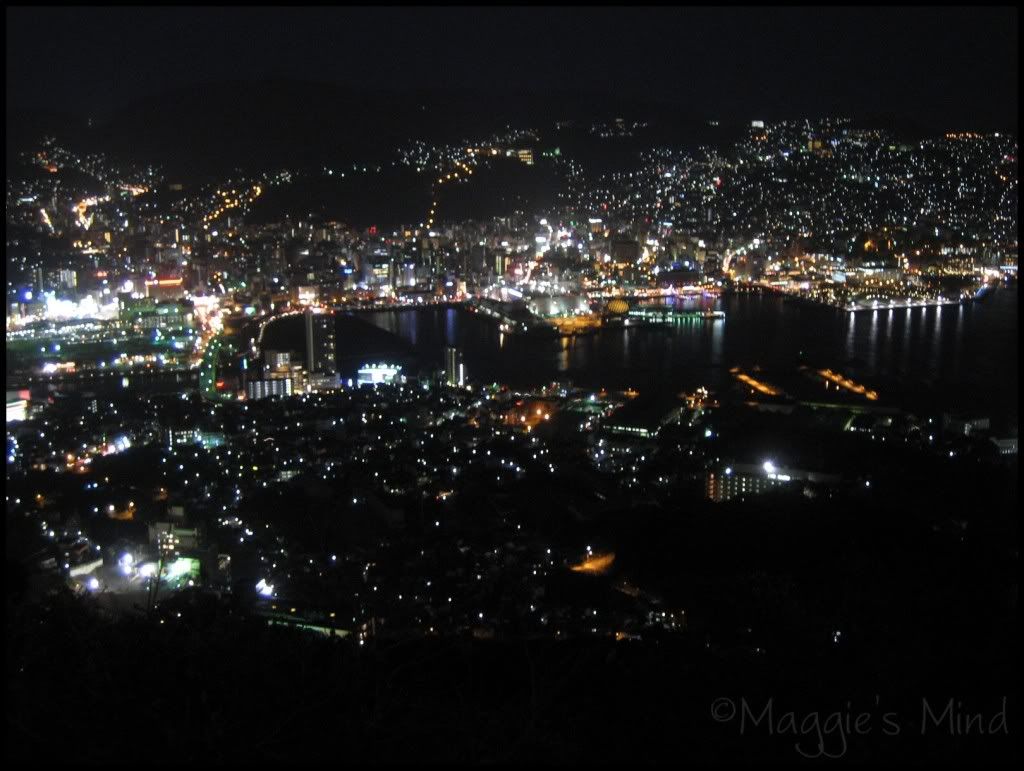 Good Opportunities for Your Dreams and Future
Actually, they did. I've been trying to buy a damn pair of gym/walking/athletic shoes since I've been here. I'm short with huge feet for my height, but really, they are not huge enough that it would be a problem back home (size 8 in the US). Here, it's a problem. I rarely find shoes in my size, and on those rare moments when I have, they wanted about the equivalent of $100. Tonight I found some in my size for about $10. They are not awesome looking, but they are lightweight and not hideous. The shoes I wore today were hurting my feet on day one of a six day trip. It was about time for a good opportunity. Also, there was a Starbucks on the way out of the You Me Saito shopping center. You. Me. Shoes. Coffee. Happy.



Hotel Room Refrigerator


If all goes as planned, tomorrow should involve penguins. If not, it will involve other stuff. But I hope it involves penguins because penguins are cool. Stay tuned.