After
walking
and
walking
and
walking
all over beautiful and fascinating and awesome Nagasaki, it was nice to be headed next to
Beppu
and it's famous onsens (hot springs). Narrowing down the gazillion pictures I took to a reasonable number for a couple of blog posts was nearly impossible, and that's even after most of the shots I really, really, really wanted to take, I couldn't take because bringing a camera into the onsen is risky. First, there is the whole issue of being in the water, and then there is the issue that everyone is naked. People get kinda touchy, and not in a touchy feely way. Here are the shots I did get.
Middle of Nowhere
Monday, December 28, 2009
I took a bus (Ken-ei bus) from Nagasaki to Beppu because it turned out to be cheaper than the train by about half, just a bit faster (3.5 hours) and less hassle since there were no transfers, which means no lugging my bags up and down stairs at trains stations. The highway buses here are surprisingly nice. I've become a fan. When I wasn't sleeping, I was admiring scenery like this.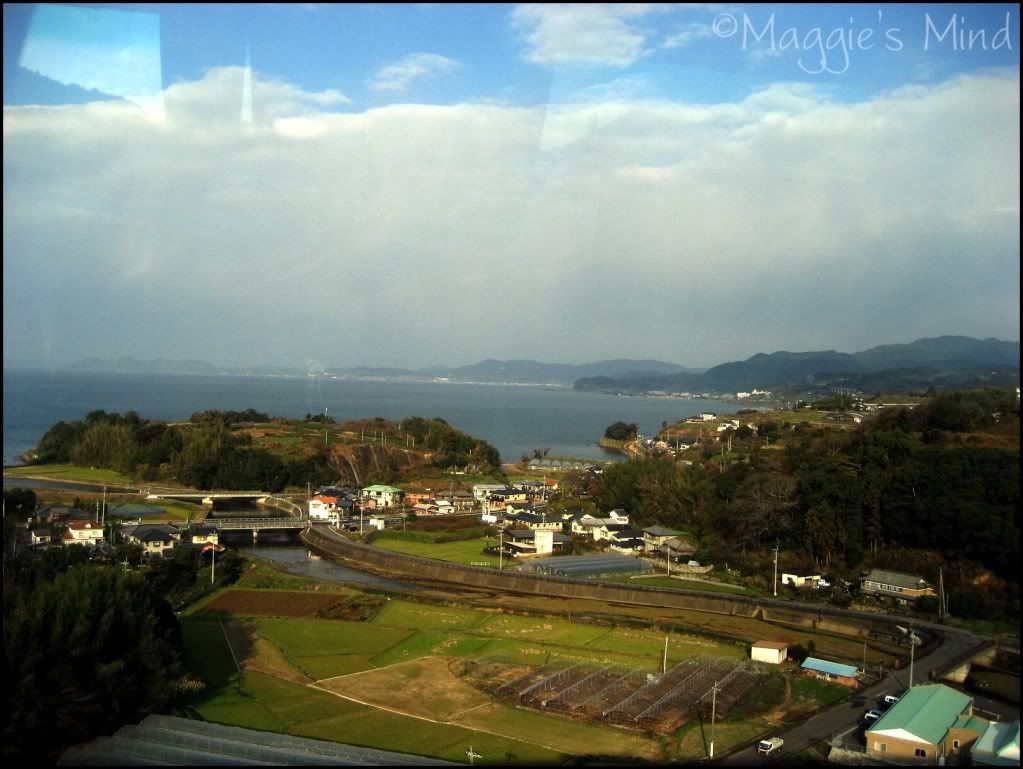 Hihokan - Sex Museum
Um. Yah. It's not really worth even the discounted price of 600 yen (roughly US $6, there was a coupon that came with my day pass for the bus), but it's one of those things you can't help but go in and see once just because it's there. You can take pictures. I did. They are all pretty much way too graphic to post here, but trust me when I tell you that there are seven kinds of bizzare going on in there. This is as much of the Snow White and the Seven Dwarfs scene as I can show you. Yes, there is a reason she is smiling. No, I'm not kidding. Pictures are out there on the interwebz if you are into that kind of thing.



Suginoi Hotel's Tanayu Onsen
If there was any picture I wish I could have taken and couldn't, it was here. The onsen is on the roof, and the view of Beppu and the bay is amazing since there are no fences. Since I couldn't take a picture but couldn't not mention my favorite onsen of all I've been to (which is lot after this trip), I implore you to go take a look at their pictures. Really, you have to see it to believe how one of the hugenormous baths is terraced so that the water looks like it's falling off the building.

Hyotan Onsen
I went here my first night since it was near the awesome place where I stayed (more on that in a minute). Hyotan Onsen (Japanese link) was really nice and had both sand baths and indoor and outdoor baths. If you are curious in general about how the whole onsen thing works (nutshell: get naked, shower, soak naked with strangers, walk outside wet and naked even though it's winter because hot water and relaxation makes you like it), they have a pdf in English that pretty much covers it.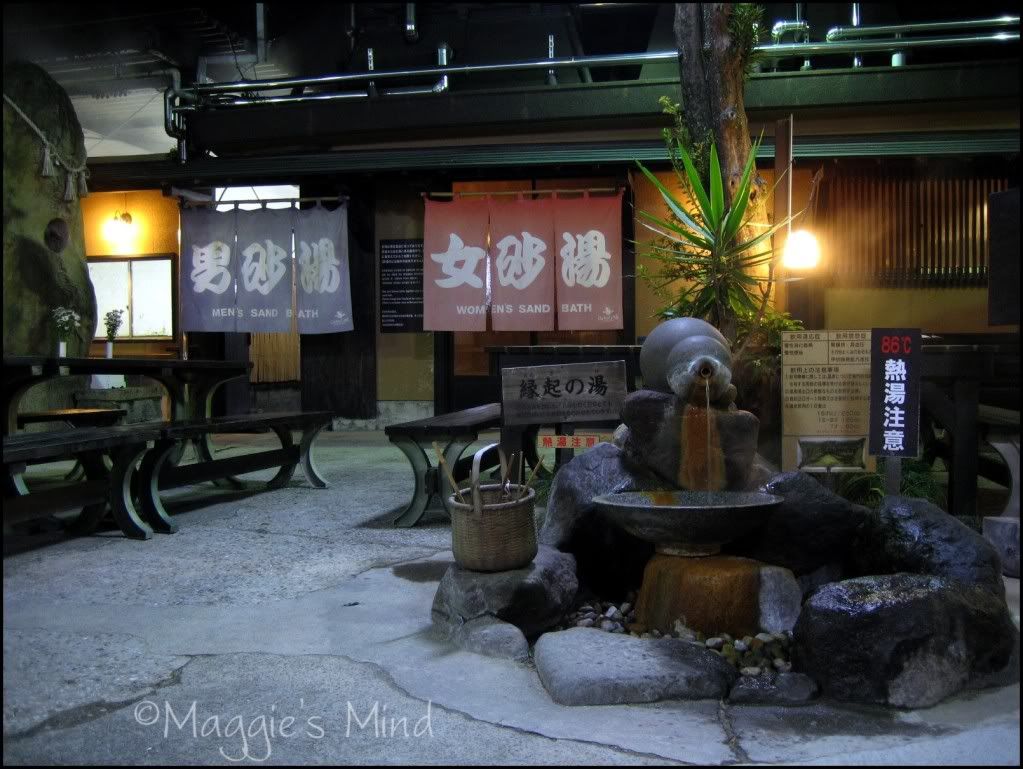 Happy Neko
I stayed at the most awesome place in Beppu. It's called Happy Neko (neko=cat in Japanese), so right off the bat, just by the name, I knew it had to be good. You can stay in the main house or in one of the little apartments for only 2000 yen, which is small and sparse but way bigger than a hotel room. The hosts speak English (also Japanese and Czech, since one of the hosts is Czech) and are super helpful. Right when I got there, Bibo spent about 20 minutes giving me bus info, detailed maps of the best restaurants, onsens, etc. and answering any question I could possibly have about my stay in Beppu. The place is right next to one bus stop and close to another, and since Beppu is a take the bus kind of place, that matters. The only catch is that there is no bath/shower, but considering how many onsens are nearby (which is the main reason most folks even go to Beppu) and how awesome they are, it's actually not a bad thing since it kind of forced me to explore some of the local onsens a little more than I might have otherwise.

Steamy
Tuesday, December 29, 2009
Steam is everywhere in Beppu, even rising from grates in the street.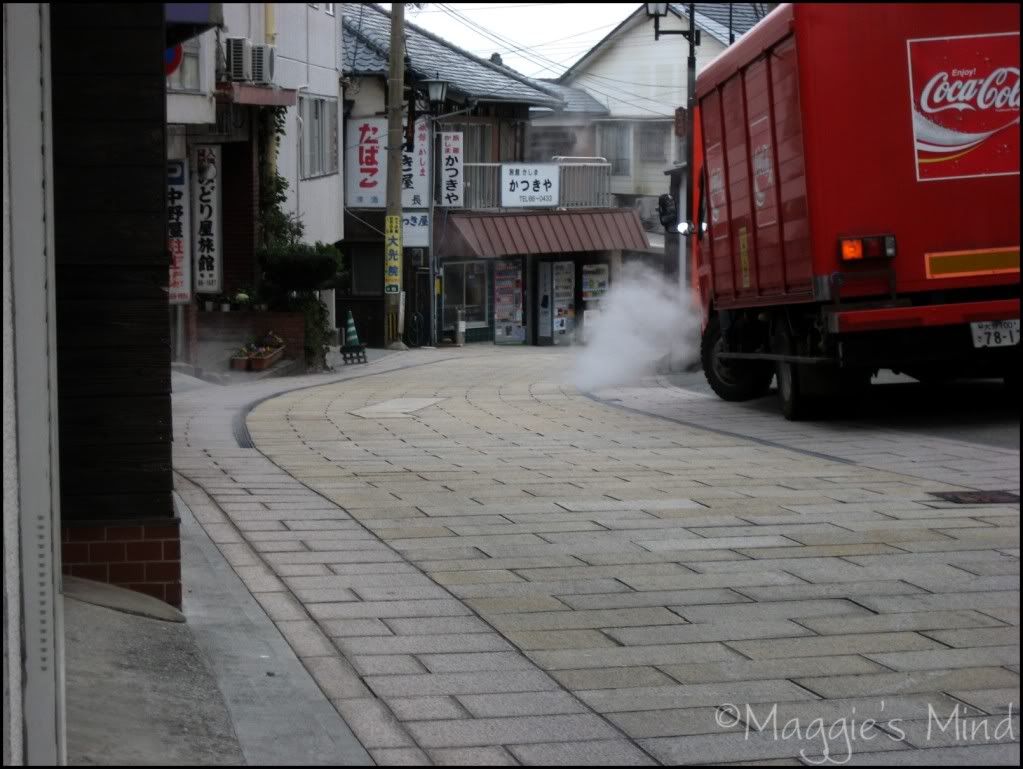 9 or 10 Kinds of Hell
Hell can be a good thing. In Beppu, it's a good thing. See, they have these 10 kinds of hells (

jigoku

), the main 8 (in Japanese, but the .pdf in English of the exact pamphlet I got is here), plus a couple others, are all kinds of crazy beautiful hot springs that are way too hot to even dilute into the bathing kind. These are for looking in awe, not soaking in bliss. This is where the narrowing down of pictures got really tough, but these are some of my favorite shots.

So Hot You Could Boil an Egg
And so they do. Or steam them, really. I subscribe to the idea that it's true you should never actually boil a boiled egg. Whatever you call what happens to these eggs cooked in hell, they are awesome.
Kamado Jigoku / Cooking Pot Hell



Breakfast in Hell
Kamado Jigoku / Cooking Pot Hell



Kamado Jigoku / Cooking Pot Hell was probably my favorite of the seven I saw (more on what happened to the 8th one way down below). Not just because of the yummy eggs, but because there were so many different looking pools of hotness and little things to do, like take off your shoes and sit with your feet on tiles heated by the geothermic magic going on underneath them.

And there were all kinds of colors. Like this color.
Kamado Jigoku / Cooking Pot Hell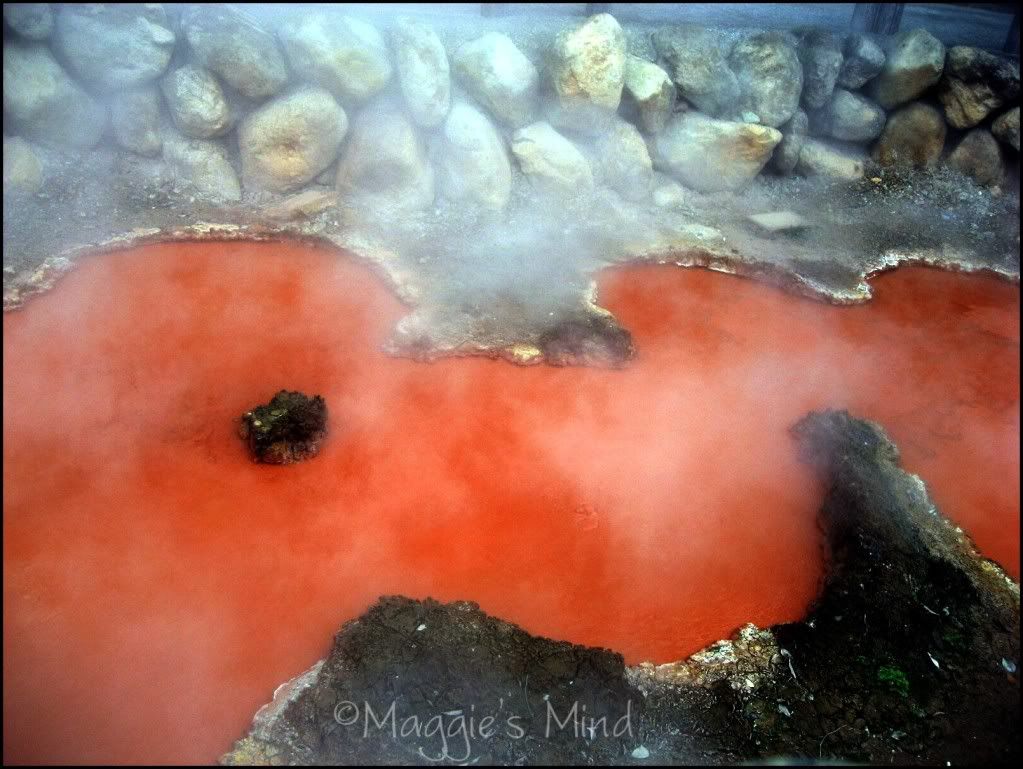 And This Color
Kamado Jigoku / Cooking Pot Hell



Or Muddy Colors
Kamado Jigoku / Cooking Pot Hell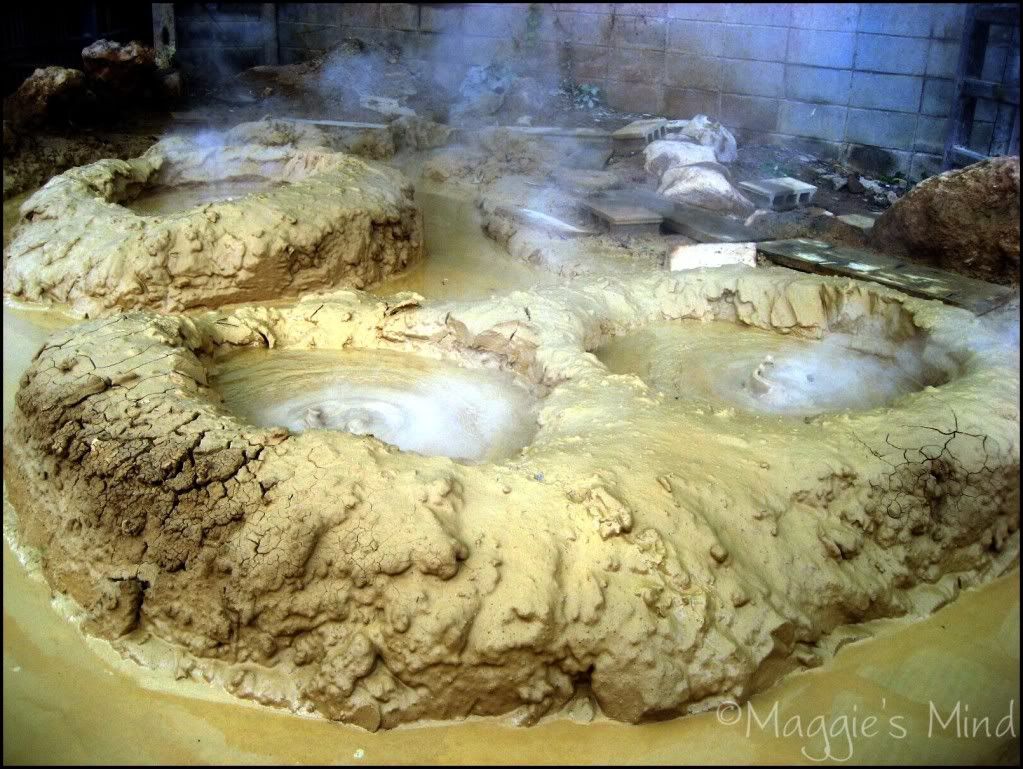 If I only had time to do one hell, I'd pick Kamado Jigoku / Cooking Pot Hell because other than the odd little zoos (you'll see), this one really had a variety that included a lot of what the others had. Of course, I'd bought the discount pass to see all 8 (minus the "other" two), so I kept going.

Hello Hungry Hippo Potato Muncher
Yes, there are hippos in hell. They eat potatoes.
There was a small zoo kind of oddly incorporated into this hell (though the aligators and crocodiles were in a different hell, Oniyama Jigoku / Demon Mountain Hell, and that also just seemed kinda odd).
Yama Jigoku / Mountain Hell



Hot Spring of a Leg
They meant footbath. It's all good. It's more fun their way.
Umi Jigoku / Sea Hell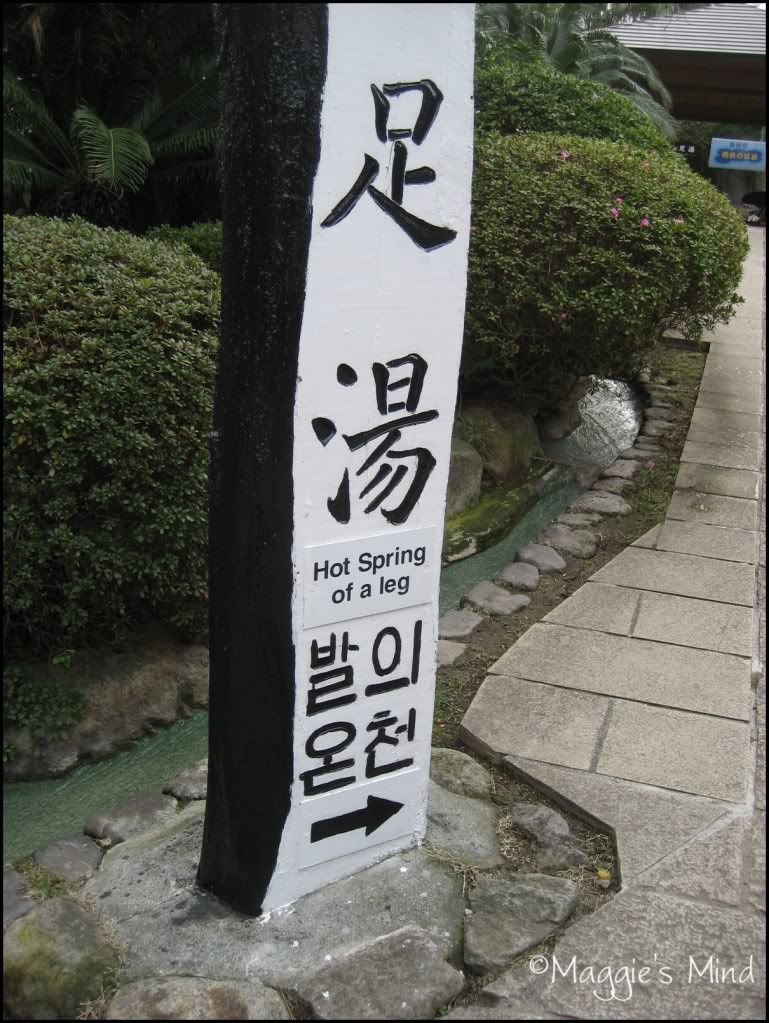 So Hot You Could Boil Even More Eggs
Different hell, same concept. Nature is crazy.
Umi Jigoku / Sea Hell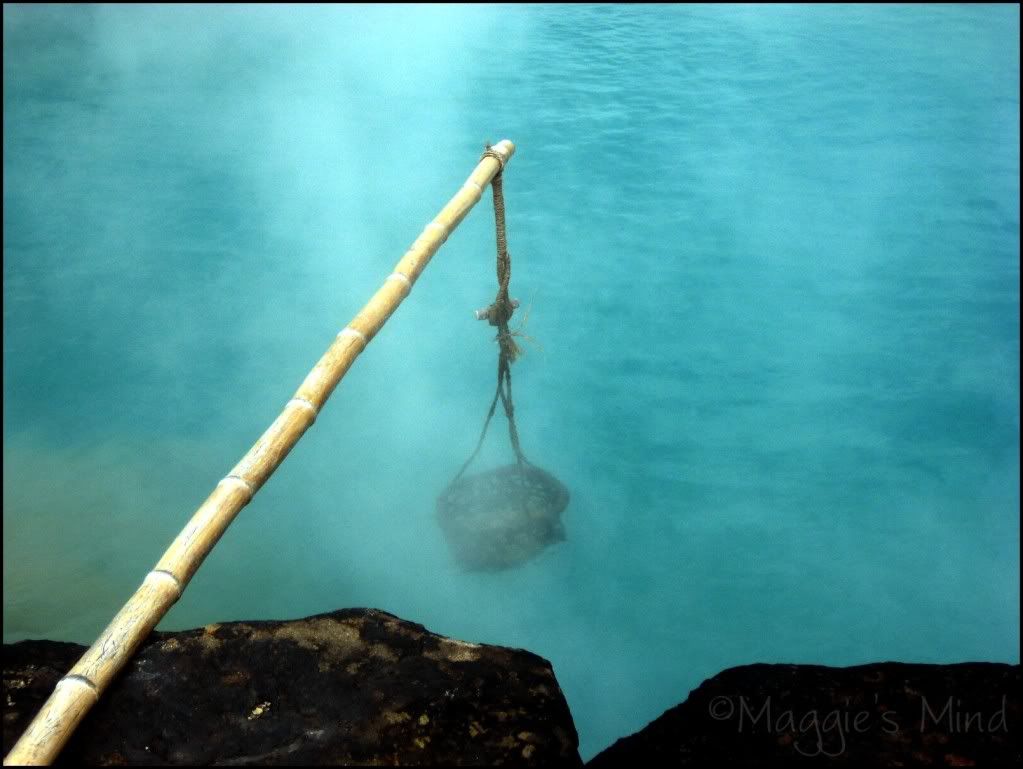 Torii
Umi Jigoku / Sea Hell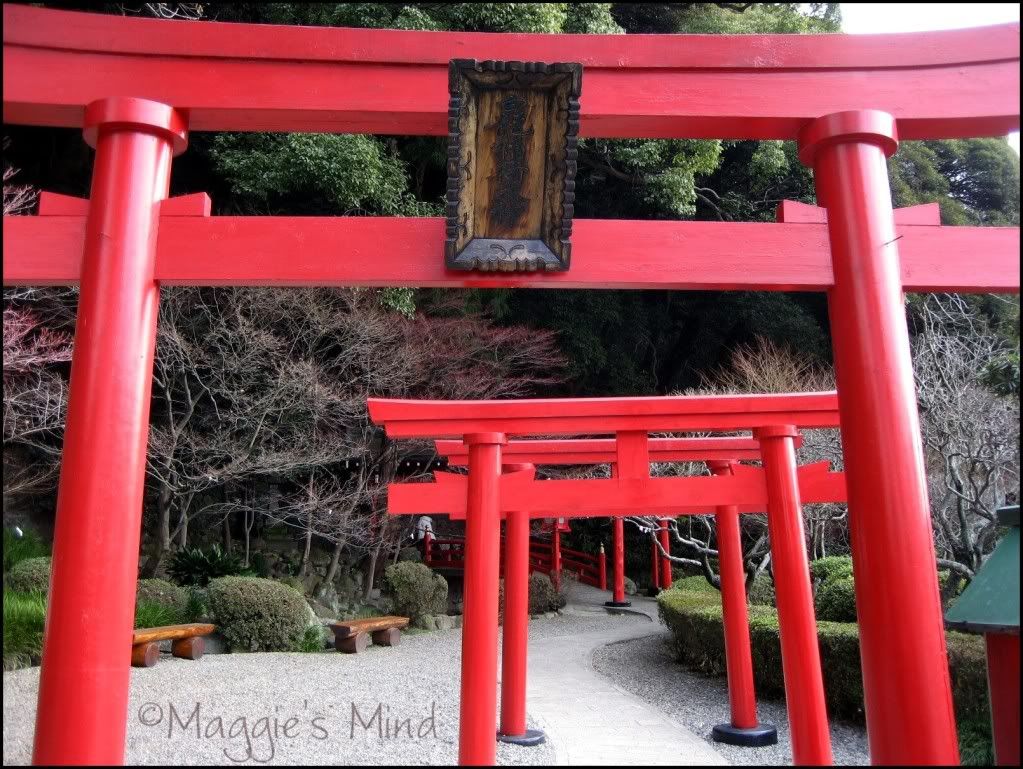 Mixed Sex Outdoor Mud Bathing
Another picture I didn't get to take. Sigh.
After seeing all 6 of the hells within walking distance of each other, I decided to take a little break and go soak in mud before taking the bus to the other two that are next to each other in a different area. Hoyoland is apparently fairly popluar, but it was my least favorite onsen. Sure, the novelty is interesting - mud, mixed sex - but the place really isn't all that nice in appearence or amenity, it's more expensive (1000 yen, rougly US $10) than most other places, and they don't provide the soap/shampoo/conditioner like most places that charge around that price or a little less. If you wonder, for the open air mixed sex mud bath part, nobody see your niblets since the mud makes the water opaque. After the mud and the shower and a short soak in not mud, I was ready to head out and grab the bus to see the remaining 2 hells on my list and in my package deal ticket book.

Greetings and Hellutations
Lots of demons in hell, wherever you look, this one greeting you at my pick for the hell with the best alternate name (next pic). Evar.
Chinoike Jigoku / Blood Pond Hell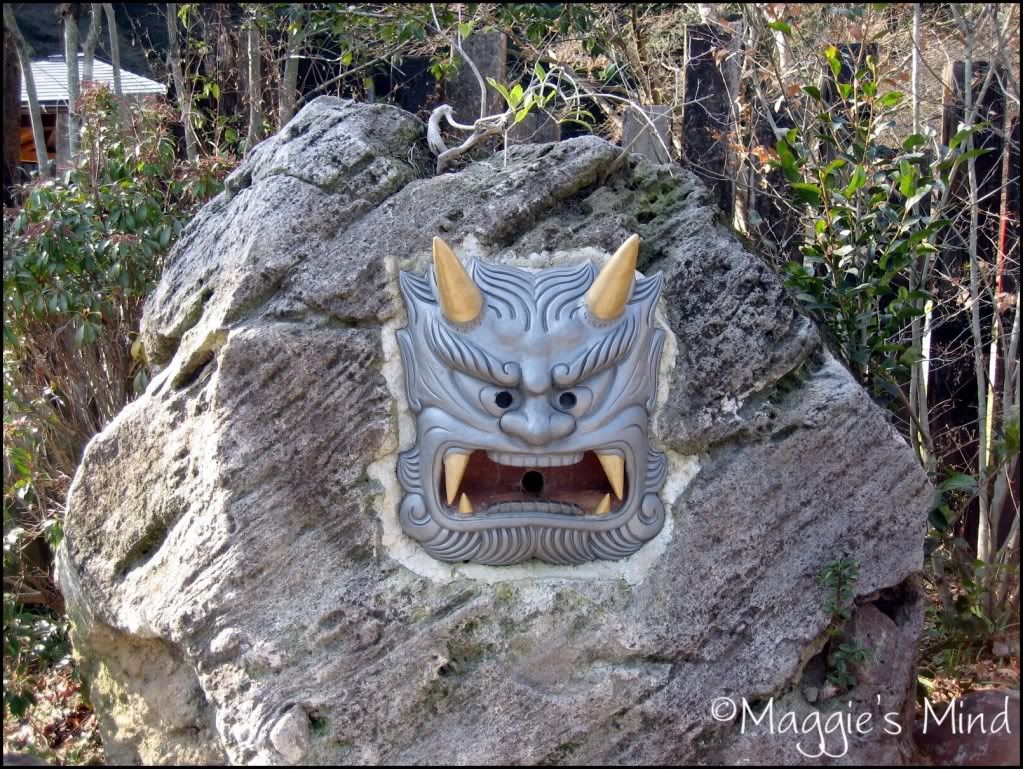 Well, Bloody *&@%# Hell
I think Bloody Hell Pond has a funnier ring to it than just plain old Blood Pond Hell. While the pamphlets and other info disagree, the guy who made the map totally gets it.
Chinoike Jigoku / Blood Pond Hell / Bloody Hell

There was one last hell to see, the one with the geyser (Tatsumaki Jigoku), and it was right next to Bloody Hell, and it was the last stamp I wanted to get on my little sheet (rubber stamps at major tourist attractions are popular here), and it was the last ticket in my book, and it was the last thing standing in the way of the joy I get from a sense of completion... But the bus was leaving in 4 minutes. And the next one wouldn't be for another hour. An hour is a long time to look at water spouting up.

Of all the things I liked about Beppu, waiting for the bus all the damn time was not one of them. You'd think that if the bus is the main way to get around, annoying but understandable since Beppu is pretty spread out, that they'd have them run a little more frequently. I feel like I spent half my time in Beppu waiting for a bus, a different kind of hell, and not the good kind with pretty colors and egg cooking abilities.

Anyway, I didn't see that last hell because I was in a hurry to get on the bus that took me to the station where I could wait another forever for the bus that would take me to where I was *so* excited to go, the mountain where the cageless monkeys live! Stay tuned.