Up those stairs from
the last post
, luggage in tow and before making our way to the guesthouse, we stopped for some serious Korean barbecue. Words cannot describe the deliciousness. The restaurant has a grill in the middle of the table and a hanging exhaust fan pipe just above it. The coals are lit, and then a gazillion side dishes arrive with the main feature. Meat. All sauced up in an amazing sauce and ready to be be grilled.
Meat
Wednesday, September 22nd, 2010
Seoul, South Korea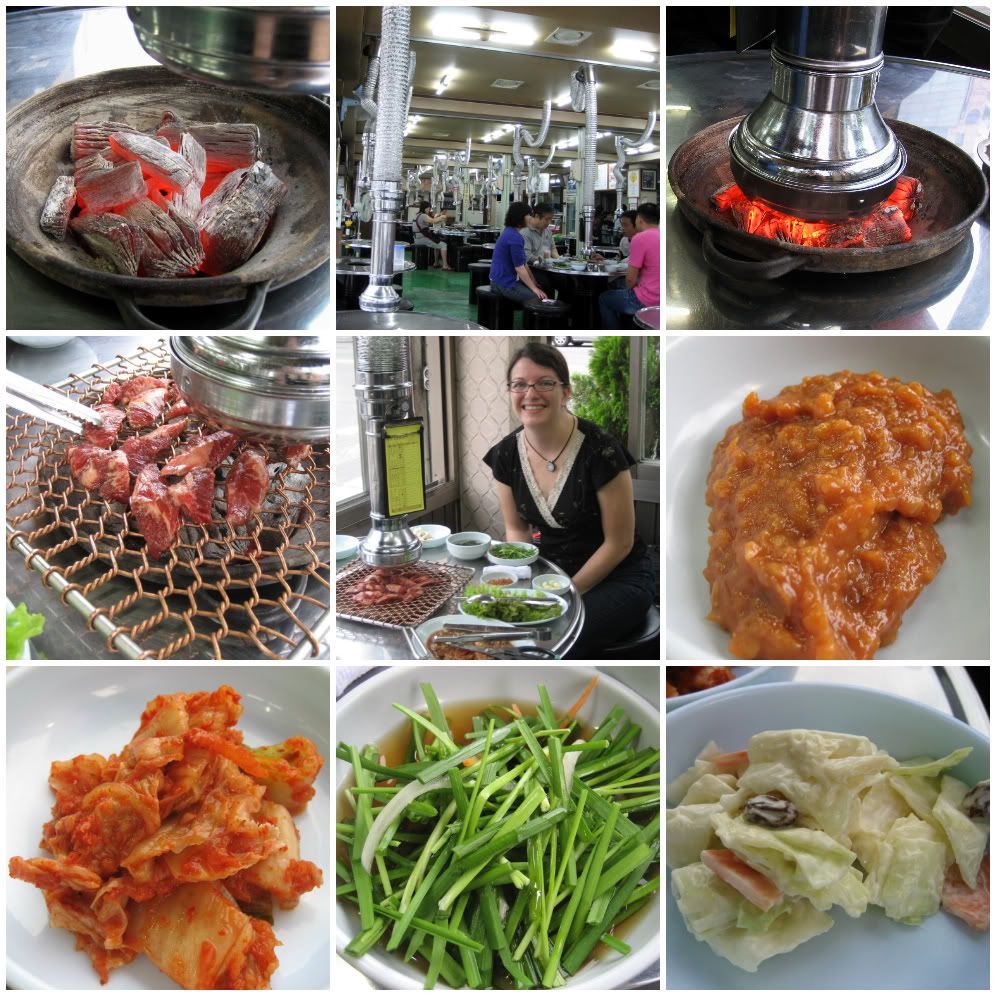 After dropping our bags, our next stop was the impressive Gyeongbukdong (or Gyeongbuk Palace) right in Seoul. I took a ridiculous amount of pictures because behind every beautiful and huge gate, there was another and another. The place just goes on and on and on. If you are curious, check out the link above to see much more. Because it was the Chuseok holiday, and because our timing was just lucky, we arrived just as all kinds of traditional stuff was going on. There was some kind of a parade ceremony by folks in traditional costume and tons of families. It was cute to see kids playing games with family and people generally hanging out having a good time.

Gyeongbuk-dong (Palace), Seoul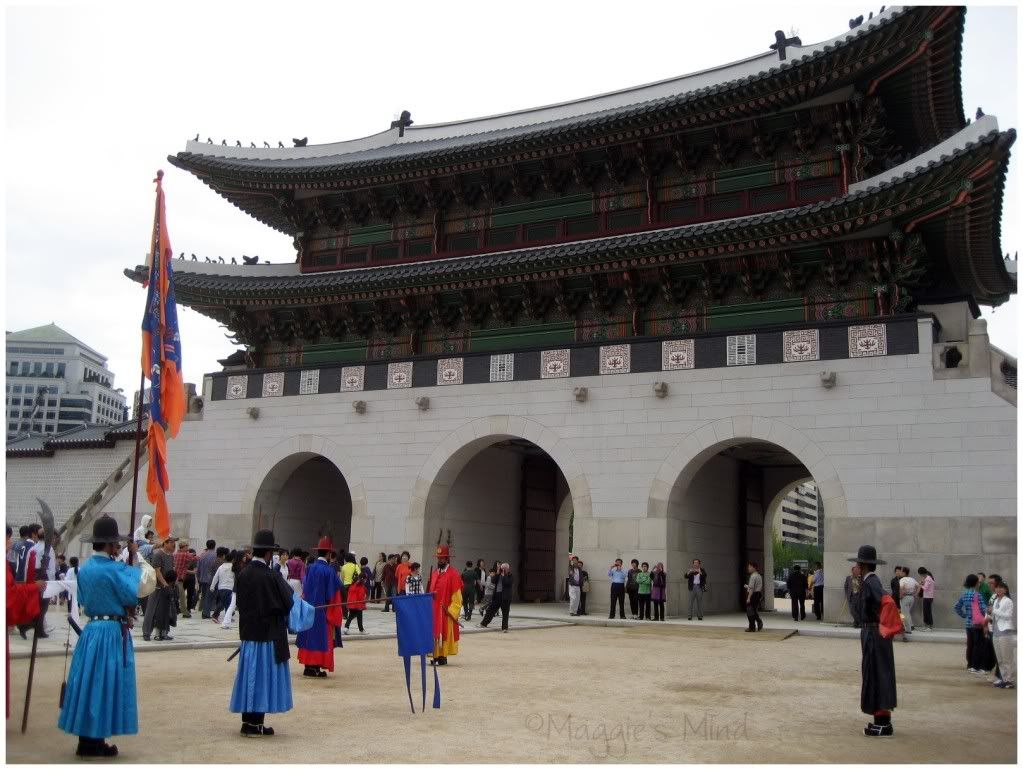 Loud Drum, Quiet Guard
Gyeongbuk-dong (Palace), Seoul


All of South Korea and Her Brothers on Holiday
Gyeongbuk-dong (Palace), Seoul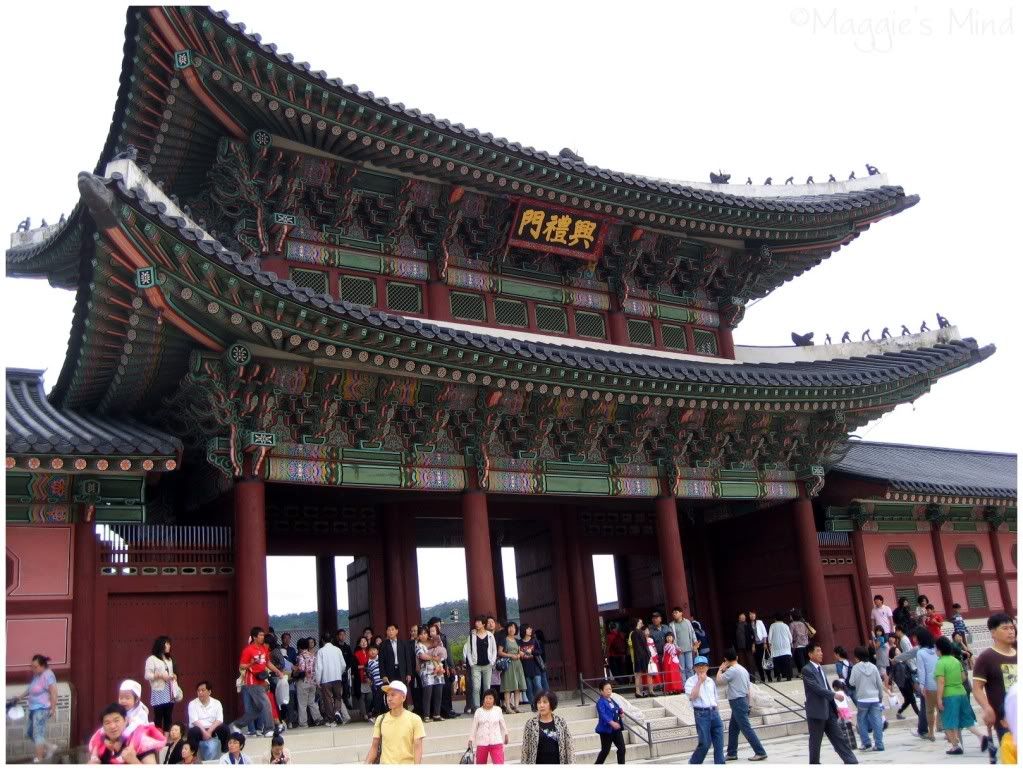 Dressed Up
Gyeongbuk-dong (Palace), Seoul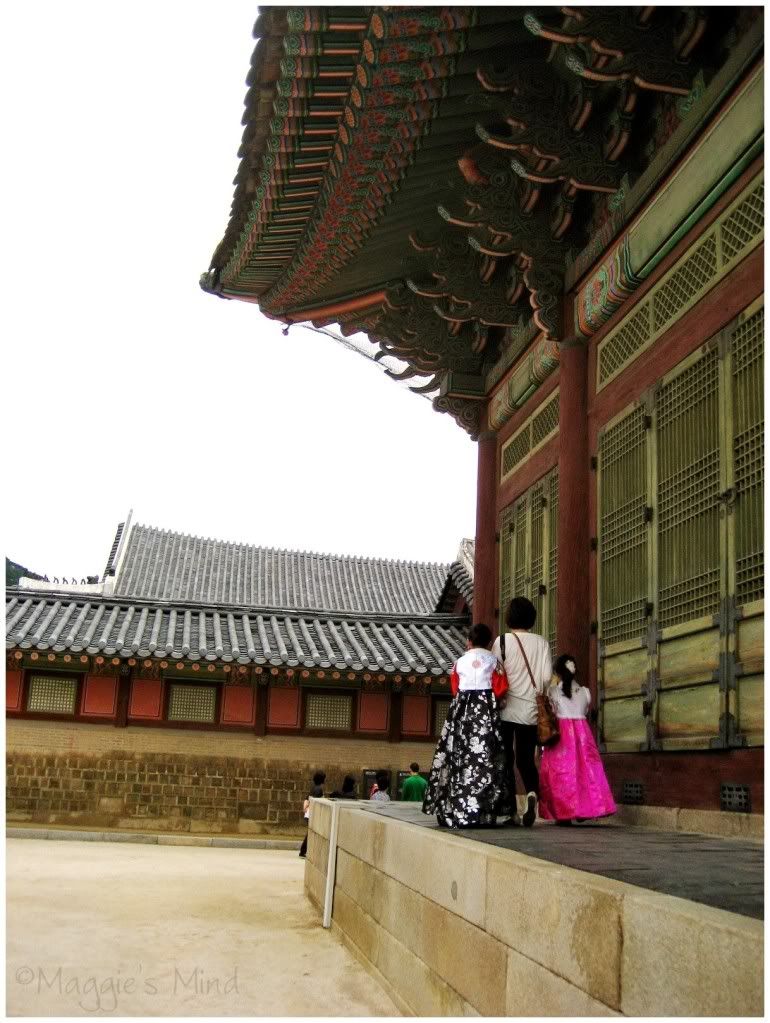 Roof Ornaments
Gyeongbuk-dong (Palace), Seoul


Doorway to More Awesomeness
Gyeongbuk-dong (Palace), Seoul



At some point I looked on our tourist map and realized that we were near the US embassy. It struck me as funny that I'd never actually seen one of our embassies in person. I took this as a challenge. It was a little hard to spot in the sense that the building was very non-nondescript and nothing special. I figured we were pretty close when we came to a corner where there were two security guards just around the corner from each other playing on their walkie talkies, once in awhile peering around the side and kind of giggling. Then I saw a truck with this on the the grill...


Security Police, US Embassy, Korea
Seoul

We wandered a little further and made it to the front of the building where there were a couple more security guards, these looking a bit more serious. We had been joking on the way over that me taking all of these pictures could lead to a world of misunderstanding and knocks at the door of the hostel and me being sent to Guantanamo. It's scary to even joke about it, but you know, things as they are, never say never, right? Innywho. I took a blurry picture at the front of the embassy to prove to myself that I'd been there, and then my camera battery died. So, I stood there fishing the spare out of the case and replacing it while the security guards watched us, which made me feel almost nervous/guilty after all of our joking around. My next shots were even more blurry. So, the above is all I have to offer. It's prettier than the building, anyway.
Next, we were headed to the touristy area of
Insa-dong
. It was my least favorite part of anywhere we went in South Korea. I can't explain it. It was markety, which I like, but it just seemed sort of over-touristy and contrived. We went to many touristy places, but none of them felt quite like Insa-dong. I did buy a cute necklace, but I didn't take many pictures. Well, OK, one, at a little restaurant kind of off the main path when we were headed out of the area.
These next pictures, though, are what happened on the way to Insa-dong.
A Street Corner that I Loved for No Good Reason
Seoul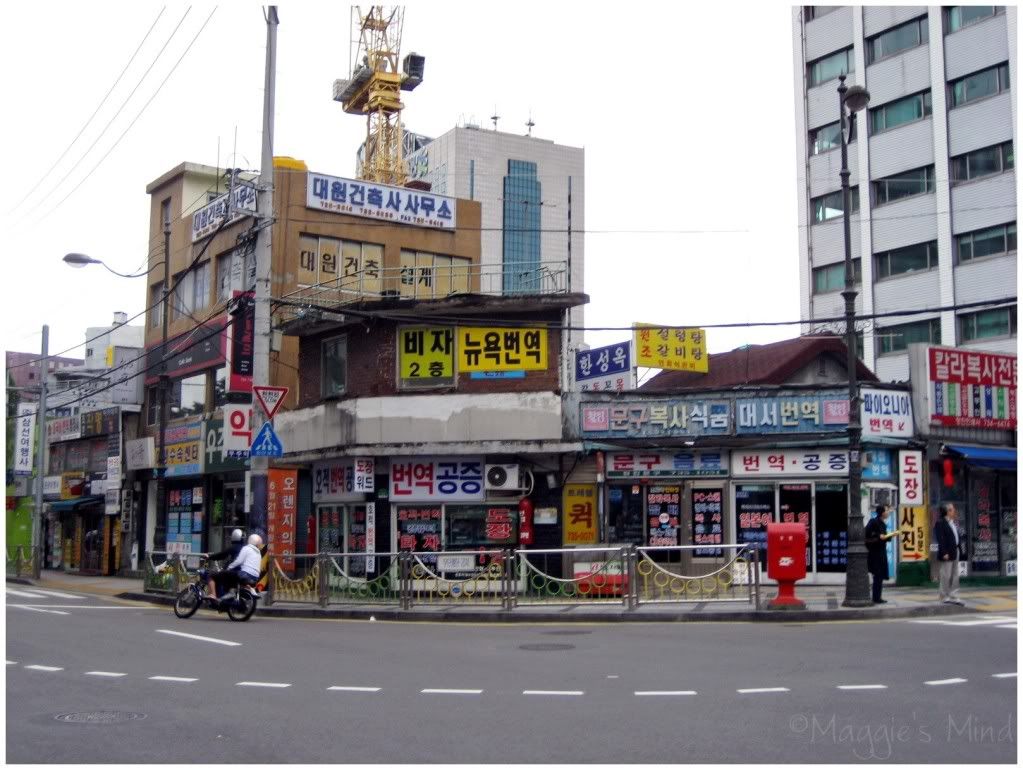 South Korea Loves Burger King, and I Will Marry Them Both
I think I misspoke last post. At that first BK, I just had fries (not as good as at home) while my friend tried a Whopper Jr for the first time. It was this visit I had the Bulgogi Burger. Not bad. Not good. Not bulgogi. Still, there are some other unique menu entries.
Menu Items America Needs to Adopt
Burger King, Seoul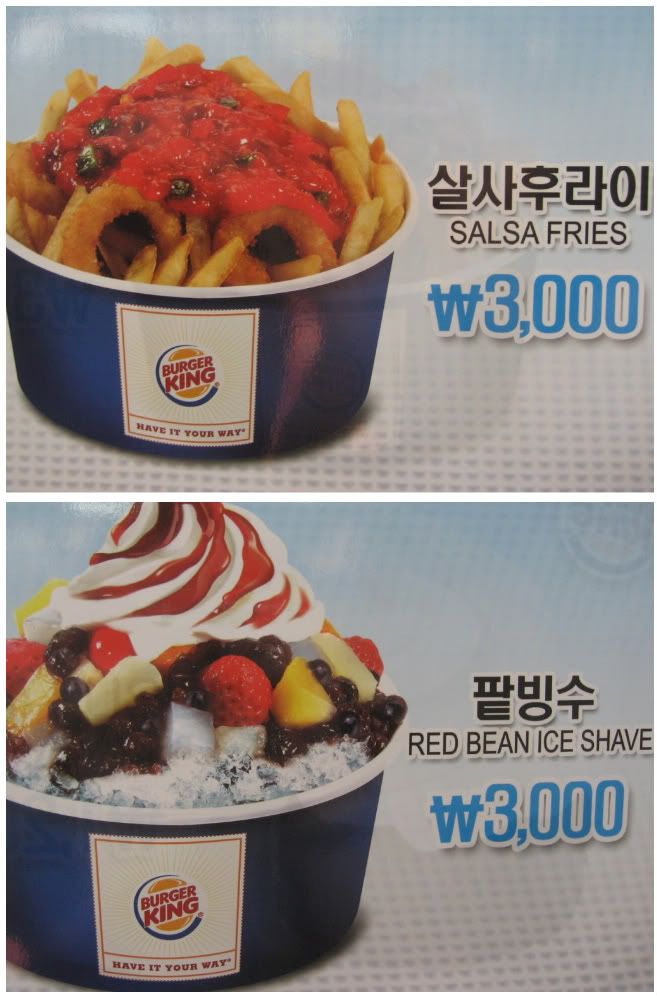 Me, Being Ridiculous at Burger King in Seoul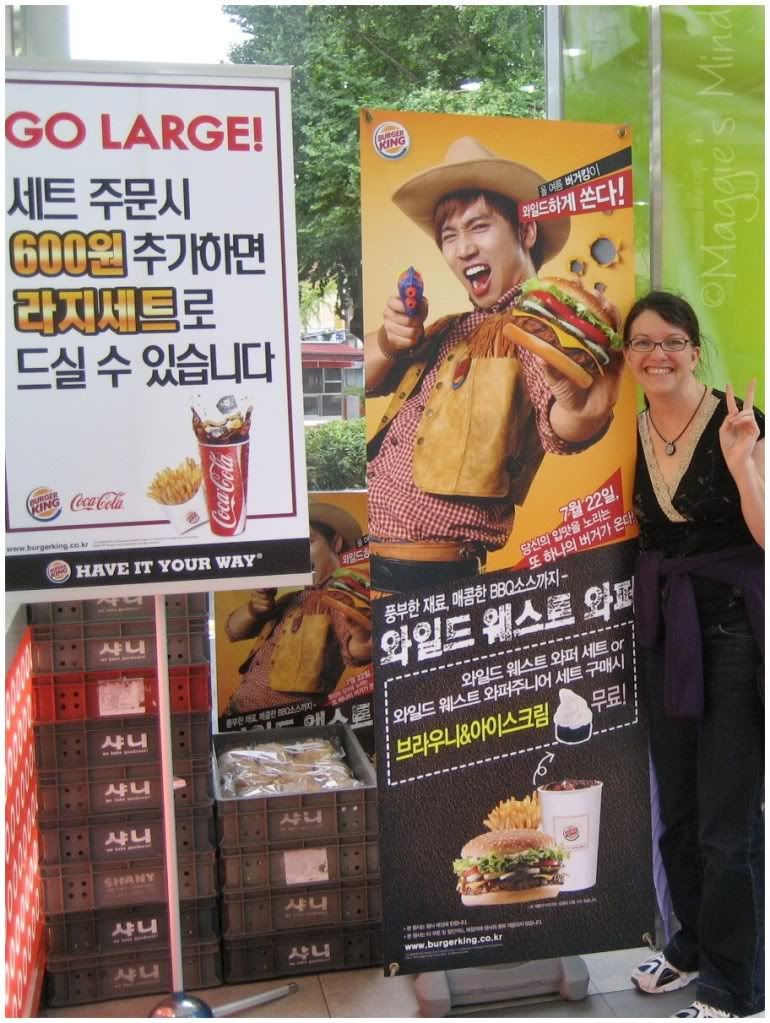 Next up, next post, the rest of our time in Seoul before heading back to Japania where I've never seen salsa fries.