So when I left you
last post
, we were on top of a small mountain/big hill in Gyeongju, South Korea. Our day was a little rushed since the later we got back into town, the later we would leave for Busan where we would have just the remainder of the day to spend (long story with a moral about not waiting until the last minute to call Korea via Skype the night before leaving Japan for Korea to buy train tickets for a holiday because otherwise you may have to leave butt early instead of mid-afternoon as hoped).
I think our bus driver coming down the mountain was very angry. Or on crack. Or answering a dare. Or trying to screw with folks for sport. Getting back down the hill quickly was not the issue. Whether we could do it without killing anyone became a concern. The driver kept flooring it, but the bus took awhile to catch up and just made an unhappy sound until it got going, and any old people who'd just gotten on had to hold on for dear life. The driver tailgated anyone in front of him, honked angrily, passed cars in no passing zones going up hills without the benefit of seeing if anything was headed toward us and generally drove it like he stole it. A bus. We were on a bus. Craziness. Still, we got back in one piece, so all's well that end's well. Oh, and Korea drives on the right, like America but unlike Japan, and my mind is all mushy and unclear about what feels right anymore as a result.
Bus Ride From Hell That Looks Calm Unless You Are On It
Gyeongju, South Korea
Tuesday, September 21st, 2010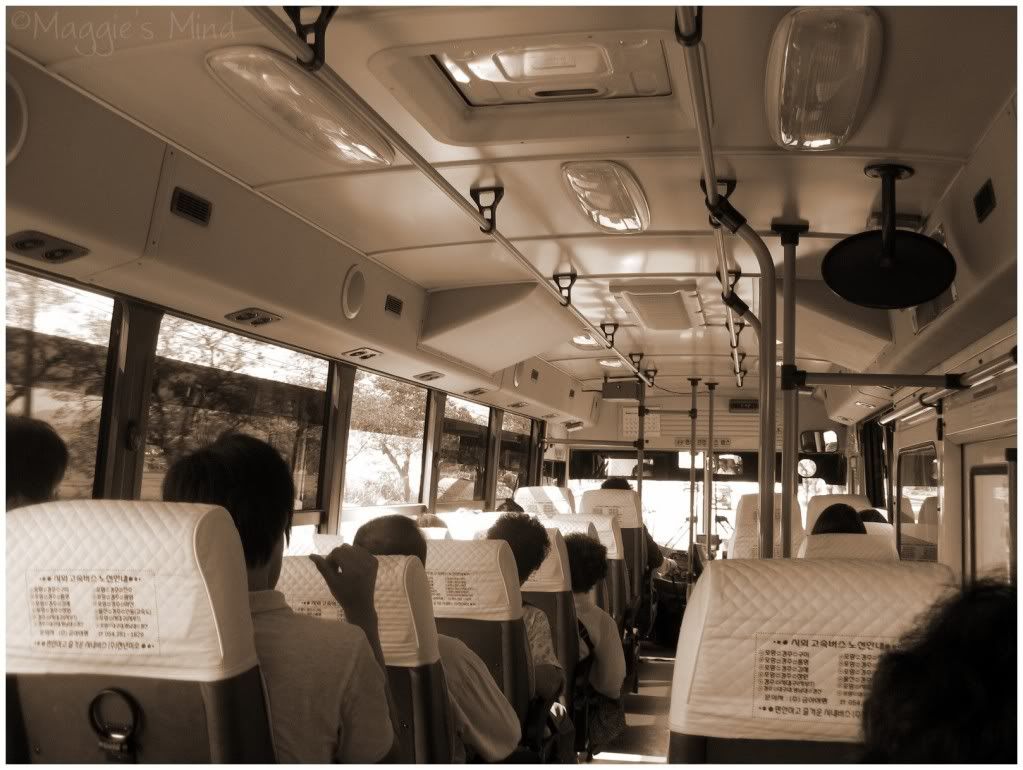 Back to town (30 mins or so) and an entirely different 50 minute bus ride later, we were in
Busan
, Korea's 2nd largest city, the big port city down south. Like Seoul, the subway system is super convenient, easy and cheap, making it a dream to hop around from place to place within the city. I do wish we'd had more time to spend here, but we made the most of the handful of hours that we had.
A Lesson for All Nations - Wifi Everywhere
(Japan, are you listening??)
Some Subway Station, Busan, South Korea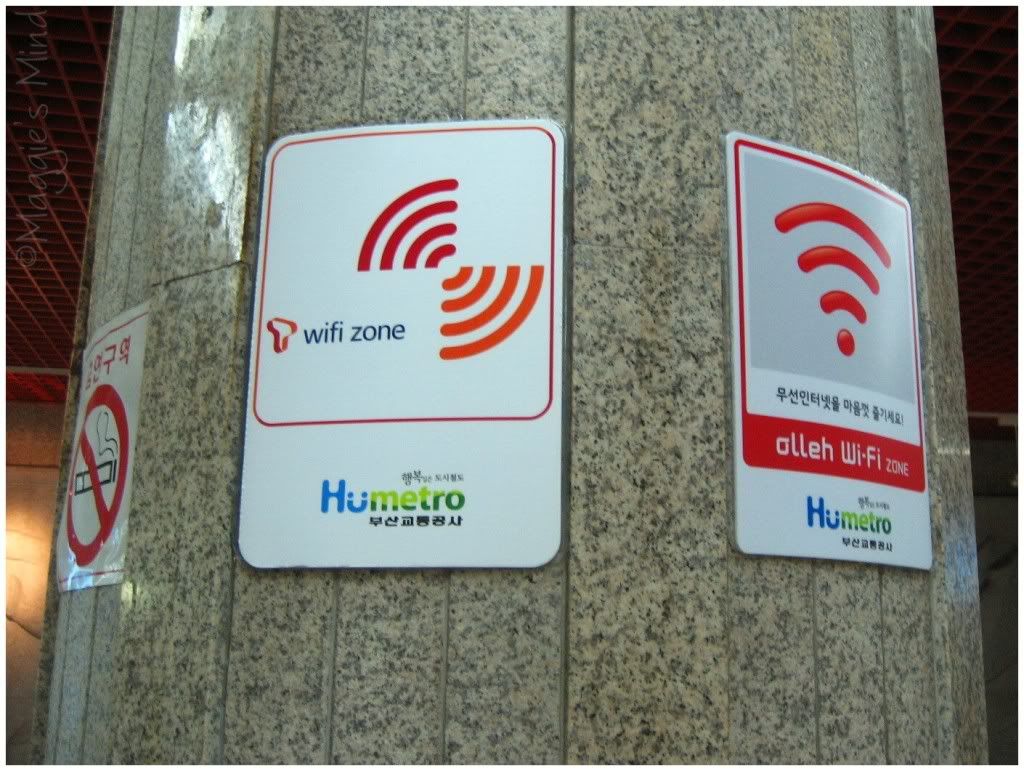 Wandering Around Busan
(and eating massive amounts of street food, not pictured, but that happened the whole trip, really)
Seomyeon Area, Busan, South Korea

Next stop, the place where my reserved train tickets for Seoul the next day should hopefully be waiting...
Busan Station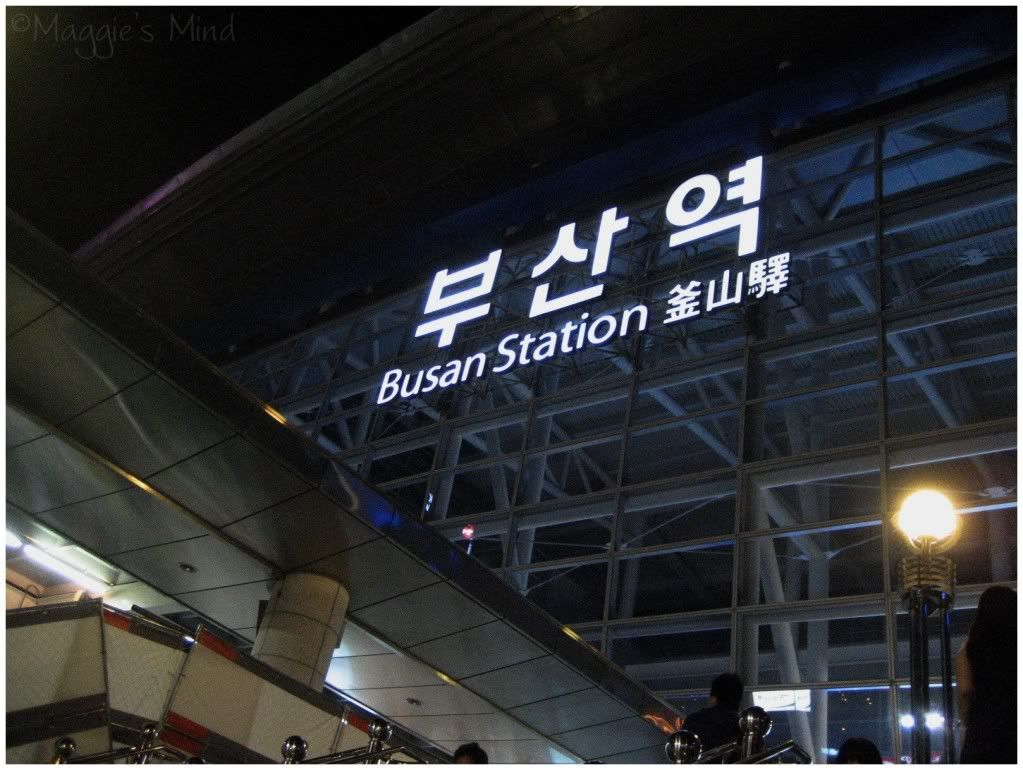 The ticket thing? Sigh of relief. It worked. Which was good because otherwise I had absolutely zero idea how we'd get the 450 km/280 miles to Seoul. And, based on the information I gathered from the unsuccessful booking of the train tickets online the night before leaving Japan, at which point I Skype called Korea to reserve them over the phone, I do think ours were the last tickets sold for any train from Busan to Seoul for that day. With reserved tickets for the next day now sorted and officially in hand where a note with just my nervously pencil scrawled bunch of numbers had been, we were ready to roll.
And then we spotted (angels sing, trumpets sound, drums roll, Maggie cries)...
...A Burger King in Busan Station
South Korea actually has tons of American chain restaurants, considerably more than Japan, including Dunkin Donuts, Outback Steakhouse, TGI Friday's, Popeye's Chicken, Krispy Kreme, to name a few. I wanted to melt and cry and be held. Still, I never gave in (technically, see below), no matter how much I missed these treasures from home.
That said, I was traveling with a friend who has never been to America and had never (gasp) even heard of the Whopper. We stopped and made that right. Although I would have given my eye teeth for a Whopper, I was determined to go Korean as much as possible while there in the Land of Most Delicious Food Ever, so I had the bulgogi burger and called it fair enough (that
is
fair, right?). It didn't taste like a Whopper, but it didn't really taste like
bulgogi
(one of the best foods on earth, anywhere, especially the real deal I would eat a couple days later), either.
Bellies full of sin, we walked out of Busan Station and into a water and lights spectacle that lasted at least 15 minutes. I was all kinds of pretty, colorful and awesome. Y'all know I do love pretty colors. Wheee!
Busan Station Light Show

Next we headed back to the Seomyeon area where there is definitely plenty to do and see and eat and drink.
Night, Neon, Nice
Seomyeon Area, Busan, South Korea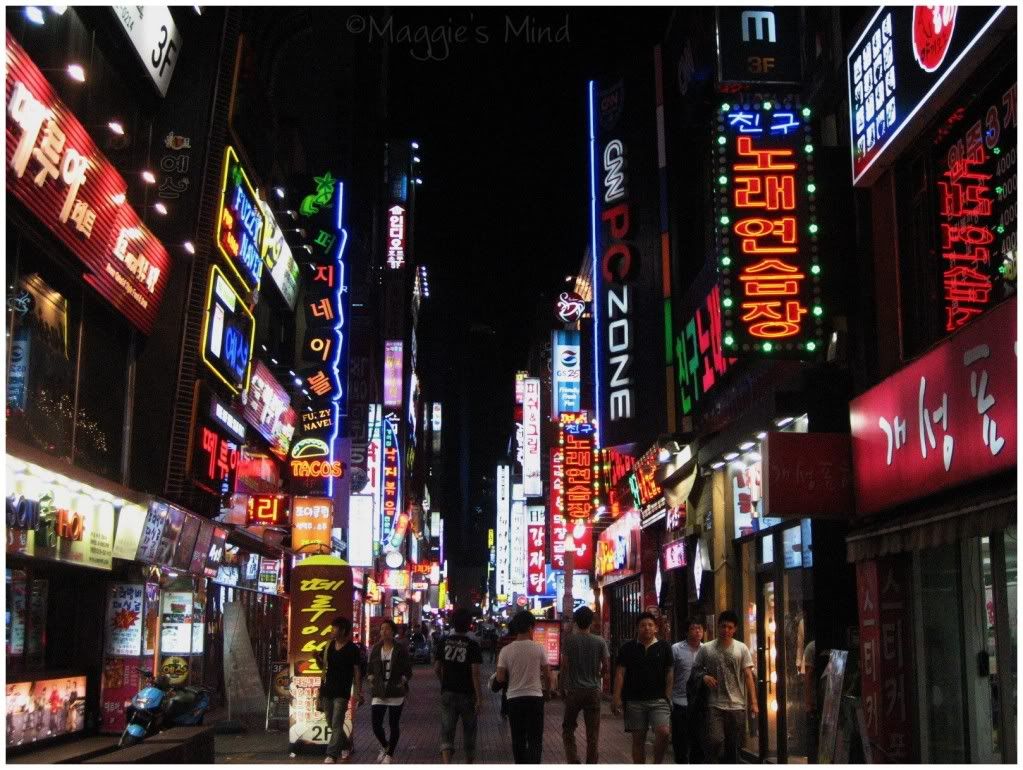 We started making our way back to the hotel, a real hotel, not a guest house/hostel, and after the effed up arrangements in Gyeongju the night before, even this business hotel (Busan Central Hotel - super convenient and close to subway, reasonable rates, clean, comfy, wifi in the lobby, plug adapters available at the front desk, English OK) seemed decadent.
On the way back to the hotel, I got a picture of something we'd seen all around Busan's subway stations that should have made me feel safer but actually made me feel uneasy as it made me consider, in ways I hadn't let myself consider much before, all the things that can go terribly wrong when you are underground.
Cabinets Full of Backpacks Containing Gas Masks
Most/Any Subway Station, Busan, South Korea

*shudder* It's good though, right, to be prepared, yes?
After a quick sleep, we headed off to Busan Station the next morning to catch the KTX, Korea's high-speed train, to Seoul. Japan's Shinkansen is much classier, but Japan's ticket prices for the same distance are way more than double the cost of those in Korea. In my book, Korea wins. In just under three hours, we were back in Seoul.
Seoul Station
Wednesday, September 22, 2010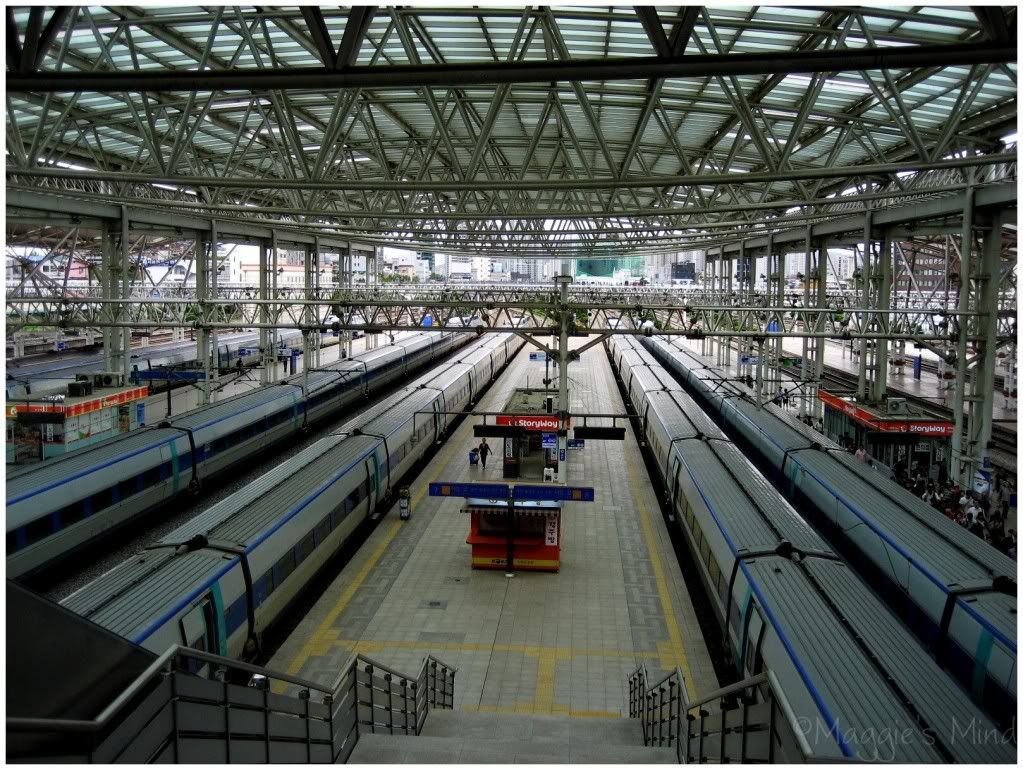 Colorful Ads
Hongik University Subway Station, Seoul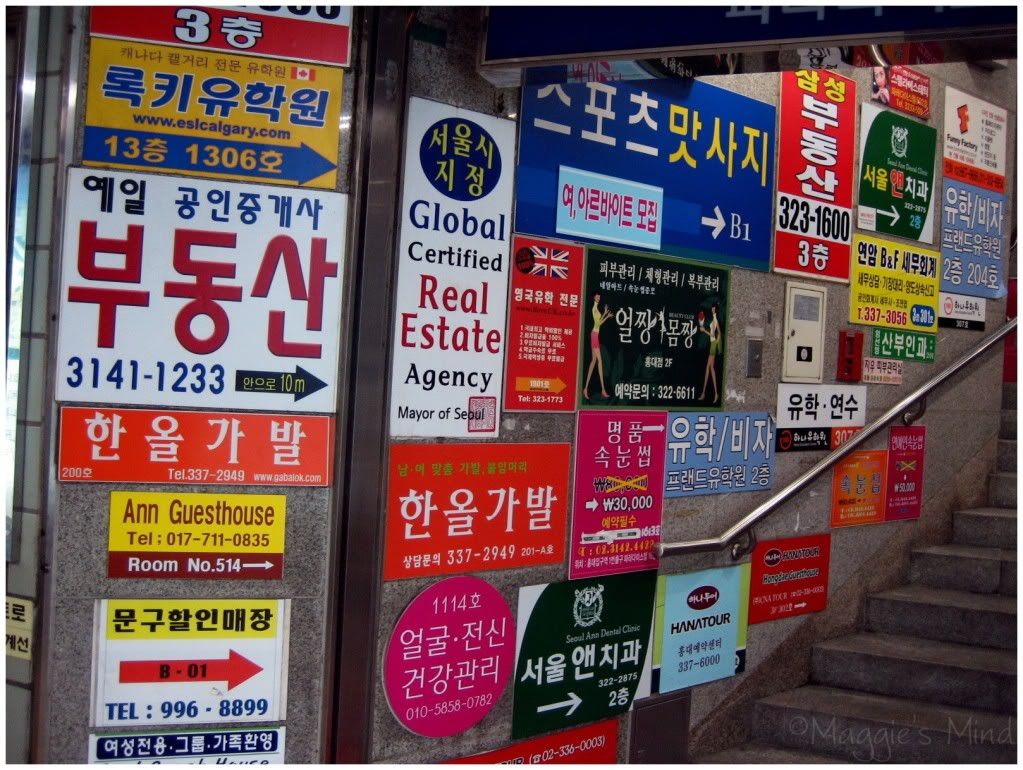 Up those stairs awaits lunch at a serious
Korean barbecue
place and then back again to the same awesome place we'd stayed a few nights back,
Hong Guesthouse
(yes, mentioning
again
because I liked it), followed by seeing more stuff in Seoul. Next post.