It was SO nice to hear from my old bloggy pals in comments on my last post. Really. Thank you for keeping me in your reader or whatever other modern magic that led you to here shortly after I posted for the first time in half a year. I was surprised and touched and warmed.
Having dipped my toes in the water and finding it so warm, half of me wants to jump fully in. I miss how, when blogging regularly, it forced me to see my world differently and more fully. I noticed things that I otherwise wouldn't have because I was looking for pictures to take, looking for new ways of seeing the same thing to express it poetically in haiku format on Fridays, looking at life around me and stopping to contemplate Stuff. Looking. Not just wandering around with my eyes open so that I wouldn't walk into anything off of any cliff that may have appeared magically in front of me, but actively looking. Seeing vs looking. Hearing vs listening. Waking up with breath and a pulse vs living life and experiencing its heartbeat if I paid just enough attention.
What I don't want to do is find myself treading water, trying to force creativity that won't come, in order not to drown in some kind of blog universe failure. Feeling obligated to attempt to be witty or creative or even just boring but public on schedule can kind of negate all that happy heartbeat of experiencing life effect I get from blogging.
As with everything, for me, always, it comes back to balance.
I don't necessarily want to post only when the spirit breezes just right across my left ass cheek on a sunny afternoon because that might mean falling out of the habit entirely (again), but I don't want to be boxed in by inconvenient or claustrophobic rules.
I mention inconvenient rules specifically because now that I have a big girl camera (that I love but have barely started growing into), I don't carry it around all the places my beloved point-and-shoot used to go. It's with me usually, but not always (like when I just run down to the conbini for rice wrapped in bacon - yes, 7-11, only, though). I do, however, always have my iPhone (thank you all the gods in all the world for this gift), which is small and allows me to upload pretty much anytime, anywhere instead of plugging in a whole camera just to get one stinkin' picture to post every.single.day. So, what I'm getting at, is that if I
were
to do some kind of a 365/366/whatevs, I'd be most likely to be able to do it every day if it was a photo project. I can take a picture daily, whether I feel particularly creative or not. And. In that case, some of the pictures would not fall under the category of "look at me play with aperture (and other words I've only learned recently) and take 'real' pictures" but possibly sometimes more under the "hey, this was in front of me, so took its picture. maybe I played with it in Instagram, too" category.
(feeling the warm water reach approximately my navel, saying it's OK to gaze...)
It's my blog and (maybe) my 365/366 project. I guess I can do whatever the hell I want, whether I want to practice and learn to glide like a graceful swan or just splash around artlessly for my own amusement. What I really just want is to feel like this outlet is always open, reminding me to get my feet wet again, to taste the salt on my lips and to breathe it all in, even if I choose not to plunge in head first every day. I just want
this
to be here, especially because I hope for such inspired days. And, to that end...
(feeling the warm water reach approximately my neck)
Jen
and
Tara
both said I should do it. So, I guess I'm in. On my own terms and starting with just what was in front of me on my desk, captured with my iPhone and toyed with in Instagram. We'll go from there. See you, um, guess that's tomorrow, then. And all year. Apparently. Whee?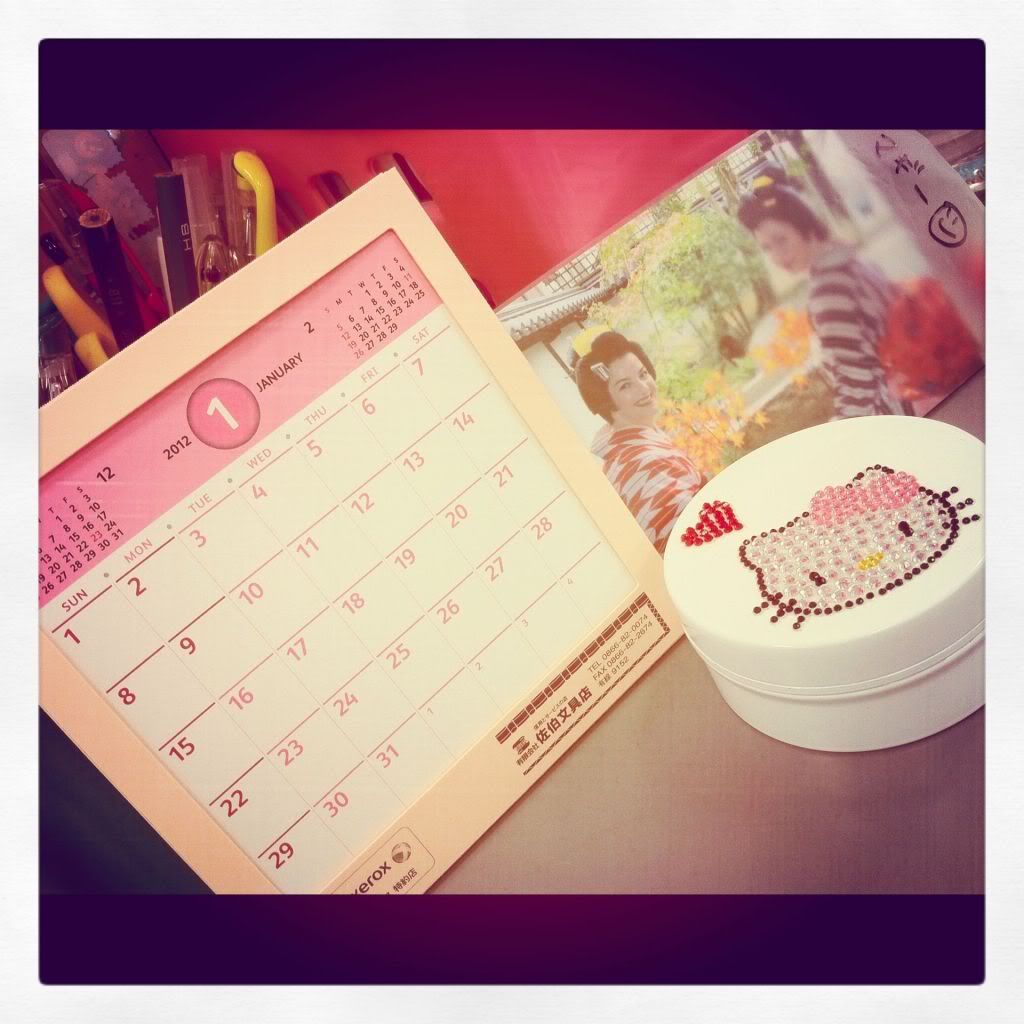 1/366 - A Fairly Pink Desk Assortment in January